Apollo Global Management chief economist Torsten Slok analyzes the U.S. economy as the Federal Reserve tries to bolster the alleviation of inflation rates, on 'Barron's Roundtable.' 
Hiring by U.S. companies slowed more than expected in August, pointing to a labor market that is starting to cool in the face of higher interest rates, according to the ADP National Employment Report released Wednesday morning.
Companies added 177,000 jobs last month, below the 195,000 gain that economists surveyed by Refinitiv predicted. That is also much lower than the revised 371,000 increase recorded in July. 
It marked the worst month for job creation since March.
WORKERS NOW DEMANDING NEARLY $80K TO START NEW JOB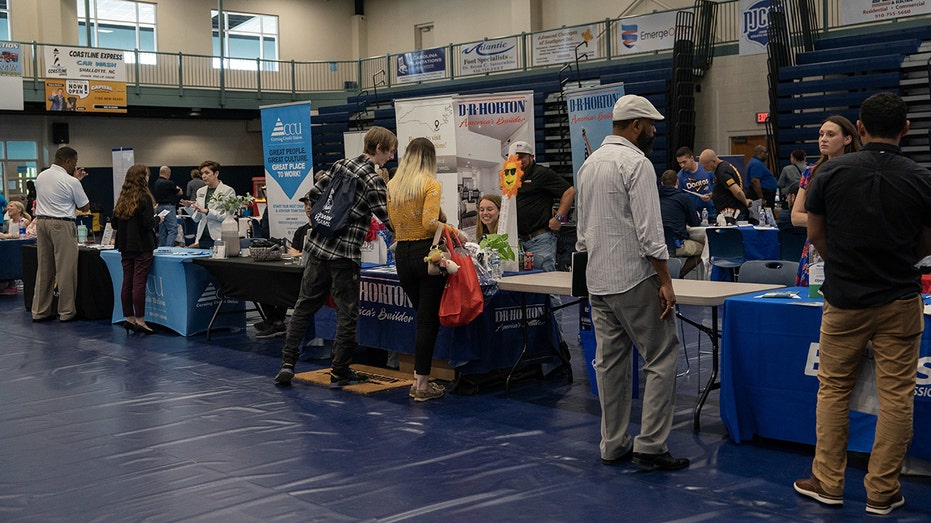 Attendees at a career fair at a community college in Bolivia, North Carolina, on April 20, 2023. (Photographer: Allison Joyce/Bloomberg via Getty Images / Getty Images)
The weaker-than-expected report comes in the wake of an aggressive tightening campaign by the Federal Reserve, which has hiked rates to the highest level since 2001. Chair Jerome Powell signaled last week that additional rate increases may be on the table as policymakers assess whether high inflation has retreated for good.
In a potentially welcoming sign for the Fed as it tries to wrangle inflation under control, wages continued to moderate in August. Annual pay rose 5.9% last month, the slowest growth since October 2021, according to the report. For workers who switched jobs, wages climbed 9.5%, down from 10.2% the previous month.
"This month's numbers are consistent with the pace of job creation before the pandemic," said Nela Richardson, ADP's chief economist. "After two years of exceptional gains tied to the recovery, we're moving toward more sustainable growth in pay and employment as the economic effects of the pandemic recede." 
JOB OPENINGS DROP MORE THAN EXPECTED IN JULY TO 2-YEAR LOW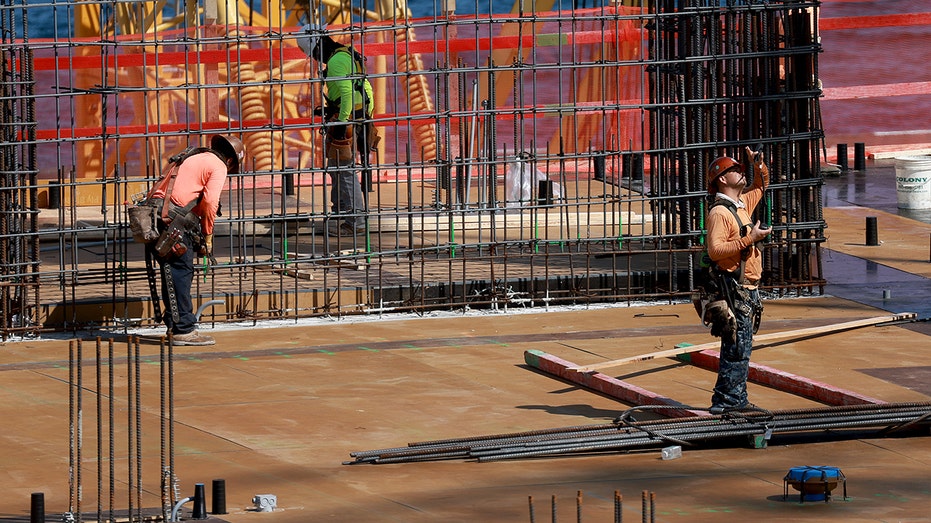 Construction workers on a job site on March 10, 2023, in Miami, Florida.  ((Photo by Joe Raedle/Getty Images) / Getty Images)
The notable slowdown in job growth was largely driven by the leisure and hospitality, which added just 30,000 new employees in August after months of strong hiring. Education and health services accounted for the biggest gains in August, onboarding about 52,000 employees. That was followed by trade, transportation and utilities, which grew by 45,000.
By size, large businesses led the way in hiring last month, onboarding 83,000 new workers. Medium businesses that employ between 50 and 249 workers increased by 74,000, while small businesses added 18,000 workers last month.
CLICK HERE TO READ MORE ON FOX BUSINESS
The data precedes the release of the more closely watched August jobs report from the Labor Department on Friday morning, which is expected to show that employers hired 170,000 workers following a gain of 187,000 in July. The unemployment rate is expected to hold steady at 3.5%.