Check out whats clicking on
Members of the Teamsters union voted to ratify a new five-year collective bargaining agreement with shipping giant UPS on Tuesday, avoiding a potential strike that loomed over the U.S. economy as the two sides negotiated in recent months.
The five-year contract covers roughly 340,000 UPS Teamsters members across the U.S. and includes higher wages for full- and part-time workers, more full-time roles, and workplace protections such as air conditioning in delivery vehicles. The Teamsters union said that 86.3% of members voted in favor of ratification, which the union noted was "the highest vote for a contract in the history of the Teamsters at UPS."
"Our members just ratified the most lucrative agreement the Teamsters have ever negotiated at UPS," said Teamsters General President Sean O'Brien. "Teamsters have set a new standard and raised the bar for pay, benefits, and working conditions in the package delivery industry. This is the template for how workers should be paid and protected nationwide, and nonunion companies like Amazon better pay attention."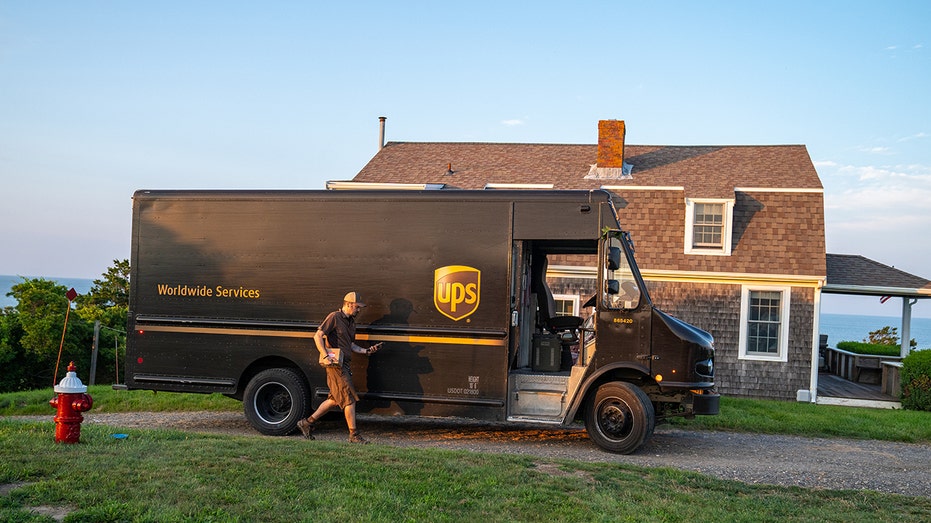 Teamsters members working for UPS voted to ratify the new five-year collective bargaining agreement with the shipping giant. ((Photo by Robert Nickelsberg/Getty Images) / Getty Images)
UPS-TEAMSTERS DEAL THREATENS TO KEEP INFLATION ELEVATED
UPS said in a statement that, "Our Teamsters-represented employees have voted to overwhelmingly ratify a new five-year National Master Agreement that covers more than 300,000 full- and part-time UPS employees in the U.S."
Ticker
Security
Last
Change
Change %
UPS
UNITED PARCEL SERVICE INC.
168.72
+1.85
+1.11%
UPS and the Teamsters announced a tentative agreement in July pending ratification of the proposal – a move that put off the threat of a strike that could've begun on August 1. UPS Teamsters members around the country voted electronically on the agreement from August 3 through August 22.
UPS-TEAMSTERS DEAL DENTS FINANCIALS
UPS Teamsters will receive notable pay increases under the newly-agreed collective bargaining agreement. (AP Photo/Damian Dovarganes, File / AP Newsroom)
O'Brien previously noted that "UPS has put $30 billion in new money on the table as a direct result of these negotiations." The new collective bargaining agreement runs until July 31, 2028, and includes a number of notable provisions, such as:
Existing full- and part-time UPS Teamsters will receive a raise of $2.75 per hour in 2023 and a total of $7.50 over the length of the contract. The average top rate for full-timers will rise to $49 per hour, which the union says is the highest pay for U.S. delivery drivers.
Current part-timers will receive an immediate raise to at least $21 per hour, with part-time seniority workers earning more under a market rate adjustment.
All UPS Teamsters will receive Martin Luther King Day as a full holiday for the first time.
Drivers will be able to keep one of two workweek schedules and can't be forced to work overtime on scheduled off days.
Additionally, the new agreement will create 7,500 new full-time Teamster jobs at UPS and fulfill 22,500 open positions to give part-timers more opportunities to transition to full-time work.
GET FOX BUSINESS ON THE GO BY CLICKING HERE
The two sides had previously reached an agreement on other items covered by the collective bargaining agreement, including heat safety. 
UPS will equip in-cab air conditioning on all large delivery vehicles, sprinter vans, and package cars it purchases after January 1, 2024. All UPS cars will also get two fans and air induction vents in the cargo compartments to help keep temperatures down in the vehicles.
This is a developing story. Please check back for updates.