Public Ventures President and chief market strategist Lou Basenese says Chinas economic spiral is the last thing the U.S. needs right now on Varney & Co.
The United States is slapping tariffs on several solar companies that tried to circumvent existing import duties on goods from China by finishing their products in other Southeast Asian countries.
The Department of Commerce (DOC) announced Friday that subsidiaries of Chinese companies BYD, Trina Solar, Vina Solar and Canadian Solar were dodging U.S. tariffs on Chinese solar cells and panels by conducting minor processing to finish their products in Cambodia, Malaysia, Thailand and Vietnam. Another firm, New East Solar, will face tariffs after refusing to cooperate with an on-site audit of its operations in Cambodia.
Tariffs on the companies that were found to be circumventing import restrictions aren't scheduled to take effect until June 2024 to give U.S. solar importers "sufficient time to adjust supply chains and ensure that sourcing is not occurring from companies found to be violating U.S. law," the DOC said.
BIDEN ADMITS CHINA 'DOMINATING' RAW MATERIAL PRODUCTION, PROMISES TO BRING 'FULL BATTERY SUPPLY CHAIN HOME'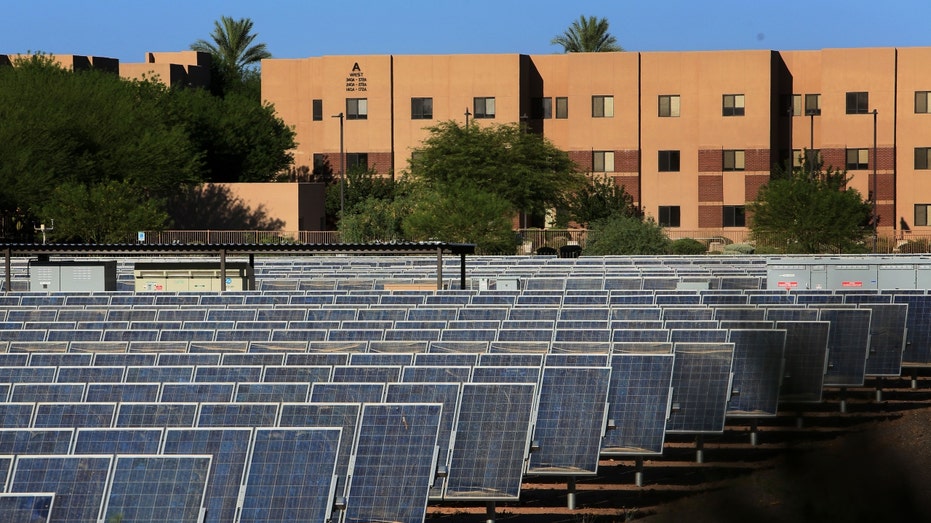 Several Chinese solar firms will face new tariffs next year after the Department of Commerce found they were dodging existing U.S. tariffs. (Sandy Huffaker/Corbis via Getty Images, File / Getty Images)
The tariffs also come as a boost for U.S. solar manufacturers, which have struggled to compete with Chinese rivals for years and are receiving an infusion of investment through President Biden's Inflation Reduction Act, which includes significant subsidies for the sector. 
The U.S. has had anti-dumping tariffs in place on Chinese solar products for more than a decade after a previous probe by the DOC found the Chinese companies were receiving unfair government subsidies.
Solar companies making products in, or sourcing components from China have also faced scrutiny over the use of forced labor from Uyghurs and other predominantly Muslim ethnic minorities persecuted by the Chinese government.
CHINA SOLAR PANEL SHIPMENTS SCRUTINIZED OVER FORCED UYGHUR LABOR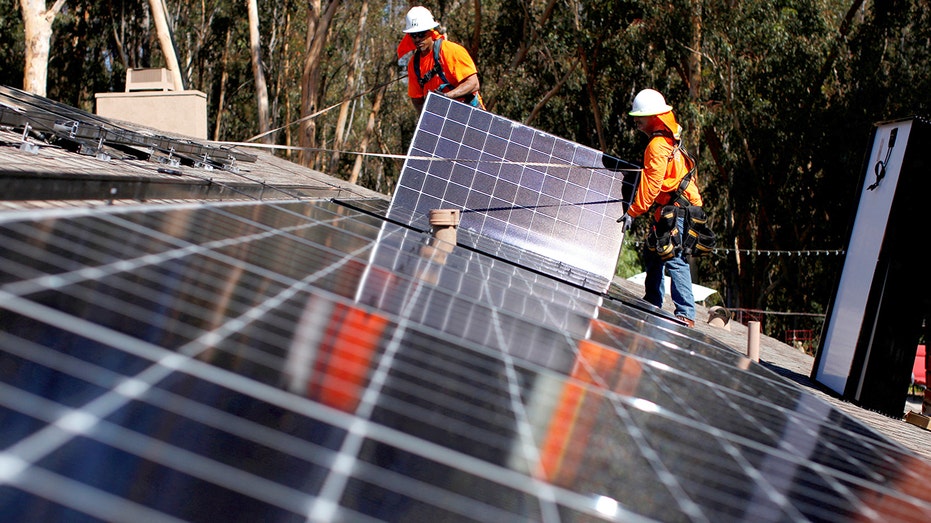 About 80% of U.S. solar supplies come from Cambodia, Malaysia, Thailand and Vietnam – countries where Chinese firms have set up shop to dodge tariffs. (REUTERS/Mike Blake, File / Reuters Photos)
Collectively, roughly 80% of U.S. solar panel supplies come from Cambodia, Malaysia, Thailand and Vietnam. To comply with U.S. import rules, companies doing business in those countries can go through a certification process to demonstrate that they aren't circumventing U.S. tariffs by showing that solar cells and panels contain non-Chinese wafers along with three other key components.
Solar industry companies and trade groups expressed opposition to the DOC's announcement, arguing the tariffs will undercut the Biden administration's efforts to boost the solar industry as part of its green energy push.
GET FOX BUSINESS ON THE GO BY CLICKING HERE
Abigail Ross Hopper, president of the Solar Energy Industry Association, said in a statement that, "The U.S. Department of Commerce is out of step with the administration's clean energy goals, and we fundamentally disagree with their decision."
Trina Solar, which said it has invested hundreds of millions of dollars into producing solar cells and modules in Thailand and Vietnam, blasted the move saying it will "increase the overall costs of virtually all U.S. bound solar products because it will constrain supply at a time when the demand for solar is skyrocketing."
Reuters contributed to this report.