Autonomous Research U.S. banks analyst David Smith discusses whether the JPMorgan deal with First Republic Bank puts an end to the regional bank crisis on "The Claman Countdown."
First Republic Bank's acquisition by JPMorgan Chase in an overnight fire sale after it was seized by regulators has raised questions whether more bank rescues will be needed or whether this was the last significant domino to fall.
First Republic became the second-largest bank to fail in U.S. history, trailing the collapse of Washington Mutual in 2008 and surpassing Silicon Valley Bank (SVB) and Signature whose implosions this March triggered a crisis among regional banks with high rates of uninsured deposits. Despite an infusion of $30 billion from large U.S. banks, concerns about First Republic's ongoing viability mounted late last week and its rapid deterioration prompted its seizure by regulators and sale to JPMorgan Chase through an auction.
JPMorgan Chase CEO Jamie Dimon said on a call with financial analysts and the media that he believes more rescues of distressed banks the size of First Republic – which had total assets of about $229 billion and deposits of roughly $104 billion as of mid-April – are unlikely. 
"There are only so many banks that were offsides this way," Dimon said. "There may be another smaller one, but this pretty much resolves them all. This part of the crisis is over. For now, let's take a deep breath."
US TREASURY: BANK DEPOSITS SAFE AFTER FIRST REPUBLIC RESCUE
A pedestrian walks past a First Republic Bank in San Francisco on April 26, 2023. Regulators resolved First Republic Bank's woes by announcing a deal for JPMorgan Chase to acquire it before markets opened Monday. (AP Photo / Jeff Chiu / AP Newsroom)
That sentiment was echoed by Autonomous Research analyst David Smith in an appearance on FOX Business' "The Claman Countdown." Smith told host Liz Claman that while "we can't say for certain" that this will mark the end of the regional bank crisis, it does "help to put a lid on things."
"First Republic has been really viewed as the last remaining bank where there were really severe worries that they would go under after SVB Financial and Signature had already failed," Smith said. "This should hopefully be the end of things."
Smith went on to say that First Republic's failure was brought on by a "very severe mismatch between its assets and liabilities" and that the bank had more exposure to interest-rate risk, calling it an issue that First Republic "had by far more than any of the other surviving banks, so that's one of the reasons why I'm not particularly concerned as to any other large banks of that size going down in the future."
Ticker
Security
Last
Change
Change %
FRC
FIRST REPUBLIC BANK (SAN FRANCISCO CALIFORNIA)
3.51
-2.68
-43.30%
JPM
JPMORGAN CHASE & CO.
141.20
+2.96
+2.14%
JPMORGAN BUYS FIRST REPUBLIC BANK, DIMON DECLARES 'THIS PART OF THE CRISIS IS OVER'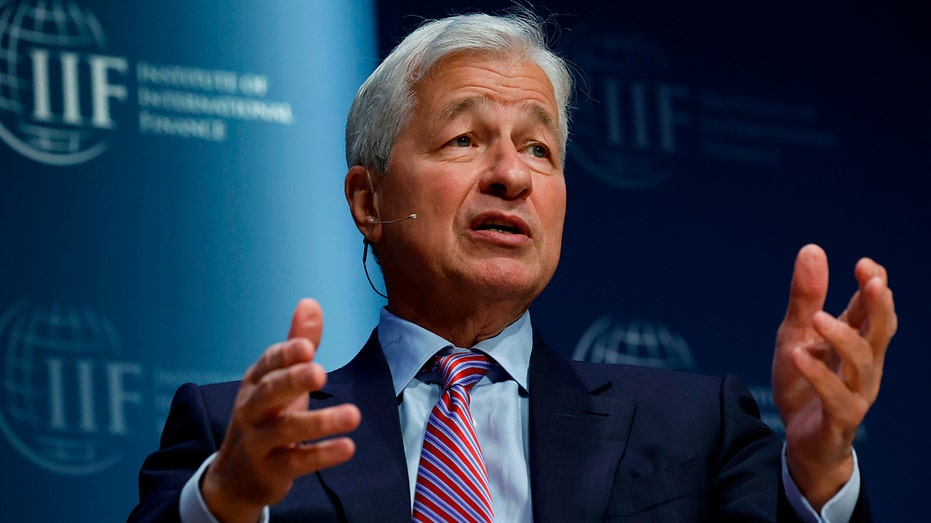 Jamie Dimon, chairman and CEO of JPMorgan Chase, said Monday he believes that First Republic will be the last of the large regional banks to fail due to the recent banking crisis. (Ting Shen / Bloomberg via Getty Images / File / Getty Images)
Ebrahim Poonawala, an analyst for Bank of America Securities, wrote in a note to clients Monday that First Republic's acquisition by JPMorgan Chase "should likely end forced sales of banks due to deposit flight."
San Francisco-based First Republic saw its stock price routed after the failures of Silicon Valley Bank and Signature Bank in March exposed the vulnerability of larger regional banks with large amounts of uninsured deposits. In the case of SVB's failure, the Federal Reserve faulted deficient risk management and poor regulatory oversight that allowed it to become so vulnerable to deposit flight.
First Republic had $118.8 billion in uninsured deposits above the Federal Deposit Insurance Corporation's (FDIC) threshold of $250,000, which made up about 67% of its total deposits at the end of 2022.
FDIC ACCEPTS JPMORGAN CHASE'S BID TO BUY FIRST REPUBLIC BANK
The Federal Deposit Insurance Corporation announced that JPMorgan Chase won the auction for the failed First Republic Bank. (AP Photo / Peter Morgan / File / AP Newsroom)
The release of First Republic's first-quarter financial report last week revealed that its deposits declined by 40% or $100 billion since the start of the year and fueled a market rout that saw the lender's stock plunge from $122 per share at the beginning of March, when the regional banking crisis began, to $16 as of last Monday. It fell further to $3.51 on Friday – the last day its stock traded.
First Republic was officially closed by the California Department of Financial Protection and Innovation on Monday and turned over to the FDIC to serve as a receiver for the failed bank.
GET FOX BUSINESS ON THE GO BY CLICKING HERE
The FDIC began planning to take First Republic into receivership late last week and solicited bids through an auction over the weekend, which culminated with JPMorgan Chase acquiring it Monday.