Check out what's clicking on
Television and movie writers with the Writers Guild of America declared late Monday that they will launch a strike for the first time in 15 years. 
The members have argued the current streaming era brought additional work opportunities and record profits, but their pay has lagged behind and subsequent negotiations to rectify this difference have failed.
"The decision was made following six weeks of negotiating with Netflix, Amazon, Apple, Disney, Warner Bros Discovery, NBC Universal, Paramount+ and Sony under the umbrella of the AMPTP," the Writers Guild of America West said in a series of tweets.
WGA said members are overworked and underpaid, so the Board of Directors unanimously approved of the strike, which officially started at 12:01 a.m. PT Tuesday.
'TED LASSO' STARS, WRITERS GET MASSIVE PAYDAYS IN RENEGOTIATED SEASON 3 CONTRACTS
Writers Guild of America members strike against the Alliance of Motion Picture and Television Producers in a rally at Fox Plaza in Los Angeles' Century City district on Nov. 9, 2007. (Reed Saxon / AP Newsroom)
The members added: "Though our Negotiating Committee began this process intent on making a fair deal, the studios' responses have been wholly insufficient given the existential crisis writers are facing."
The group's 11,500 unionized screenwriters and other members will begin picketing on Tuesday, the group said.
All script writing is to immediately cease, the guild said.
AMERICAN AIRLINES PILOTS VOTE TO AUTHORIZE STRIKE AMID CONTRACT NEGOTIATIONS
The WGA board of directors said its writers are facing an "existential crisis."
"The companies' behavior has created a gig economy inside a union workforce, and their immovable stance in this negotiation has betrayed a commitment to further devaluing the profession of writing," the WGA said in a statement. "From their refusal to guarantee any level of weekly employment in episodic television, to the creation of a 'day rate' in comedy variety, to their stonewalling on free work for screenwriters and on AI for all writers, they have closed the door on their labor force and opened the door to writing as an entirely freelance profession. No such deal could ever be contemplated by this membership."
Striking writers walk the picket line outside Paramount Studios in Los Angeles on Dec. 13, 2007. (Nick Ut / AP Newsroom)
On the other side of negotiations, the Alliance of Motion Picture and Television Producers (AMPTP), the trade association that negotiates on behalf of studios and production companies, said it presented an offer with "generous increases in compensation for writers as well as improvements in streaming residuals."
In a statement, the AMPTP said that it was prepared to improve its offer "but was unwilling to do so because of the magnitude of other proposals still on the table that the guild continues to insist upon."
But, the two sides ultimately could not come to terms.
AMPTP signaled late Monday that negotiations had not reached an agreement before the contract expired at midnight.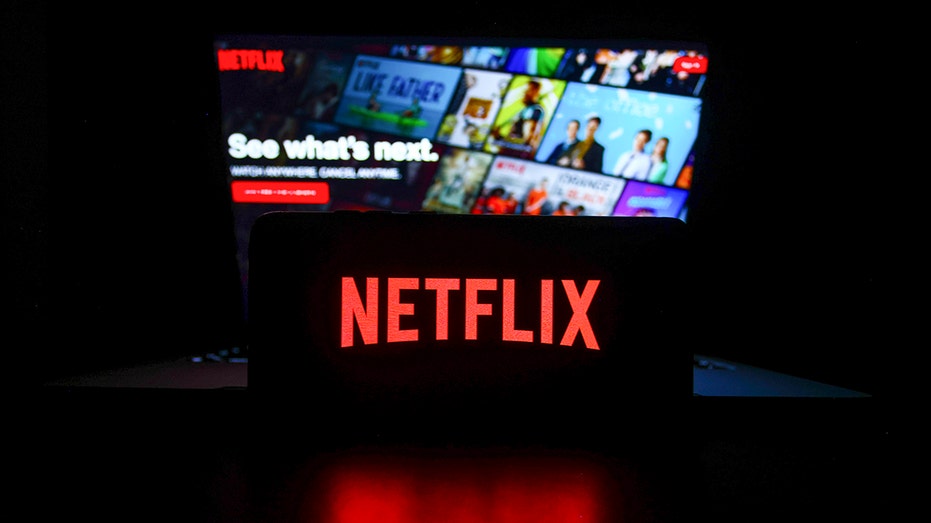 The Netflix logo is displayed on a mobile phone screen with the Netflix website in the background for an illustration photo. (Beata Zawrzel/NurPhoto via / Getty Images)
WGA argues streaming services have exploded in recent years — spurred by the pandemic and a pre-pandemic trend of customers moving away from traditional movie theaters. While streaming services have raked in record profits, the pay of show and film writers have not reflected the increased revenue, the guild argues.
WGA members say they're making much less money than the showrunners on broadcast series. They are also working under more strained conditions, the guild claims.
A worker wheels equipment past the famous Hollywood sign as preparations continue on March 8, 2023, for the 95th Academy Awards at the Dolby Theatre in Los Angeles. (J. David Ake / AP Newsroom)
The last WGA strike lasted 100 days. It kicked off near the end of 2007 and formally ended in 2008.
Another writers' strike, in 1988, lasted 153 days.
GET FOX BUSINESS ON THE GO BY CLICKING HERE
David Zaslav, chief executive of Warner Bros. Discovery, said last month that his company has prepared for the long haul and content is prepped to continue releasing while the writers are on strike.
"We're assuming the worst from a business perspective," Zaslav said. "We've got ourselves ready. We've had a lot of content that's been produced."
The Associated Press contributed to this report.