Rep. Welsey Hunt, R-Texas, says if the U.S. can send people to space for sport, it can figure out a way to 'secure our border.'
Virgin Galactic launched its first private astronaut mission on Thursday morning. 
The second commercial spaceflight mission, known as Galactic 02, launched from New Mexico's Spaceport America and into suborbital space aboard the reusable space plane VSS Unity. 
The "historic mission" flew the first Olympian and the first female astronauts from the Caribbean, as well as the youngest person to go to space and the first mother-daughter duo.
Passengers on the flight include 80-year-old British Olympian Jon Goodwin and a mother and daughter from Antigua. 
VIRGIN GALACTIC UNVEILS 3-PERSON CREW PARTICIPATING IN FIRST PRIVATE ASTRONAUT MISSION
Space tourists, from left, Anastatia Mayers, Jon Goodwin and Keisha Schahaff pose for photos before boarding their Virgin Galactic flight at Spaceport America, near Truth or Consequences, N.M., Thursday, Aug. 10, 2023. Virgin Galactic is taking its f ((AP Photo/Andrés Leighton) / AP Newsroom)
Goodwin, who competed in canoeing in the 1972 Olympics and has Parkinson's disease, purchased his ticket on the flight 18 years ago for $200,000. Health coach Keisha Schahaff, 46, and her 18-year-old daughter Anastatia Mayers were sweepstakes winners. 
The cost of a ticket for a Virgin Galactic flight has reportedly risen to $450,000.
GET FOX BUSINESS ON THE GO BY CLICKING HERE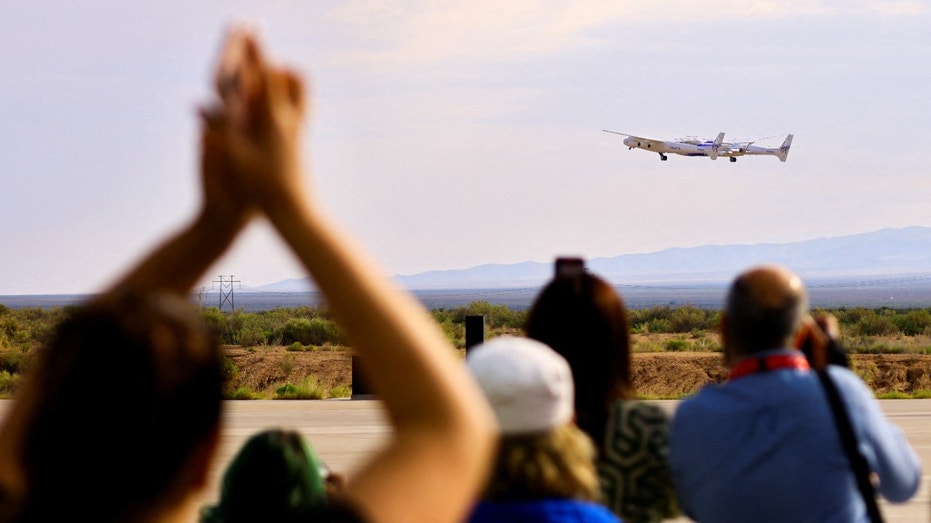 People react as the passenger rocket plane operated by Virgin Galactic takes off, during the company's first commercial flight to the edge of space, at the Spaceport America facility, in Truth or Consequences, New Mexico, U.S., June 29, 2023. (Reuters/Jose Luis Gonzalez / Reuters Photos)
A pilot, a commander and the company's astronaut trainer were also aboard the plane-launched craft. Another pilot and commander were also flying VMS Eve, the carrier plane from which the rocket ship launched. 
Once the mothership hits around 50,000 feet, the space plane is released and fires its rocket motor to make the final push to just over 50 miles high. Passengers can float around the cabin, weightless for a few minutes, before the plane glides back home and lands on a runway.
In this May 29, 2018, photo provided by Virgin Galactic, the VSS Unity craft flies during a supersonic flight test. Virgin Galactic is taking its first space tourists on a rocket ship ride after years of delays, including one passenger who bought his ((Virgin Galactic via AP, File) / AP Newsroom)
CLICK HERE TO READ MORE ON FOX BUSINESS
It was Virgin Galactic's seventh trip to space since 2018. Richard Branson, the company's founder, was on board for the first full-size crew ride in 2021. 
Virgin Galactic founder Richard Branson speaks to the crowd while celebrating their flight to space from Spaceport America near Truth or Consequences, N.M., Sunday, July 11, 2021. (AP Photo/Andres Leighton / AP Newsroom)
Approximately 800 people are currently on Virgin Galactic's waiting list, according to the company.
The Associated Press contributed to this report.