Airbnb co-founder and CEO Brian Chesky discusses if leisure travel can hold up in a slowing economy on 'The Claman Countdown.'
Airbnb is going back to its roots with its latest effort to attract travelers through a new option aimed at private room stays.  
The company's offering called Airbnb Rooms is being billed as a more affordable option compared to renting an entire home or hotel room and includes more than 1 million listings for private bedrooms. Each one has redesigned filters and new privacy features.
The idea of sharing spaces is what led to the company's creation in 2007.
SUMMER TRAVEL: FAA ACTIVATES MORE DIRECT ROUTES TO CUT DOWN ON DELAYS, ENHANCE SAFETY
The new category rolled out worldwide this week as part of the company's "most extensive set of improvements." 
Ticker
Security
Last
Change
Change %
ABNB
AIRBNB INC.
117.60
-1.26
-1.06%
Airbnb co-founder and Chief Strategy Officer Nate Blecharczyk told FOX Business that although the option to stay in a private bedroom – which typically offers access to shared spaces such as kitchens, living rooms, or backyards – had been around over the last 15 years, fewer people were comfortable with the idea during the pandemic because of social distancing guidelines.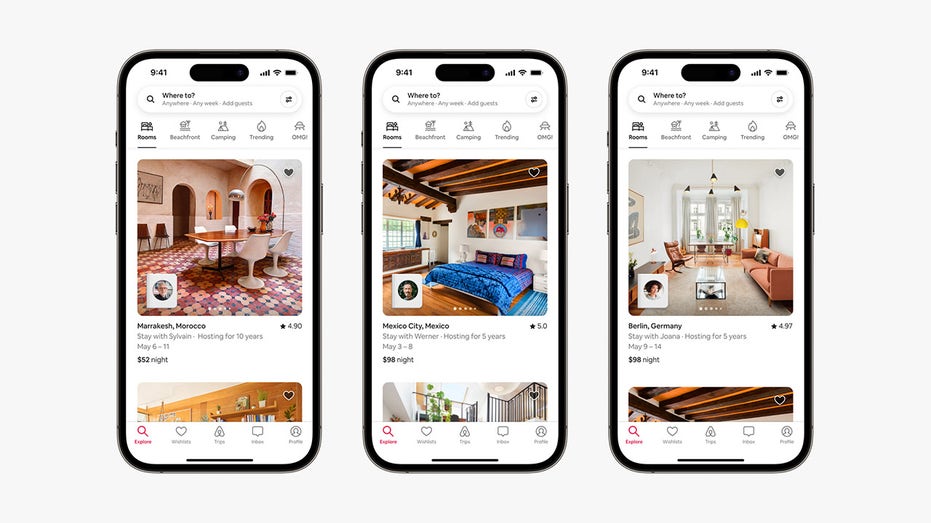 Airbnb launches a new category called Rooms. (Airbnb)
AIRBNB MAKES IT EASIER FOR APARTMENT RENTERS TO HOST
The company says the option is more relevant now as high inflation and other effects of the current economic environment hit travelers' wallets.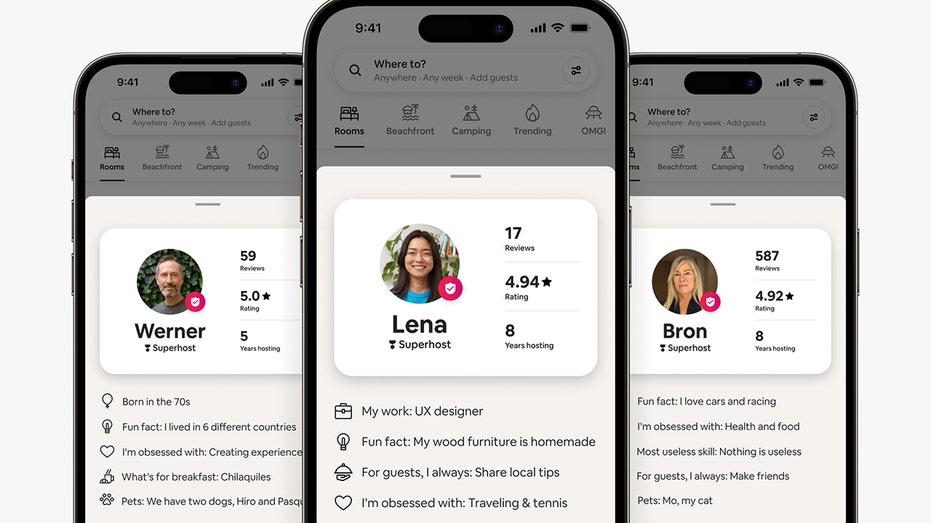 Airbnb launches Host Passports to help renters get to know their hosts. (Airbnb)
"We know there's a lot of talk and concern about the economy, inflation, the possibility of recession," he said. "I think people are going to be a little bit more price-conscious."  
AIRBNB'S STRATEGY FOR WEATHERING HIGH INFLATION, ECONOMIC HEADWINDS
Airbnb co-founder and CEO Brian Chesky said during an Airbnb event in New York City on Tuesday that these rooms "are often more affordable than hotels" with 80% of them priced under $100 per night. The average price is around $67, according to Airbnb. 
For the first time, travelers will also be able to check to see if their private room has its own bathroom, if the bedroom has a lock on the door and if other people will be home during the stay, among other components before they book. They will also have a chance to learn about the host prior to booking. 
DJ KHALED LISTS HIS MIAMI SNEAKER CLOSET ON AIRBNB FOR $11 A NIGHT
Blecharczyk acknowledged that "people have a natural kind of stranger danger sense" which is why the company created a component called the Host Passport. Hosts answer a bunch of questions that help renters get a better sense of who they are – from their hometown, what they do for work or even the level of social interaction guests should expect.
Not only does it help renters get an idea if it would be a good fit, but it also humanizes the process, Blecharczyk said. 
"Stranger doesn't sound like an appealing proposition. But when you say, 'Hey, this is someone who has gone to the same school as I have, is interested in some of the same topics'," he said. "Suddenly you realize, actually this is not something to be concerned about."
Rather, it is "an opportunity", he said.
"We're really trying to remind everyone coming out of the pandemic that this kind of connection is really special," he added. "It doesn't mean you have to spend a lot of time with them. But it can be really rewarding to have a conversation."  
AIRBNB SEES 30% MORE NIGHTS BOOKED FOR THE SUMMER TRAVEL COMPARED TO PRE-PANDEMIC
Blecharczyk is speaking from experience. 
In 2007, Airbnb was born when Blecharczyk and his co-founders Chesky and Joe Gebbia welcomed three guests to stay on air mattresses in an extra room in their San Francisco home. However, during the first few years of Airbnb, Blecharczyk was also a private room host.   
"At that time I was living in Palo Alto, and the type of people who come to Palo Alto are either people who are going to visit Stanford or want to start a company," he said. "So I'd have all these aspiring entrepreneurs stay with me. And we have great conversations about entrepreneurship, our shared interest." 
The idea was always about building a platform of trust, which Blecharczyk believes the company has successfully done in part through its review system where guests and hosts leave reviews for each other. 
"It creates the right incentive system," he said. "That's why we have more than 1.4 billion guest arrivals over the last 15 years. And we have more than 100 million reviews each year on the platform."
Melanie Lieberman, senior travel editor at The Points Guy, breaks down airlines' most enticing offers for consumers looking to save on their next vacation.
GET FOX BUSINESS ON THE GO BY CLICKING HERE
The new Rooms category was among more than 50 new features and upgrades – from making pricing more transparent to simplifying checkout instructions – that Airbnb launched in response to user feedback.
"I told our team, we all agreed, we don't have permission to launch new things if people are complaining on social media, so we got to get our house in order," Chesky said. 
Among its recently added upgrades, the company is also letting all short-term renters in the U.S. and Canada pay over time in interest-free installments with Klarna for certain stays. For longer trips, renters will get a significant reduction in the guest service fee after the third month, Airbnb said. Renters who pay directly with their bank account will also avoid hefty credit card fees.  
The company also taking steps to make checkout instructions more transparent.
Guests can view checkout instructions on the listing page before booking. During the review process, guests will also be able to report any excessive requests. Listings that have repeated low ratings from unreasonable chores will be removed from Airbnb.
"I hope people feel like we listened," Chesky said. "Hopefully by the end of the year, people really do love this service in a way they don't love it today."