Fox News medical contributor Dr. Janette Nesheiwat joined 'Mornings with Maria' to discuss Ozempic, a drug used to treat diabetes that has grown in popularity for its weight loss side effects.
A new weight loss drug from Eli Lilly could join medications like Wegovy and Ozempic to tackle obesity – and it's poised to be even stronger. 
Eli Lilly and Co.'s tirzepatide – a drug that was approved to treat Type 2 diabetes and sold under the brand name Mounjaro – could change the treatment of obesity, which affected more than 40% of the U.S. population in 2017. 
In a late-stage study, the drug helped people with diabetes and who were overweight or obese lose up to 15.7% of their body weight – about 34 pounds – over the course of roughly 17 months, the company said Thursday.
WEGOVY, OZEMPIC: THE BARRIERS TO ACCESSING THESE WEIGHT LOSS DRUGS
This comes at a time when scores of people have been seeking out Novo Nordisk's Wegovy and Ozempic – both of which surged in popularity as celebrities and high-profile figures touted their effects as a weight loss treatment. However, medical professionals have noted that these drugs shouldn't be used as a quick way to lose weight.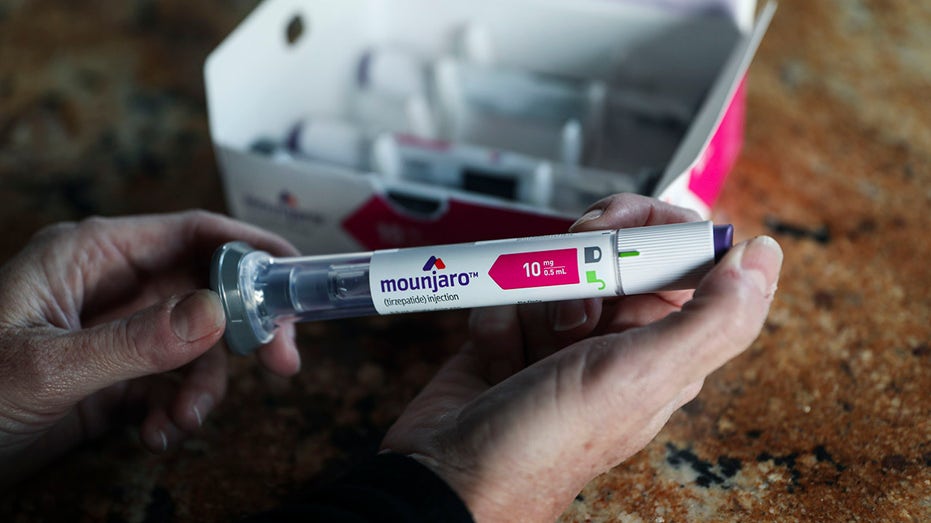 Rachel Graham holds a Mounjaro injectible pen at her home in Carlsbad, CA on Wednesday, November 30, 2022. ( Sandy Huffaker for The Washington Post via Getty Images / Getty Images)
If approved for weight loss, tirzepatide could become the most effective drug to date. 
Dr. Jeff Emmick, Lilly's senior vice president of product development, said this "degree of mean weight reduction" has not been achieved previously. 
The study comes after the drug helped similar participants without diabetes lose up to 22% of their body weight over 17 months with weekly injections. 
SEEING MORE WEIGHT-LOSS DRUG ADS? HERE'S WHY
Lilly said it will continue to evaluate the results of the late-stage study, which will be presented at the American Diabetes Association's 83rd Scientific Sessions and submitted to a peer-reviewed journal. 
Ticker
Security
Last
Change
Change %
LLY
ELI LILLY & CO.
390.35
+14.08
+3.74%
NVO
NOVO NORDISK A/S
166.02
+1.03
+0.62%
Based on the new results, officials said they will finalize an application to the Food and Drug Administration for approval to sell tirzepatide for chronic weight management. 
The company expects a decision from the FDA could come later this year. However, it's not clear if the drug will be marketed under a different name. 
A sign for the Food and Drug Administration is displayed outside their offices in Silver Spring, Md., on Dec. 10, 2020.  ((AP Photo/Manuel Balce Ceneta, File) / AP Newsroom)
Meanwhile, industry analysts say tirzepatide could become one of the top-selling drugs ever, even outpacing sales of Ozempic and Wegovy, both of which are the same medication – semaglutide. 
GET FOX BUSINESS ON THE GO BY CLICKING HERE
Ozempic was approved by federal health officials in 2017 and marketed for medical use in the treatment of Type 2 diabetes "with weight loss as a secondary effect of the drug's effects and mechanism of action." Wegovy was approved four years later specifically for chronic weight management in adults who are obese or overweight and have at least one weight-related condition. 
The Associated Press contributed to this report.