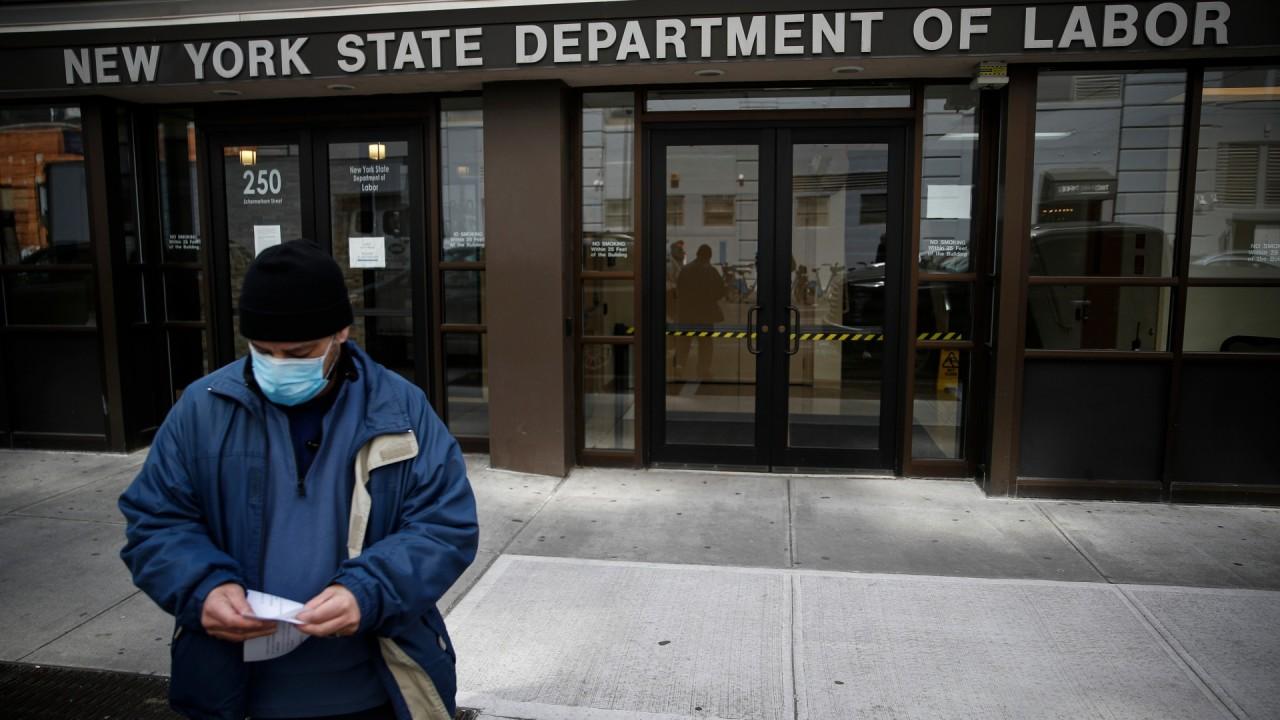 Video
Get all the latest news on coronavirus and more delivered daily to your inbox. Sign up here.
As the novel coronavirus continues to spread, major companies are looking to ramp up their workforces to meet the demand for critical products such as food, household essentials and medical supplies.
Some of the nation's largest retailers are even scrapping traditional hiring methods in order to fill open positions as the virus takes a foothold in every corner of the world. This demand for more workers in some sectors comes after early estimates suggest that at least a million workers could lose their jobs in March.
Since the outbreak, the number of jobless claims has surged as many businesses are forced to close their doors.
MNUCHIN: TRUMP ADMIN DETERMINED TO SUPPORT AMERICAN BUSINESSES, WORKERS
Here are some of the companies that are hiring as the world continues to fight the spread of COVID-19:
7-Eleven 
The convenience store chain is looking to hire anyone in need of a second job or who need to pick up extra hours of work.
Ace Hardware 
Ace Hardware and its independent retailers across the country are looking to employ more than 30,000 people to support communities during the unprecedented crisis. The company is hiring for full-time, part-time and seasonal positions at Ace Hardware's Retail Support Centers and across more than 4,300 locally owned stores nationwide, the company said.
Albertsons
Albertsons is hiring to fill positions immediately.
Aldi's
Batavia, Illinois-based grocery chain Aldi's said in a statement that they've hired "nearly 7,500 employees and we are continuing to hire more each day."
The company currently has nearly 5,000 openings. While most are based in retail stores, there are a handful of openings in specialized fields such as human resources, public relations, and IT.
Allied Universal 
Allied Universal is seeking to fill 30,000 positions located throughout the nation over the next few months.
The company is offering full- and part-time opportunities for security professionals, client and account managers, site supervisors, roles within human resources, sales, finance and IT. Temporary positions are also available.
"Our security professionals play a pivotal part ensuring facilities can continue business as usual and other businesses that had to close, can rest assured that their assets will remain protected," said Allied Universal CEO Steve Jones.
Amazon
Amazon is seeking to fill 100,000 new full- and part-time positions across the U.S.
CVS
CVS Health is looking to immediately hire 50,000 full-time, part-time and temporary roles across the country.
DaVita Kidney Care 
The company, one of the largest providers of kidney care services in the U.S., is seeking to hire upward of 15,000 workers throughout 2020, DaVita Kidney Care chief people officer Kenny Gardner told FOX Business.
While the company has a "continuous demand for great teammates," the company is expediting the onboarding process and training for former employees and other experienced health care professionals who are stepping up during this critical time to take care of dialysis patients. Depending on the role, the interview process may take anywhere from a few days to over the course of one week, Gardner said.
The company is looking to fill positions nationwide ranging from patient care technicians, social workers, registered nurses and registered dietitians, to roles in its corporate offices.
Dollar General
Dollar General plans to add up to 50,000 employees by the end of April.
"As the heightened demand for household essentials offered by Dollar General stores continues across the country amid COVID-19 concerns, the Company plans to nearly double its normal hiring rate and add up to 50,000 employees by the end of April as it continues to diligently work to support customers' needs," the company wrote in a statement.
Dollar Tree 
Dollar Tree is looking to hire 25,000 individuals to support its stores and distribution centers nationwide.
"Whether you are home unexpectedly or are just starting your career, we have a broad range of positions to fit your needs and availability," Betty Click, Dollar Tree's chief human resources officer, said in a statement.
The positions include full- and part-time managers at more than 15,000 locations. There are also flexible part-time shifts for cashiers and stockers. Positions in the company's distribution centers include order fillers, equipment operators and warehouse associates, Dollar Tree said.
Domino's
Domino's will be hiring 10,000 employees nationwide.
"Our corporate and franchise stores want to make sure they're not only feeding people, but also providing an opportunity to those looking for work at this time, especially those in the heavily-impacted restaurant industry," CEO Ritch Allison said in a statement.
General Electric Healthcare
The company plans to hire additional manufacturing employees to produce more medical equipment, including ventilators, in order to meet the demand created by the coronavirus pandemic.
Instacart
Instacart announced Monday that it will hire an additional 300,000 full-service shoppers across the United States during the next 3 months to meet customer demand for online grocery delivery and pickup because of the coronavirus pandemic.  
"Today, we have more shoppers on the Instacart platform than ever before. Given the continued customer demand we expect over the coming months, we'll be bringing on an additional 300,000 full-service shoppers to support cities nationwide," the company said in a statement. "As more people look for immediate, flexible earnings opportunities during this time, we hope that Instacart can be an additional source of income for those looking to earn while also delivering for the communities in which they live."
Lidl
The global discount supermarket chain is hiring up to 1,000 temporary employees across its stores and distribution centers in the U.S. for a minimum of two months.
New hires without health insurance will be eligible for medical benefits covering testing and treatment related to COVID-19 at no cost, the company announced.
"Every day, our number one priority is the health and safety of our customers and our team, and that is our primary focus during this public health emergency," Lidl US Chairman Roman Heini said. "The new positions announced today will help us better meet the unprecedented needs of our customers. We are working hard to serve them and protect the health of our employees who are playing a critical role."
Lockheed Martin
Lockheed Martin has added close to 1,000 new employees over the past two weeks in addition to advertising for 5,000 open positions, the company announced Friday, adding that it was "committed" to hiring during the crisis.
"In addition to continuing to support our key government customers, we recognize that providing jobs during this period of economic downturn is also critically important," Lockheed Martin said.
Lowe's
A spokesperson from Lowe's confirmed to FOX Business that the company will be hiring 30,000 positions that will be a mix of full-time, part-time, overnight and seasonal roles for displaced workers seeking short-term opportunities.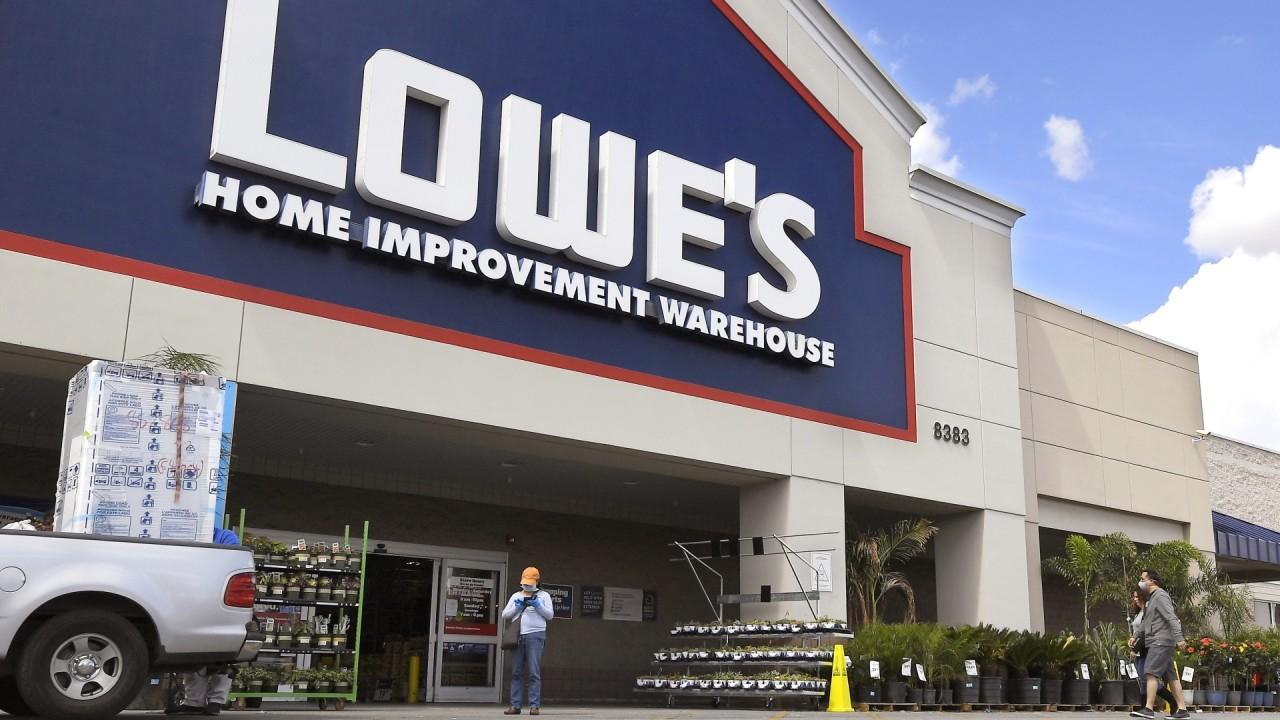 Video
The home improvement retailer is also offering special one-time bonuses of $300 for full-time workers and $150 for part-time workers.
Kroger
The Kroger family of companies is looking to add 10,000 workers in stores, manufacturing plants and distribution centers nationwide, a Kroger spokesperson told FOX Business.
Candidates may apply via on the company's website and could be placed for employment within several days of applying, the company said in an emailed statement.
Outschool
The online education company is looking for thousands of teachers to offset the demand for online enrollments. The company is seeking 5,000 teachers to teach online classes immediately.
"We need help. Our community of just over 1,000 teachers is close to being overwhelmed and we don't want to turn families away," the company wrote in a blog post. "We are looking for 5,000 new teachers to start offering classes through Outschool in the next 2 weeks."
Papa John's
Papa John's is looking to hire up to 20,000 new restaurant team members.
PepsiCo 
PepsiCo will hire 6,000 new, full-time, full-benefit frontline employees throughout the United States in the coming months, the company announced.
"With COVID-19 reshaping the way we run our business and live our lives, it's important that we acknowledge the people keeping us steady during turbulent times, notably the heroic work of the millions of doctors, nurses, and healthcare professionals around the world," PepsiCo CEO Ramon Laguarta said in a statement. "At the same time, there is important work being done in other sectors, including our own, to help maintain the supply of foods and beverages."
Pizza Hut 
Pizza Hut is looking to fill more than 30,000 positions nationwide to assist with contactless delivery, curbside pickup and carryout. The company is also expediting the treating process so delivery drivers will be able to hit the road in five hours. Click here for more details.
Publix
Florida-based supermarket chain Publix is looking to hire thousands of associates by the end of March to fill positions in its stores and distribution centers.
"We take pride in serving our communities during times of need, and with the unprecedented demand we are experiencing, we're in need of more associates to help across our operating area," said Publix Vice President of Human Resources Marcy Benton in a press release. "We're looking for people who have a desire to serve, are passionate about the food industry, are willing to work hard and ready to build a career at Publix."
Various positions are available at stores throughout the company's seven-state operating area and at nine distribution centers located in Boynton Beach, Deerfield Beach, Jacksonville, Lakeland, Miami, Orlando, and Sarasota, Florida; Lawrenceville, Georgia; and McCalla, Alabama. The company encourages submissions from people in service, manufacturing, warehousing and other industries who have recently found themselves unexpectedly without work.
Rite Aid
Rite Aid is adding 5,000 full- and part-time jobs across the country to support teams at stores and distribution centers. The open positions include cashiers, pharmacy technicians and distribution center associates.
"We are hiring partly because we want to have people helping with cleaning protocols, so our pharmacists, for example, can focus on filling up prescriptions," Rite Aid CEO Heyward Donigan told FOX Business' Maria Bartiromo on Tuesday.
Safeway 
Safeway, owned by Albertsons Companies, is looking to fill positions immediately. Job seekers can apply online or at the store.
Salesforce
The Californa-based software company is looking to fill 2,200 positions. Salesforce is "prioritizing employees' friends and family members who have lost jobs because of the effects of the coronavirus through a referral program," according to the company's post on LinkedIn.
Save A Lot 
The discount grocery store chain headquartered in St. Louis has immediate openings for full- and part-time positions across its distribution centers and corporate stores nationwide.
"We know there are many talented, displaced workers right now and we need their (and your) help," the company wrote on Facebook.
Sheetz
Pennsylvania-based convenience store operator Sheetz confirmed to FOX Business that it has more than 1,300 openings for those looking for full-time or part-time jobs. The company also confirmed it will give an additional pay bump of $3 per hour to approximately 17,000 of its employees from March 13 to April 23.
Shipt
Shipt, a delivery service owned by Target Corporation, is looking to add thousands of "Shipt Shoppers" to meet the unprecedented rise in demand for home delivery of groceries, medications and other essential items.
"Bringing in will also allow us to reduce delivery delays and expand delivery windows, while also providing earning potential within local economies to those who are affected by these challenging times," the company wrote in a blog post.
ShopRite
The grocer is hiring for multiple departments across its numerous locations.
"Displaced from your regular routine? Join us. We're HIRING!" the grocer tweeted.
Stop and Shop
Stop & Shop will hire at least 5,000 new associates for regular part-time positions in its stores, distribution centers and delivery operations across New York, New Jersey, Connecticut, Massachusetts and Rhode Island. Stop & Shop will also be working closely with its partners at the United Food & Commercial Workers (UFCW) and with local businesses that have been forced to lay off or furlough staff to identify potential candidates for opportunities across all shifts and all positions.
Sprouts Farmers Market 
The grocer is hiring workers for a variety of positions. Earlier this month, the company announced it was looking for hundreds of employees for two separate locations in Florida.
Tractor Supply Company 
The largest rural lifestyle retailer in the United States is embarking on its "most ambitious hiring drive ever," according to a LinkedIn post.
The company is planning to immediately fill more than 5,000 full-time and part-time positions across nearly 1,900 stores in 49 states and eight distribution centers.
These jobs will focus on increased customer service and safety in stores, according to the company's post.
Valet Living 
Valet Living is actively recruiting for 10,000 positions nationwide over the next several months, the company's chief marketing officer, Patti Girardi, confirmed to FOX Business.
The company is mostly recruiting people for service valet positions. The role includes duties such as doorstep trash and recycling collection. The company has openings for both temporary and long-term positions.
Walgreens 
Walgreens is looking to fill roughly 9,500 existing full- and part-time roles in stores throughout the United States.
Walmart
Walmart is adding 150,000 new associates through the end of May.
CLICK HERE TO READ MORE ON FOX BUSINESS
The Associated Press contributed to this report.