Check out what's clicking on
The husband of a 45-year-old American publishing executive who died last week in a boating accident during a vacation in Italy is calling for those responsible to be held accountable, saying the "terrible circumstances of her death are impossible to comprehend." 
Mike White, the husband of Adrienne Vaughan – who was the president of book publisher Bloomsbury USA – told The Associated Press, "We are cooperating with the Italian authorities in their investigations and will continue to do so until they conclude." 
Vaughan got stuck between two motorboats following a collision between a speedboat and a sailing boat near the Amalfi Coast on Aug. 3. The blades of the speedboat struck her, fatally injuring her. Bloomsbury is the American publisher of the Harry Potter series. 
The family was in the middle of a European tour, having visited London in July before arriving in Italy. They spent a few days in Rome before deciding to visit the Amalfi Coast, where they rented a speedboat to explore the area.   
PUBLISHING EXECUTIVE DIES IN BIZARRE VACATION BOATING ACCIDENT WHILE SKIPPER WAS INTOXICATED 
In this undated photo provided by Bloomsbury Publishing on Friday, Aug. 4, Adrienne Vaughan poses for a portrait. (Bloomsbury Publishing via AP / AP Newsroom)
"Her absence from our lives and the terrible circumstances of her death are impossible to comprehend," White added in a statement. 
"We look to the Italian authorities to fully investigate the circumstances leading to Adrienne's death, to ascertain where responsibility for this lies, and to ensure that any person who is found to bear responsibility is held accountable under the Italian criminal justice system," he also said. 
The AP, citing Salerno Prosecutor Giuseppe Borrelli, reported that Vaughan was sunning herself on the rented motorboat and was thrown into the water at the moment of impact. 
Prosecutors are investigating the driver of her boat for suspected manslaughter and causing a shipwreck, although no charges have been filed yet, the AP added.  
NEW MANAGMENT OF BANKRUPT VANTAGE TRAVEL TO REIMBURSE CUSTOMERS WHO HAD TRIPS CANCELED 100% IN TRAVEL CREDITS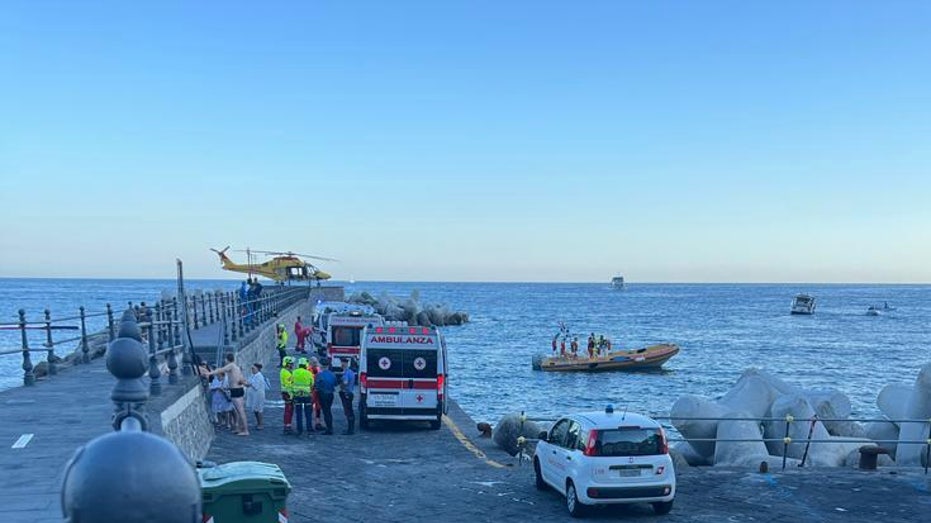 Emergency personnel gather at a dock to assess Adrienne Vaughan's condition. (https://quotidianocostiera.it/)
The speedboat collided with the Tortuga, which carried around 80 foreign passengers, including some American and German tourists who were celebrating a wedding.  
An air ambulance took Vaughan to shore, where a medical helicopter tried to retrieve her, but by the time it arrived, she was declared dead, Sky 24 reported. 
Authorities tested both the captain of the Tortuga and the 33-year-old skipper of the speedboat, an employee of a boat rental company in Massa Lubrense. The speedboat captain tested positive for intoxication from drugs and alcohol following the incident.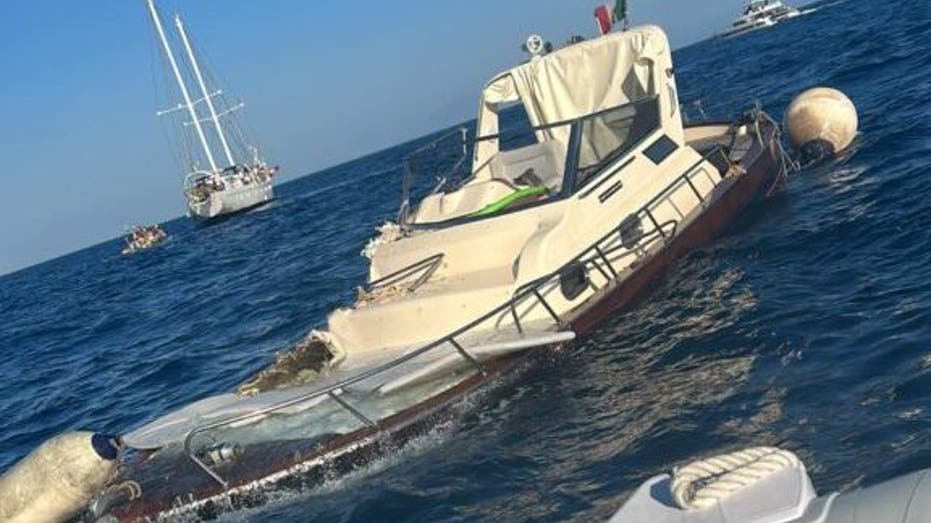 The 9-meter-long speedboat Adrienne Vaughan and her family rented to tour the area. (https://quotidianocostiera.it/)
CLICK HERE TO READ MORE ON FOX BUSINESS        
White suffered a bruised shoulder and some wounds on his leg while their two children remained unharmed, Italian outlet Corriere Della Sera reported. 
FOX Business' Peter Aitken contributed to this report.