Pop star Ed Sheeran reacted Thursday to the not liable verdict in the copyright trial examining whether he stole key elements of Marvin Gaye's "Let's Get It On" song for Sheeran's hit "Thinking Out Loud."
A jury ruled Thursday that English singer-songwriter Ed Sheeran was not liable in a case in which he was accused of copying music chords from Marvin Gaye's classic "Let's Get It On" in his 2014 hit song "Thinking Out Loud."
Following the verdict announcement, Sheeran stood up and hugged his team before mouthing "thank you" to the jury.
Outside the courthouse, Sheeran spoke to the press but did not answer questions. The "Shape of You" singer-songwriter said he's happy about "not having to retire from [his] day job" after saying he would stop writing music if he lost the trial.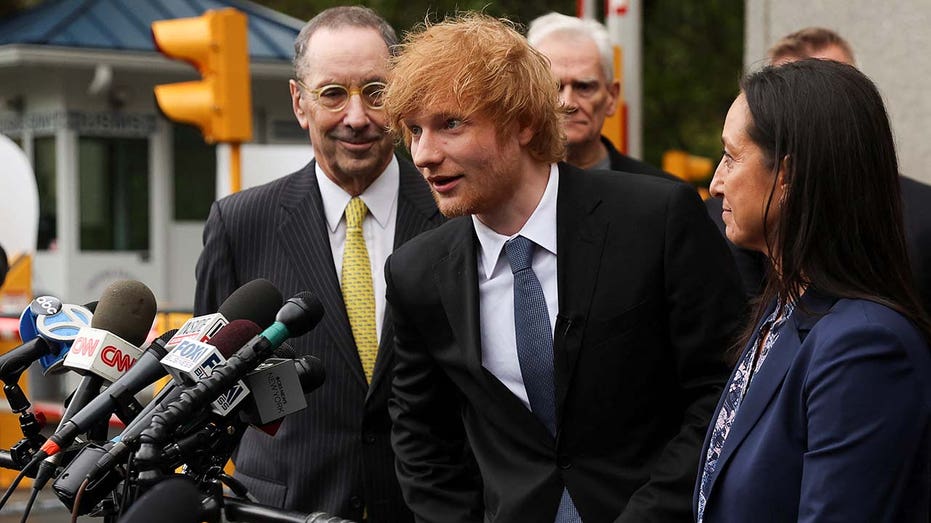 Singer-songwriter Ed Sheeran speaks to the media after he was found not liable in the copyright infringement lawsuit brought against him by the family of songwriter Ed Townsend. (REUTERS/Shannon Stapleton / Reuters Photos)
"If that happens, I'm done — I'm stopping," he previously said in court.
Sheeran is "grateful the jury saw through the attempts" to show "misleading comparisons" made by the plaintiff's experts between the two songs, finding "similarities where none exist."
"It's devastating to be accused of stealing someone else's song," Sheeran noted, adding, "We need songwriters and the writing community to come together to bring back common sense" and use "trusted individuals" as music experts so the "creative process can carry on."
The verdict tops off a trial in which the popular musician took the stand himself to blast the lawsuit, describing it as "frustrating" and "insulting" because he "works hard" to write his own music. It took jurors 2 hours and 30 minutes to reach their decision Thursday.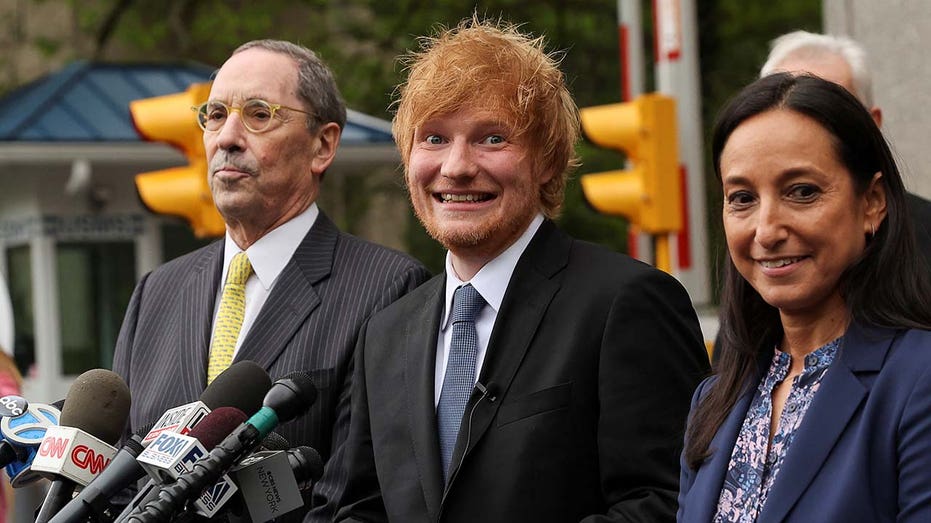 Ed Sheeran said he's happy he doesn't have to "retire" from his "day job" after winning the copyright infringement lawsuit. (REUTERS/Shannon Stapleton / Reuters Photos)
ED SHEERAN MISSES GRANDMOTHER'S FUNERAL DUE TO COURT PROCEEDINGS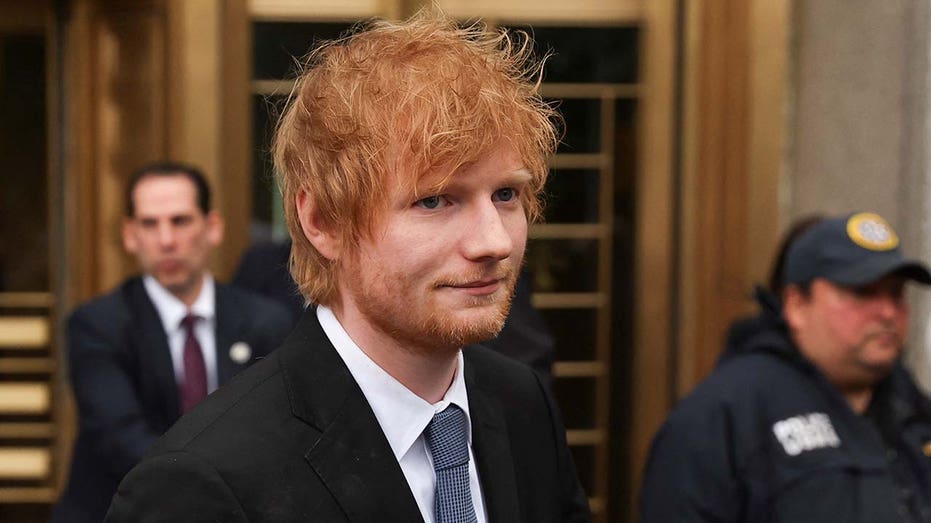 Ed Sheeran leaves the Manhattan federal court after his copyright trial on Thursday. (REUTERS/Shannon Stapleton / Reuters Photos)
The copyright infringement lawsuit was brought by the family of singer-songwriter Ed Townsend, who co-wrote Gaye's song. The lawsuit reportedly sought $100 million in damages. 
While on the stand during the trial, Sheeran was adamant he had come up with the song himself, sparring at times with the plaintiff's attorney, Keisha Rice, on the subject of "independent creation." 
Attorney Ben Crump, representing heirs of Townsend, explained that Sheeran combined the songs during a concert at one point. He said merging the song was tantamount to "a confession." 
ED SHEERAN FINDS TRIAL 'FRUSTRATING' AND 'INSULTING,' SLAMS EXPERT'S 'HORRIBLE DEPICTION' OF HIT SONG 
Attorney Ben Crump arrives at federal court in New York on Tuesday. (AP/Seth Wenig / AP Newsroom)
Addressing the accusation that he copied songs, Sheeran said, "I'd be an idiot to stand on a stage in front of 20,000 people and do that." 
Sheeran also slammed the plaintiff's music expert during the trial, saying he gave a "horrible depiction" of "Thinking Out Loud." 
"I know he's wrong because I wrote it myself," Sheeran said about the song in question. 
"If I can be honest, I think what he's doing here is criminal," the singer-songwriter said. 
In this courtroom sketch, Ed Sheeran's attorney Ilene Farkas, left, questions him as a video of "Thinking Out Loud" plays on screens during the presentation of their case in Manhattan federal court on Monday. (AP/Elizabeth Williams / AP Newsroom)
CLICK HERE TO READ MORE ON FOX BUSINESS        
Lawyers for Sheeran have maintained his song only uses foundational elements of pop music. 
"The two songs share versions of a similar and unprotectable chord progression that was freely available to all songwriters," the lawyers said in a court filing.