Check out what's clicking on
The rapidly-approaching coronation of King Charles could cost an eye-popping amount while also bringing benefits to the U.K. economy. 
The British monarch's crowning has had varying costs attributed to it leading up to the widely-anticipated event scheduled for Saturday morning. In some reports, it has been projected the cost will come out to $125 million (£100 million), while others have pegged it lower, around $60 million (£50 million).
Many outlets credited security as factoring into the estimated price-tag. Some U.K. residents have bemoaned the estimated costs, pointing to the cost of living crisis.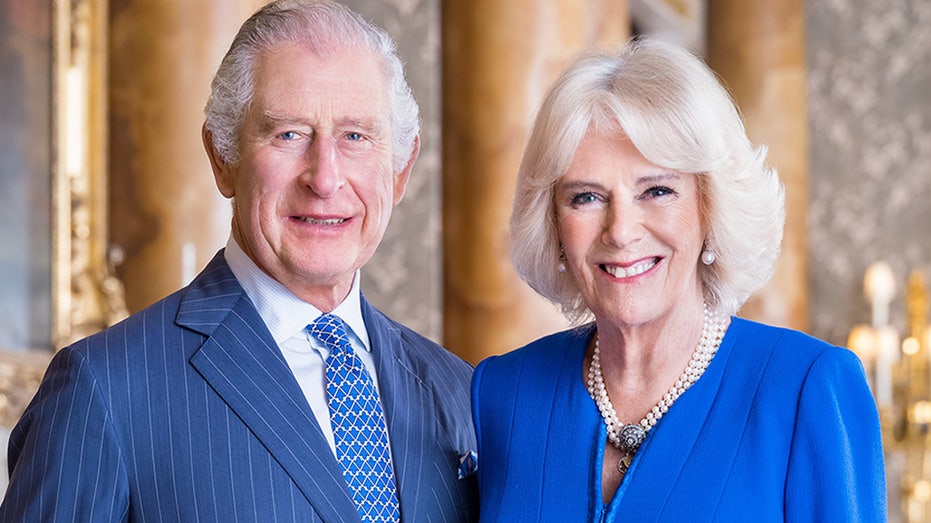 His Majesty King Charles III and the Queen Consort Camilla will celebrate coronation day on Saturday, May 6 with ceremonial events throughout London. (Hugo Burnand / Fox News)
The Department for Digital, Culture, Media and Sport told FOX Business that for national state occasions, the U.K. government provides money. The coronation cost was not provided ahead of the event, something typical for such festivities. 
TICKETMASTER FACES ROYAL CONTROVERSY OVER CORONATION CONCERT
FOX Business also reached out to Buckingham Palace for comment.
The famed Westminster Abbey will host the coronation, during which Charles will don the 22-carat gold, precious jewel-encrusted St. Edward's Crown and Camilla will wear the 2,000-diamond Queen Mary's Crown. Other regalia, including the Imperial State Crown, Sovereign Scepter, Sovereign's Orb and Coronation Spoon will appear. 
The abbey will also have over 120 flower varieties provided by the non-profit Flowers from the Farm.
Buckingham Palace has said that Charles will wear vestments that were featured in prior coronations, and that he and his wife will sit at certain points in historic Chairs of Estate and Throne Chairs made for previous such occasions. 
Before and after the ceremony, processions will take place, with the Gold State Coach that sports gold leaf, painted panels and sculptures expected to carry Charles and Camilla in the latter one. They will use the Diamond Jubilee State Coach for the pre-coronation journey from Buckingham Palace.
Compared to that of his mother, the late Queen Elizabeth II, the king's coronation is expected to have 75% fewer guests on the list and run less time. Some 2,000 guests have received invites, including Prince Harry and first lady Jill Biden.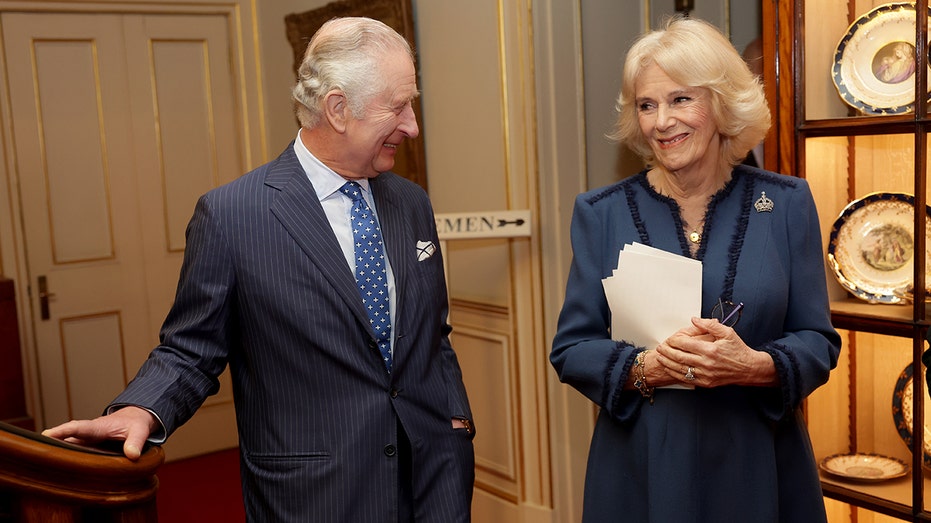 King Charles III and Camilla, Queen Consort attend a reception to celebrate the second anniversary of The Reading Room at Clarence House on Feb. 23, 2023 in London. The Reading Room, which was official launched by the Queen Consort two years ago, cha (Photo by Chris Jackson/Getty Images / Getty Images)
KING CHARLES III'S CORONATION BOOSTS UK TOURISM AS REGION STILL RECOVERING FROM LOCKDOWNS
With the event itself taking place Saturday, England, Wales, Scotland and Northern Ireland will have a bank holiday Monday in honor of it, according to the U.K. government. That means many businesses will have their doors closed for that day.
Reuters reported that a spokesperson for the palace highlighted projections of the economy seeing over $1.25 billion in benefit from the coronation and noted it provided important opportunities for leaders to get together. 
"It's not for me to say how accurate those figures are but certainly the theory pertains that the celebrations are an enormous economic boost to the nation," the spokesperson told Reuters. 
VisitEngland said last week that the U.K. economy would see a $1.5 billion (£1.2 billion) lift, a figure the tourism agency attributed to some 4 million U.K. citizens having domestic trips planned for the coronation weekend.
A staff member prepares afternoon tea for the new Coronation Tour Bus route, in London, Monday, April 24, 2023. (AP / AP Newsroom)
In England and Wales, drinking establishments and clubs will get two hours more than normal to operate from May 5 to May 7, according to a licensing hours order passed for the coronation. Those extra hours, the Center for Economics and Business Research (Cebr) projected, could net $130 million (£104 million). 
QUEEN ELIZABETH II, BRITISH ROYAL FAMILY'S NET WORTH
With tourists from all over the world, some $293 million (£233 million) could also be brought in, according to Cebr. 
The coronation will come nearly eight months after the passing of Queen Elizabeth, whose reign lasted seven decades, at her Balmoral estate in Scotland back in September. It is the first since 1953.