A Maleficent dragon caught fire during a "Fantasmic!" show at Disneyland in California, reportedly prompting evacuations. (Credit: Reuters/Tim Turensek)
A massive animatronic dragon a Disneyland show in California was caught on video bursting into flames, reportedly prompting some employee evacuations Saturday night. 
Several videos shared to social media showed the 45-foot-tall Maleficent Dragon become engulfed in flames during the "Fantasmic!" show. 
KABC cited the Anaheim Fire Department in saying no injuries were reported. 
Fox News Digital independently reached out to Disneyland and the Anaheim Fire Department early Sunday but did not hear back before publication. 
DISNEY PLANS LAYOFFS FOR THOUSANDS NEXT WEEK, REPORT SAYS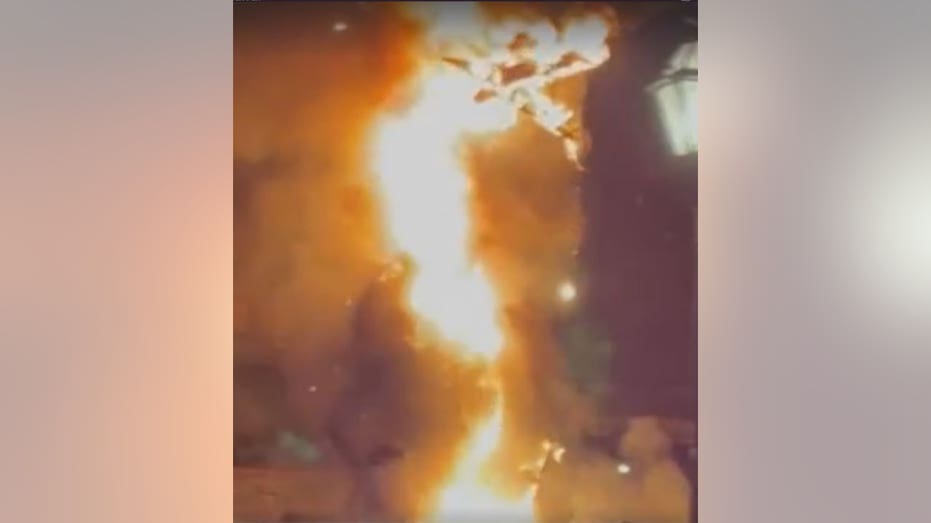 The Maleficent dragon during a "Fantasmic!" show at Disneyland caught fire.  (Reuters/ Tim Turensek / Reuters Photos)
"It was a big giant fireball. Then they began pushing people out," Ryan Laux, a 28-year-old Los Angeles video producer and an annual season passholder, told the Los Angeles Times. 
Fantasmic debuted at Disneyland in 1992 and was reinvented in 2017, according to the Times. 
The show is performed twice nightly on Tom Sawyer's Island and involves digital flames, colored fountains and pyrotechnics. The audience watches from the banks of the Rivers of America around New Orleans Square and Frontierland.
The second 10:30 p.m. showing was coming to its climax Saturday night when Mickey Mouse fights a fire-breathing dragon named Maleficent. The fire breath engulfed the dragon's head and then spread to its body, Laux said. 
DISNEYLAND UNVEILS FIRST-EVER LGBT 'PRIDE-NIGHT' AMID BATTLE WITH DESANTIS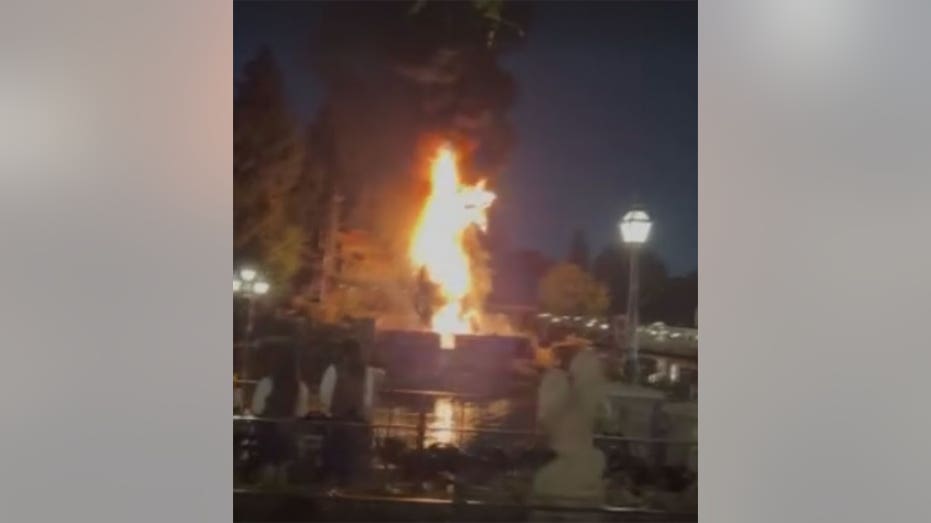 The fire during the "Fantasmic!" show at Disneyland prompted employee evacuations. (Reuters/ Tim Turensek / Reuters Photos)
"At one point there was a fireball," Laux told the Times. "There was a bit of debris that fell from the prop."
"It was shocking," he added. "The crowd was in a standstill. People are packed in like sardines."
"It happened out of nowhere," Melissa Giles, a 30-year-old guest from Alberta, Canada, also told the newspaper. "We thought it was part of the show. Within seconds it went up in flames."
KNBC reported that one video captured an announcement telling guests the show could not continue due to "unforeseen circumstances" as crowds were ushered away from the area.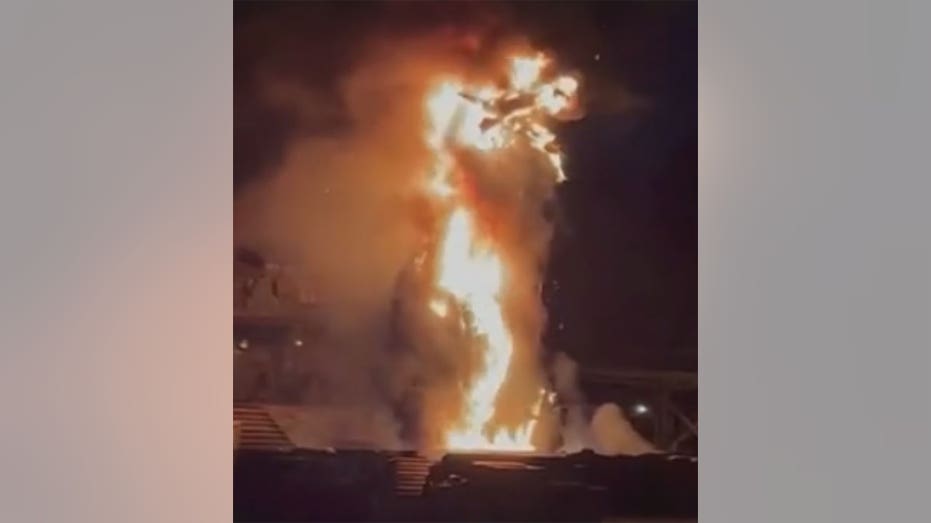 A mishap at Disneyland resulted in the Maleficent dragon being engulfed in flames.  (Reuters/ Tim Turensek / Reuters Photos)
CLICK HERE TO READ MORE ON FOX BUSINESS
One witness told WABC cast members evacuated the area around Frontierland, but the rest of the park remained open.