Trend Micro vice president of threat intelligence Jon Clay details the big red flags associated with romance scams.
Tens of thousands of Americans were taken advantage of in romance scams last year, when con artists defrauded people of a record $1 billion collectively across dating sites using fake personas to lure vulnerable love-seekers out of their money.
However, one victim, who says he "lost everything" to a criminal on Plenty of Fish (POF), is speaking out to bring attention to the issue in a warning to others as he seeks justice.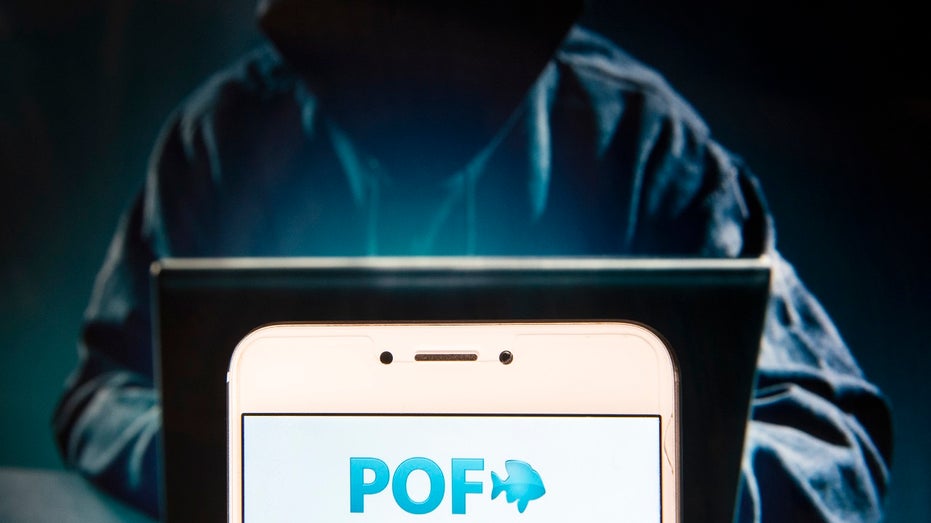 A member of the dating site Plenty of Fish says a fraudster conned him out of some $55,000 and "ruined his life." (Photo Illustration by Miguel Candela/SOPA Images/LightRocket via Getty Images / Getty Images)
Richard Davis, 70, began messaging with someone he thought was a woman in her late 60s on POF in December 2021. Over the course of the next 11 months, whoever was on the other end of those messages coerced Davis out of roughly $55,000 — nearly all of which he put on credit cards.
Now, Davis is deeply in debt, and his once-pristine credit is ruined. Choked by bills, he began rationing his food in the aftermath of the fraud and has moved in with his sister to survive. He says the con ruined his life.
CRYPTO CRIMINALS BEWARE: AI IS AFTER YOU
The profile of the person Davis spoke with on POF said they lived in Newburgh, New York, but "she" claimed to him they were actually living abroad in Germany, caring for their ailing grandmother.
At first, the person lured him in and made him feel sorry for them. "She" claimed her ex-husband divorced her because she could not have children, and that Davis was the only person that spoke to her with such kindness.
When the person initially started asking for money, they claimed their bank account had been frozen because their purported ex-husband was trying to steal money out of the account. So they asked Davis for a lifeline.
As the online relationship became deeper, the person promised love, marriage and a huge amount of money from the inheritance of their late father, which was allegedly tied up in a legal battle with other family members.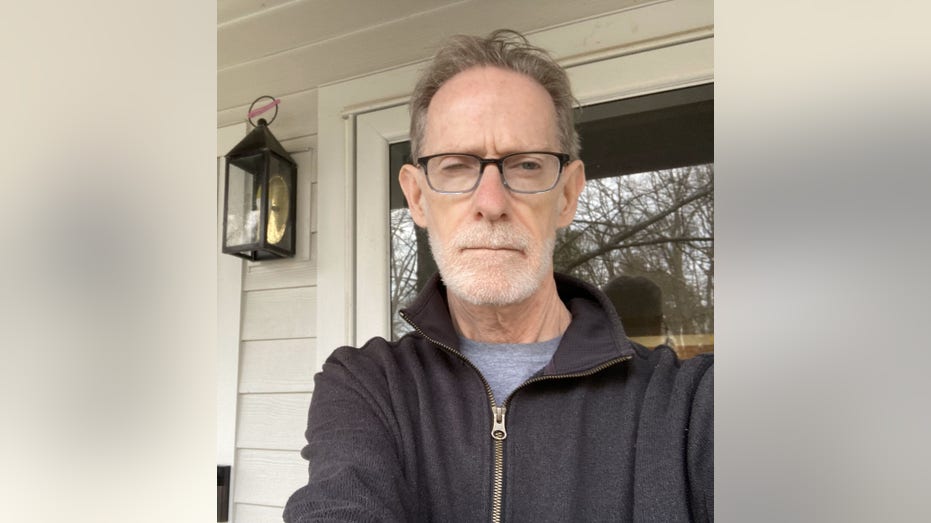 Richard Davis, 70, is seeking justice after being scammed out of roughly $55,000 by a con artist on dating site Plenty of Fish. (Richard Davis)
"I thought it would not happen to me but this person was so detailed about the 'dire' situation for months and months," Davis explained.
"I thought it would not happen to me but this person was so detailed about everything to say for months and months."
He says it was astonishing how the fraudster thought of every detail, that their stories were always so realistic and convincing.
The criminal claimed they had medical problems and needed surgery, claiming they would die without it, even putting their "doctor of many years" on the phone to speak with Davis. They claimed to be a Christian who went to church every Sunday, preying on the fact that Davis is a person of faith and swearing they would never take advantage of him.
"I guess I was naive, I never thought anybody would use that for their ill-gotten gains. But I guess they do," he said.
APPLE AND GOOGLE HIT BACK AT AIRTAG STALKING WITH NEW PROPOSED INDUSTRY SPECIFICATION
They also threatened Davis that he would not receive his share of "her" "inheritance" if he did not pay a few hundred dollars more, over and over. 
So, time and again Davis sent the person Apple Pay cards online through WhatsApp and Gmail accounts before he figured out he had been conned.
He became suspicious when over the course of nearly a year, the person claimed they needed multiple surgeries, that multiple grandmothers had died, and that they were waiting on multiple inheritances. They also failed to show up to meet him in person multiple times.
Davis realized he had been taken the day the person said they were returning to the U.S., and would fly into Newark, New Jersey. So, he went to the airport to pick her up, waiting and waiting outside the gate as the particular flight unboarded, but of course no one looking like the person on the POF profile came out.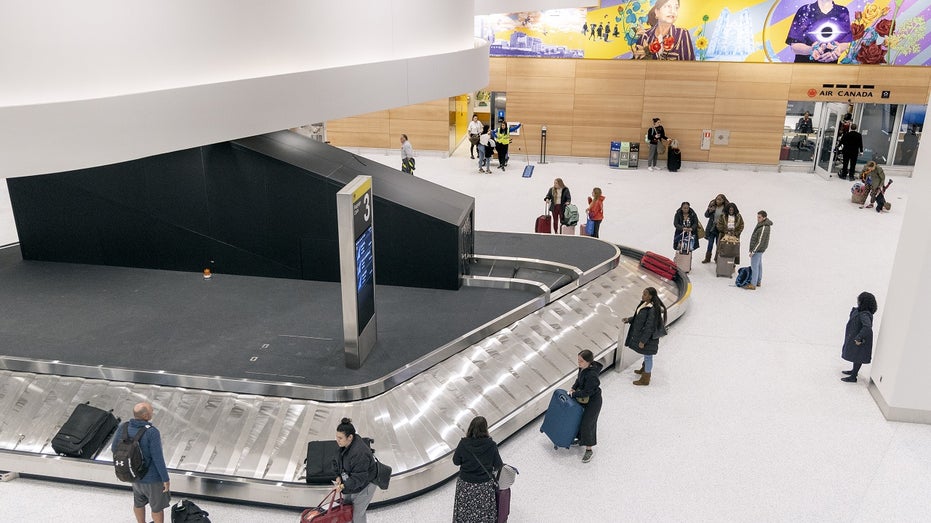 Travelers retrieve their luggage at Terminal A at Newark Liberty International Airport in Newark, New Jersey, on Jan. 12, 2023. (Aristide Economopoulos/Bloomberg via Getty Images / Getty Images)
The fraudster had even sent Davis a picture of what they said was their passport. So, Davis went to the customs desk at the airport and showed it to the agents, hoping they could help him find "her." The workers sincerely tried to assist him, Davis said, and ultimately informed him that the passport was fake.
At that point, Davis said, "I lost my mind." Since that day, he has been looking for justice. 
Davis contacted the Department of Justice's National Elder Fraud Hotline, who said he had likely been the victim of romance fraud orchestrated abroad. "That's when I knew it was done," he says. When he confronted the unknown perpetrator over the fraud, they stopped communicating with him.
Davis has filed reports with the Federal Bureau of Investigation and the Federal Trade Commission. He also called AARP, where he is a member, and the organization told him he is one of many and that they probably receive 1,000 calls each day of such scams being carried out on people his age.
THE 5 TECH TOPICS THAT ARE INTRIGUING OLDER AMERICANS: REPORT
So far, Davis has not seen any progress from law enforcement agencies regarding his case. He says he believes they are "overwhelmed."
Davis has also found the same profile pictures used on the POF account that scammed him on numerous other accounts, and shared seven of them with FOX Business.
Davis says he has issued several complaints with POF over the ordeal, flagging the accounts he believes are fraudulent. When initially contacted by FOX Business, the dating site responded with a statement saying "the unfortunate reality is that scammers may pull at the heartstring and prey on those looking for love or connection — not just on dating apps but on all online platforms."
Plenty of Fish says it has several anti-fraud measures in place and removed the accounts flagged by Richard Davis. (Photo Illustration by Budrul Chukrut/SOPA Images/LightRocket via Getty Images / Getty Images)
The company said it has implemented several anti-fraud measures to help protect and support their users, including background checks with Garbo, a selfie verification feature, and an interactive safety center on the app that helps members educate and protect themselves.
When presented with the seven account names Davis provided late last month, a POF spokesperson told FOX Business, "When we receive a report of this nature, our support team does its due diligence to investigate and immediately remove accounts that could be fraudulent. In response to Mr. Davis, I can confirm that accounts associated with this investigation have previously been banned."
GET FOX BUSINESS ON THE GO BY CLICKING HERE
Davis called POF's claims that they protect members "nothing but smoke and mirrors." He believes the company should be held accountable for allowing scammers to target members and should have to pay up.
"These websites should be held responsible for my loss, and many, many others,'" Davis told FOX Business. "I would love to sue if I could get a lawyer, but I have no money anymore."