Steven Kandarian, former MetLife president, chairman and CEO, discusses whether another collapse like Silicon Valley Bank is lurking in the financial system on "The Claman Countdown."
Shares for First Republic Bank sank after the San Francisco-based regional bank's first-quarter earnings report revealed the bank's deposits dropped 40% amid the crisis that enveloped regional lenders following Silicon Valley Bank's (SVB) collapse.
Ticker
Security
Last
Change
Change %
FRC
FIRST REPUBLIC BANK (SAN FRANCISCO CALIFORNIA)
16.00
+1.74
+12.20%
First Republic reported that its deposits totaled $104.5 billion at the end of March – down 35.5% year over year and a drop of 40.8% compared to Dec. 31, 2022. That figure includes the infusion of $30 billion in uninsured deposits from 11 of the largest U.S. banks that were provided to stabilize the bank amid the crisis in March.
The decline in shares Tuesday extended Monday's after-the-bell selloff. 
The bank noted that it began "experiencing unprecedented deposit outflows" following Silicon Valley Bank's collapse in March. 
BANKS ARE PAYING SAVERS AGAIN AFTER MANY YEARS OF LOW RATES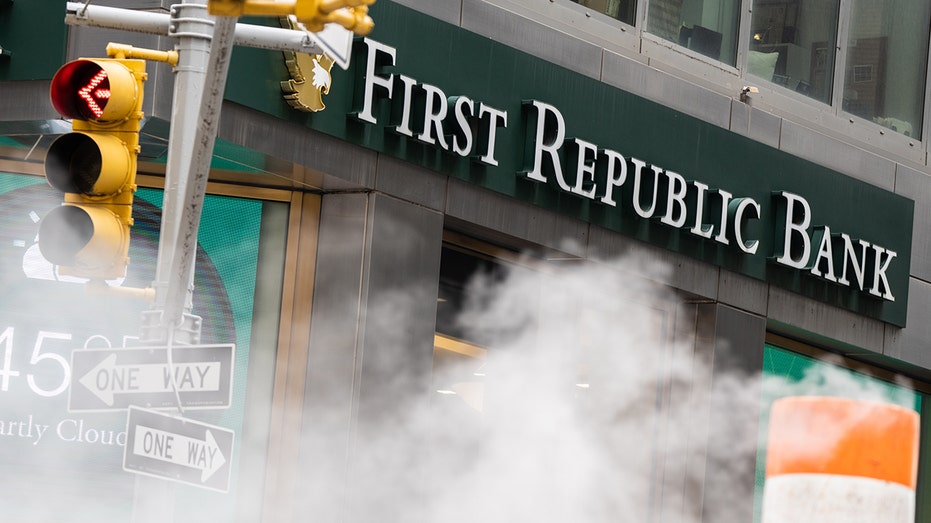 A First Republic Bank branch in New York on March 10, 2023. (Jeenah Moon / Bloomberg via Getty Images / Getty Images)
SVB failed amid a bank run exacerbated by a large base of uninsured deposits in excess of the Federal Deposit Insurance Corporation's $250,000 threshold and over-exposure to interest rate risk from long-term Treasury securities. Its implosion fueled concerns about other regional lenders, including First Republic, which prompted the deposit flight and steps to shore up its financial position.
In the wake of the turmoil, First Republic is moving to "increase insured deposits, reduce borrowings from the Federal Reserve Bank, and decrease loan balances to correspond with the reduced reliance on uninsured deposits."
WARREN BUFFETT ON BANKING CRISIS: 'NOBODY IS GOING TO LOSE MONEY ON A DEPOSIT IN A US BANK'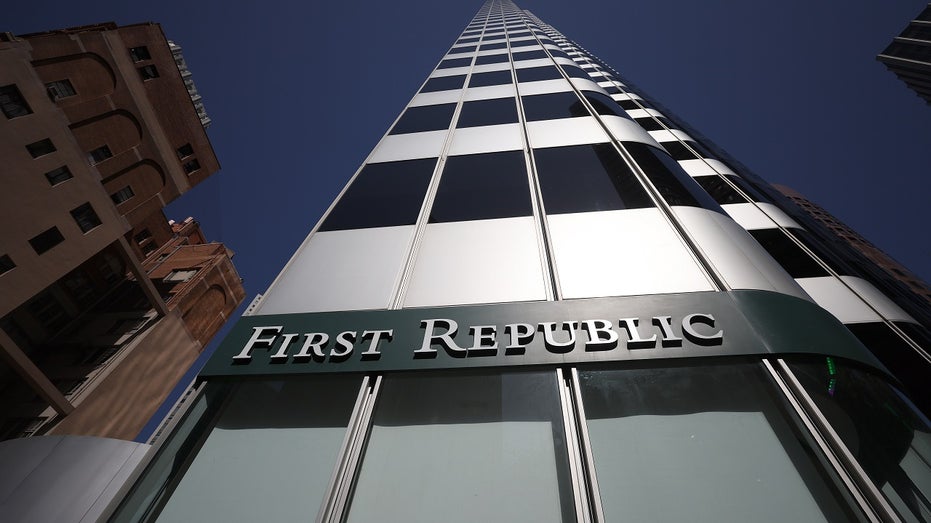 A sign is posted on the exterior of a First Republic Bank office in San Francisco on March 16, 2023. (Justin Sullivan / Getty Images / Getty Images)
As of March 31, First Republic had an estimated $19.8 billion in uninsured deposits, or 27% of total deposits, when excluding the $30 billion in uninsured deposits from other banks. When including the capital infusion from other banks, uninsured deposits represented about $49.8 billion of the $104.5 billion in total deposits, or about 48% of the deposit base.
At the end of last year, First Republic had about $118.8 billion in uninsured deposits, which made up about 67% of its total deposits. For comparison, Silicon Valley Bank had uninsured deposits that made up more than 93% of its total deposits at the end of 2022 before the bank run began.
GET FOX BUSINESS ON THE GO BY CLICKING HERE
First Republic also said it "expects to reduce its workforce by approximately 20-25% in the second quarter" amid a cost-cutting push that has also featured "significant reductions" to executive officer compensation, condensing corporate office space and reducing non-essential activities. The company also suspended its dividends on common stock and noncumulative preferred stock.