Sen. Tim Scott, R-S.C., discusses cutting taxes and reigning in government spending during the first GOP debate.
One day after releasing his education plan for America, Republican presidential candidate Sen. Tim Scott, R-S.C., expanded on Big Tech and China having "an outsized influence" on children, their attention spans and mental health.
"I do think that a parents bill of rights gives us an opportunity now to talk about the education of our kids and make sure that our kids are being educated, not indoctrinated," Scott told Fox News Digital on Tuesday.
"But it also allows us to create a new culture where our kids are our priorities in such a way that we focus on the outcomes that will be best for them long-term," he continued, "and that we rein in some of these rogue actors like China and their malign influence in our country through these apps."
Scott is promising to crack down on China and Big Tech companies in order to give back control to parents as part of his "Empower Parents Plan." Other proposals in the education plan include saving Title IX and women's sports and providing greater school choice – all of which aim to elevate the role of parental control.
BILLIONAIRE G.O.P. DONOR REVEALS WHO IS HIS 'IDEAL CANDIDATE' FOR 2024
The senator also calls for mandating country-of-origin labeling on every app, so parents are fully informed and making Big Tech do more to keep kids safe online.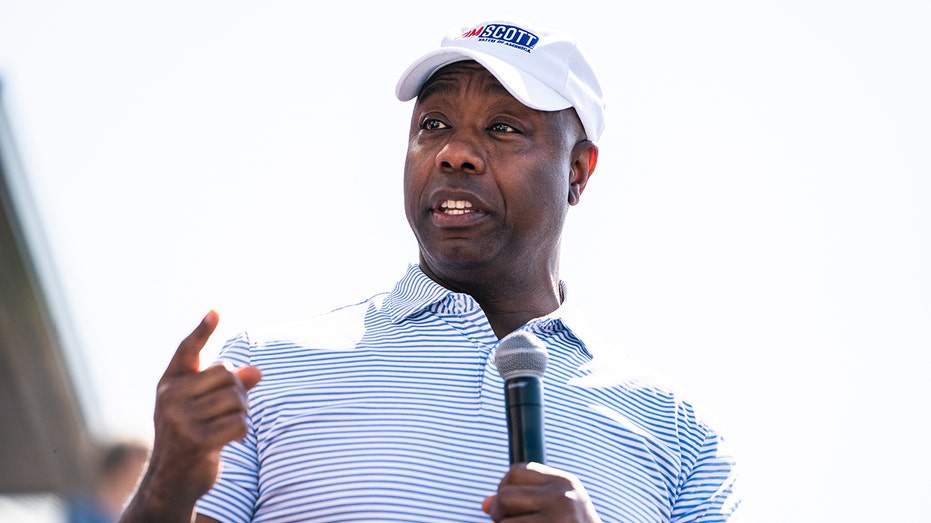 In an interview with Fox News Digital on Tuesday, 2024 GOP candidate Sen. Tim Scott, R-S.C., explained how China and Big Tech have a "malign" influence on children and U.S. education. (Getty Images)
"We've seen an increase in mental health emergency room visits by over 30% because of both COVID and the impact that Big Tech's having on our kids' mental health," Scott said. "Frankly, I think if you think about TikTok, you think about the fact that our kids, we're seeing their attention spans going down and we're seeing their privacy being stolen. And it's a huge challenge."
TikTok did not immediately respond to Fox News Digital's request for comment. 
The rising GOP star and only Black Republican senator emphasized China as the reason why he's proposing the "Know Your App Act."
"I think China's our looming threat," he said. "I think it's really important for us to see landmark legislation that would require parental verification and consent before a minor under a certain age, 13 years old, that has access to social media accounts."
Rep. Tim Scott, R-S.C., addresses the weaponization of the Department of Justice at the first GOP primary debate.
"Also in China, if you think about the fact that TikTok is an educational tool," Scott added, "it's not an educational tool in our country."
By "going through the root system," Scott expressed his belief that his education platform will lead to the "taproot" of Big Tech.
"Getting that right puts parents in charge and it creates this new conversation, that is actually old, where hopefully parents and kids across from each other at the dinner table are having good conversations because the devices are down and the conversations are up," Scott explained.
The senator, who co-chairs the Congressional School Choice Caucus, argued that parents having choices within the education space means better outcomes for their children.
"The future of our nation won't be determined by the color of your skin, but it will be determined by the quality of your education," Scott said Tuesday.
GET FOX BUSINESS ON THE GO BY CLICKING HERE
Tim Scott donor and Sabin Metal Corporation Chairman Andy Sabin discusses Sen. Tim Scott's chances in the 2024 election ahead of the first GOP primary debate on Fox News.
"And so the more we focus on education as a great opportunity party, the more likely we are to stand strong and stand with strength as the party of parents," he continued. "To me, going forward, if you can align your values with the issues of the American people and they are concentric, you'll have the most success possible."
Scott will have the chance to further defend his education plan for America during the second Republican presidential primary debate on September 27 hosted by FOX Business at the Ronald Reagan Presidential Library in California.
Fox News' Paul Steinhauser and Andrew Murray contributed to this report.