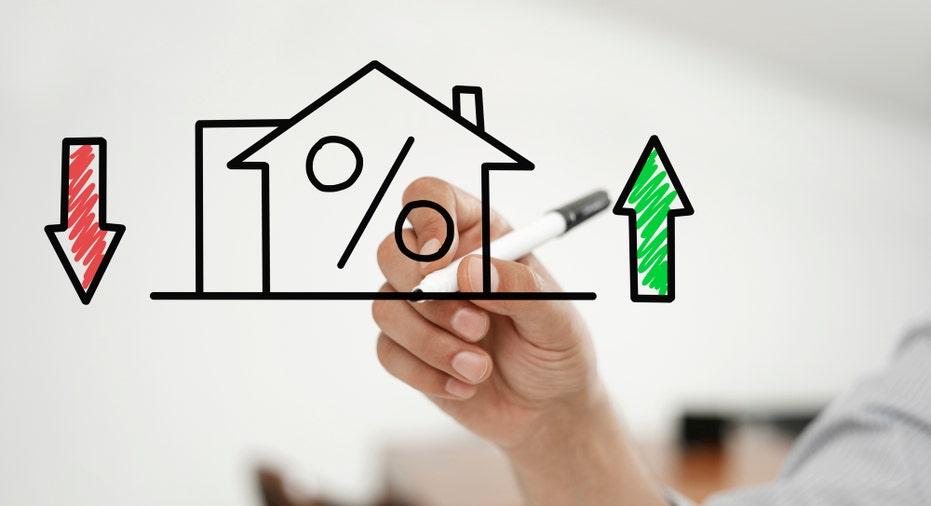 Refinance with the best rate by using these tips. (iStock)
If you've been trying to determine how to get the best mortgage refinance rates before making any major moves, here's your answer.
The Federal Reserve's March emergency rate cuts affected mortgages. By May, mortgage interest rates dropped to a new record low. Saving money by refinancing mortgage loans for a lower interest rate can make a big difference in your monthly payments and could even cut the life of the loan.
But remember: The one-size-fits-all theory doesn't apply to refinance rates. It's crucial to compare rates in order to find lower rates. Credible can help you compare mortgage lenders and save money on your monthly payments and beyond with their online tools. Checking personalized rates only takes three minutes and doesn't impact your credit score. 
What are mortgage rates today?
On September 10, the average rate for a 30-year fixed mortgage dropped to a new all-time low of 2.86%, down 0.07% from last week's rate of 2.93%, according to Freddie Mac.
The rate for a 15-year fixed mortgage also hit a new low and dropped from 2.43% to 2.37% in the same time period.
5 ways to get the lowest mortgage refinance rates
To lock in the lowest mortgage rate available, follow these five steps.
Step 1: Compare rates and multiple lenders
Finding the best mortgage refinance rates takes time. You'll need to compare rates from multiple lenders. Credible allows you to compare multiple lenders to ensure you meet your personal finance goals. Find out how much you could save on your loan amount by refinancing now.
HOW TO FIND THE BEST MORTGAGE RATES AND FASTEST CLOSINGS
Don't be afraid of getting multiple online quotes to refinance a mortgage and even to use them as leverage to pit refinance lenders against one another to compete for your business.
You can also use a refinance calculator to see if the savings are worth the cost of refinancing.
Step 2: Boost your credit score 
Knowing your credit score beforehand is even more important (here's how you can check your score for free without penalty). Mike Dulla, president of United Home Loans, said that "clients will typically be able to secure the best rates for conforming refinances (loans of $510,400 or less) with a 740 or higher credit score." 
If your score is low, it will be difficult to get approved for a loan. But don't worry, there are several ways you can boost it fast, including:
Paying bills on time
Asking for a higher credit limit
Keeping your credit card balance low
Getting added as an authorized user
Fixing credit report errors
Credible can help you compare lenders and save on interest without impacting your credit score. You can complete the entire origination process — from comparing loan rates up to closing — all in one place.
5 FACTORS THAT AFFECT YOUR CREDIT SCORE
Step 3: Lock in the lowest mortgage rate
Don't risk losing a low mortgage refinance interest rate during these unpredictable times. Here are some of the best ways to lock in the cheapest loan rate:
Build credit: Make credit card payments on time, keep your credit card balances low and avoid any new credit applications until you're confident in your score.
Act quickly: After you're approved for the loan, go ahead and accept the offer so the rate won't change.
A rate lock typically lasts about 30 days (though many lenders go even longer than that). This helps ensure your rate will remain the same from the time they give you an offer and the time it takes the loan to close.
HOW TO LAND THE BEST MORTGAGE REFINANCE PRICE
Step 4: Determine your home equity position
You will get the best loan rates with a 40 percent home equity position (60 percent loan-to-value), said Dulla. He added that you will still get great loan rates with loan-to-value ratios of 95 percent or under, but the more equity in your home the better.
"Sometimes it may make sense to pay the loan balance down a bit if it will improve the rate. After all, the eventual goal is to pay these things off," he said.
Step 5: Change your loan term
If you're considering a refinance, it's wise to change your loan term so it better suits your personal finance situation. Here are some things to consider while changing loan terms, according to Dulla:
Consider a 15-year fixed-rate
Don't do a cash-out refinance 
Watch out for points and other high closing costs
Make sure your employment is stable (Lenders are required to verify employment the day of or day prior to closing)
Don't delay
Overall, it's likely a good idea to refinance right now — just make sure you do your homework.
"Sometimes we see borrowers get a little greedy and try to time the absolute bottom of the market," said Dulla. "If you can save $100 or more per month now and pay limited closing costs, it probably makes sense."
Make sure you crunch the numbers through Credible's free online tool to see how much you could save.
HOW TO REFINANCE YOUR MORTGAGE IN 5 EASY STEPS
Are 15-year loans a good idea?
Dulla notes 15-year fixed interest loan rates are in the mid to high 2s right now.
"You pay way less interest compared to a 30-year fixed," he said. Not to mention a shorter loan term will help you pay off your existing mortgage much faster."
Is it a good idea to cash-out refinance?
If you don't need it, don't take more than $2,000 cash out in your refinance. Cash-out refis — a special kind of refinance loan that involves taking out a new loan to repay your current debt and also borrowing more than you already owe on your home to get cash back — are not in favor right now with Fannie Mae, Freddie Mac and several banks, said Dulla.
"You will pay a higher interest rate for a cash-out refinance. If you get more than $2,000 back at closing, Fannie Mae and Freddie Mac will consider that a cash-out refi," he said.