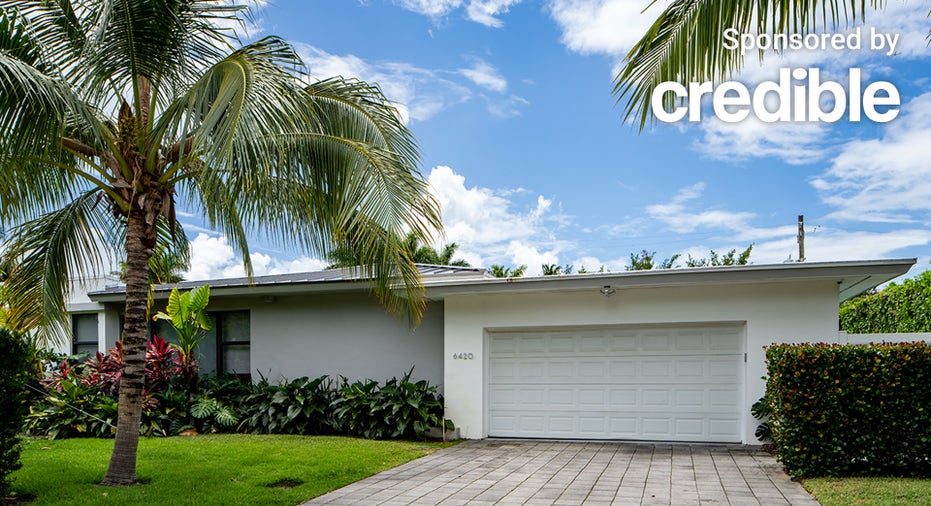 February's hottest market was Miami but high mortgage rates and economic weakness will likely remain a headwind for prices, according to the latest S&P CoreLogic Case-Shiller Indices report. (iStock)
Annual home prices rose in February following seven consecutive months of decline. Still, tighter lending standards and a volatile economic outlook could keep costs from escalating, according to the latest S&P CoreLogic Case-Shiller Indices report.
Home prices across the U.S. increased by 2.0% annually in February, down from the 3.8% annual increase in January, Case-Shiller's National Home Price NSA Index showed. Home prices have fallen by 4.9% since the market peaked in June 2022. 
Although prices continued to cool, February's figures posted a modest 0.2% month-over-month increase, according to the report. That was likely due to a renewed interest in housing as mortgage rates declined, drawing sidelined buyers back to the market, according to a report from Realtor.com.
"The results released today pre-date the disruptions in the commercial banking industry, which began in early March," Craig Lazzara, S&P Dow Jones Indices managing director, said. "Although forecasts are mixed, so far the Federal Reserve seems focused on its inflation-reduction targets, which suggests that interest rates may remain elevated, at least in the near term. 
"Mortgage financing and the prospect of economic weakness are therefore likely to remain a headwind for housing prices for at least the next several months," Lazzara continued. 
If you want to take advantage of interest rates before they potentially go up, you could consider shopping for the right mortgage or refinance your existing one. Visit Credible to speak with a mortgage expert and get your questions answered.
KNOWING HOW INSURANCE RATES ARE CALCULATED COULD SAVE DRIVERS MONEY: SURVEY
Miami is still the hottest market
On a monthly basis, home prices rose across the nation in February, according to the Case-Shiller report. The 10-city and 20-city composites both rose by 0.4% on an annual basis and saw gains of 0.3% and 0.2%, respectively, on a month-to-month basis.    
Miami, Florida, emerged again as the best-performing city in February, which saw prices rise 10.8% year-over-year. Tampa, Florida, and Atlanta, Georgia, saw the second and third-highest increases, rising 7.7% and 6.6%, respectively.  
"The moderation we observed nationally is also apparent at a more granular level," Lazzara said. "Before seasonal adjustment, prices rose in 12 cities in February (versus only one in January). Seasonally adjusted data showed nine cities with rising prices in February (versus five in January). 
"With or without seasonal adjustment, most cities' February results showed improvement relative to their January counterparts," Lazzara continued.
If you are looking to reduce your expenses, you could consider refinancing your home loan to lower your monthly payment. You can visit Credible to compare multiple mortgage lenders at once and choose the one with the best interest rate for you.
MIDDLE-INCOME AMERICANS STILL OPTIMISTIC ABOUT FINANCIAL PROSPERITY – HERE'S HOW THEY'RE BEATING INFLATION
Head West for home prices declines
Meanwhile, West Coast cities saw their home prices continue to weaken in February, according to Case-Shiller.
Previously, San Francisco, California; Seattle, Washington; San Diego, California and Portland, Oregon, were in negative year-over-year territory, the report said. In February, those cities were joined by Las Vegas, Nevada, which saw prices drop 2.6%; Phoenix, Arizona, which dipped 2.1%; Los Angeles, California, which saw prices drop 1.3% and Denver, Colorado, where prices fell 1.2%, according to Case-Shiller.
"Real estate has always been local, but as the buyers and sellers adjust to higher mortgage rates and lower affordability, regional trends have diverged sharply," Realtor.com Chief Economist Danielle Hale said in a statement. "This makes it more important than ever for buyers and sellers to tap into timely, local real estate data and conditions when evaluating housing-related decisions."
The slowdown in home prices and lower interest rates have made buying a home more affordable for some. If you are ready to shop for a mortgage loan or are looking to refinance an existing one, you can use the Credible marketplace to compare rates and lenders and get a mortgage preapproval letter in minutes.
MANY AMERICANS PLAN TO USE THEIR TAX REFUNDS TO BUILD SAVINGS IN 2023, SURVEY SAYS
Have a finance-related question, but don't know who to ask? Email The Credible Money Expert at moneyexpert@credible.com and your question might be answered by Credible in our Money Expert column.