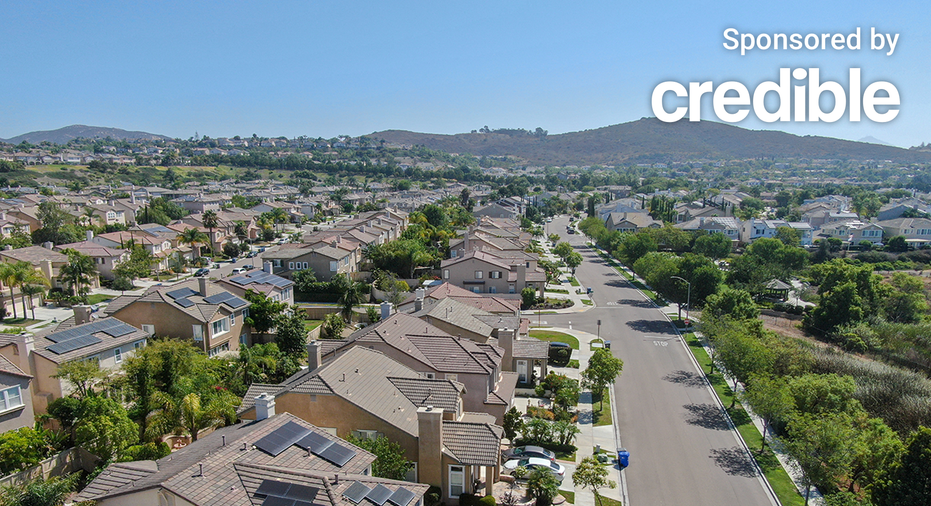 Mortgage rates rose for the third week straight and are likely to stay elevated as the housing market heads to fall, according to Freddie Mac. (iStock)
Mortgage rates continued their slow creep to 7% with no signs of slowing, according to Freddie Mac.  
The average 30-year fixed-rate mortgage increased to 6.96% for the week ending August 10, according to Freddie Mac's latest Primary Mortgage Market Survey. That's up from the previous week when it averaged 6.9%. A year ago, the 30-year fixed-rate mortgage averaged 5.22%. 
The average rate for a 15-year mortgage was 6.34%, up from 6.25% last week and 4.59% last year.   
Rates have continued to climb in recent weeks in response to positive data that included solid jobs and economic growth reports. However, the latest Consumer Price Index showed that inflation grew by 3.2% in July, slightly above the 3% registered in July. 
Persistent inflation may give the Federal Reserve reason to keep increasing interest rates as it aims to lower inflation to a 2% target rate. The central bank has raised rates 11 times since last year and reiterated its commitment to bring inflation to a 2% target rate at its most recent meeting in July. That could mean further interest rate increases before the end of the year, Fed Chairman Jerome Powell said.  
"For the third straight week, mortgage rates continued creeping up and are now just shy of seven percent," Freddie Mac Chief Economist Sam Khater said. "There is no doubt continued high rates will prolong affordability challenges longer than expected, particularly with home prices on the rise again. 
"However, upward pressure on rates is the product of a resilient economy with low unemployment and strong wage growth, which historically has kept purchase demand solid," Khater continued.
If you want to take advantage of interest rates before they potentially go up, you could consider shopping for the right mortgage or refinancing your existing one. Visit Credible to speak with a mortgage expert and get your questions answered.
THESE TWO FACTORS COULD BE DRIVING YOUR CAR INSURANCE COSTS UP
Mortgage rates will drop once interest rates are cut
There is an end in sight to climbing mortgage rates, but it depends on when the Fed will start to reverse its restrictive monetary policy.  
July's inflation figures put the likelihood of interest rate cuts further into the future, according to Keeping Current Matters Chief Economist George Ratiu. However, if inflation maintains the current trajectory, mortgage rates will likely shift back toward 6% as the market moves through the fall months.
"Borrowing costs will remain elevated until financial markets see an 'all clear' signal from the Federal Reserve, accompanied by a stop in interest rate hikes," Ratiu said in a statement. "The spread between the 30-year fixed rate mortgage and the 10-year Treasury hovers around 300 basis points, a level seen only a handful of times in the past 50 years and mostly during periods of high inflation and economic turbulence. 
"In the absence of the elevated risk premium and hewing closer to a historical average of 172 basis points, today's 30-year fixed mortgage rate would be around 5.7%, Ratiu continued. "Looking to history as a guide, mortgage rates tend to start cooling once inflation abates, with a six–to-eight-month lag."
If you are ready to shop for a mortgage, you could get a better rate by looking at several lenders. Credible can help you compare interest rates from multiple mortgage lenders and choose the one with the best rate for you.
MORE STUDENTS TURNING TO FEDERAL AND PRIVATE STUDENT LOANS TO FINANCE COLLEGE: SURVEY
5% is the sweet spot sellers want
The bigger challenge for homebuyers is finding more housing supply. Shoppers are willing to expand their home searches to find an affordable home, but a lack of supply means that homes that go up for sale are often met with multiple bids. 
"Real estate markets are benefiting from more people gaining jobs and better paychecks this year," Ratiu said. "While sales of existing homes have been lagging, the challenge comes mainly from too many buyers chasing not enough available properties." 
For that dynamic to improve, more affordable homes have to come onto the market. A recent Zillow survey said that of homeowners who reported plans to sell, 47% of homeowners paying a mortgage above 5% already have their house listed "for sale" compared to 20% of those with rates below 5%.
"This oscillation could indicate that the true inflection point – the rate at which homeowners are less likely to move – is generally between 4.00 and 5.00%," Zillow said. 
If you're interested in becoming a homeowner, finding the best mortgage rates could help save you money. Visit Credible to compare options from different lenders without affecting your credit score.
HOMEBUYERS ARE FINDING BETTER DEALS IN THESE CITIES, SURVEY SAYS
Have a finance-related question, but don't know who to ask? Email The Credible Money Expert at moneyexpert@credible.com and your question might be answered by Credible in our Money Expert column.