Cleo Capital managing director Sarah Kunst addresses concerns over lawmakers trading stocks and analyzes the lagging IPO market on 'Making Money.'
In a rare show of solidarity, an eclectic group of lawmakers including Rep. Alexandria Ocasio-Cortez. D-N.Y., and Rep. Matt Gaetz, R-Fla., announced a bipartisan bill restricting members of Congress from trading individual stocks.
Sponsored by GOP Reps. Gaetz and Brian Fitzpatrick, R-Pa., and Democratic Reps. Ocasio-Cortez and Raja Krishnamoorthi, D-Ill., the Bipartisan Restoring Faith in Government Act aims to block members of Congress, as well as their spouses and dependents, from trading individual stocks.
"The ability to individually trade stock erodes the public's trust in government," Ocasio-Cortez said in a statement. "When Members have access to classified information, we should not be trading in the stock market on it. It's really that simple."
Gaetz echoed Ocasio-Cortez, stating concerns over insider trading "hang over the legislative process."
NEW YORK TO BAN GAS STOVES AND HEATING SYSTEMS IN NEW CONSTRUCTION, BEGINNING IN 2026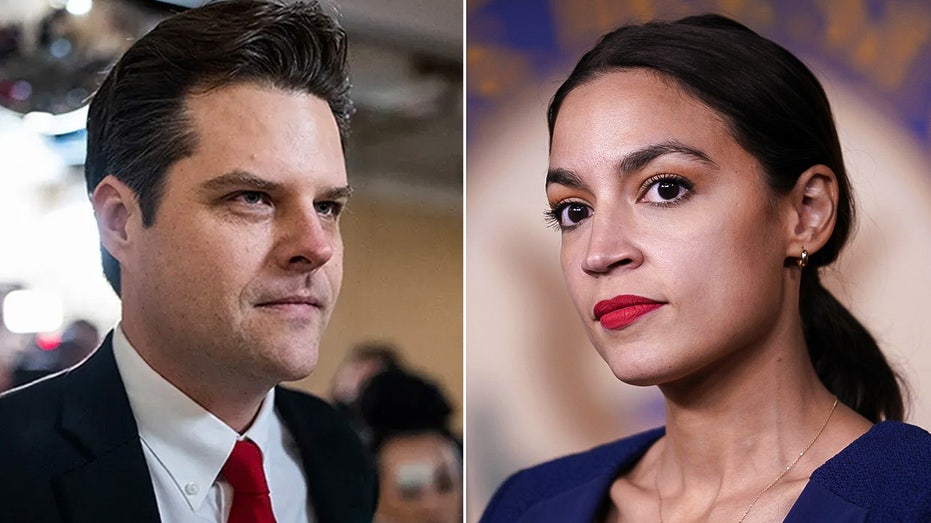 Rep. Matt Gaetz and Rep. AOC joined forces to introduce a bill to prevent members of Congress from trading stocks. (Getty Images / Getty Images)
"Members of Congress are spending their time trading futures instead of securing the future of our fellow Americans," Gaetz said in a statement. "Congress will never regain the trust of the American people. Our responsibility in Congress is to serve the people, not hedge bets on the stock market."
"We cannot allow the Swamp to prioritize investing in stocks over investing in our country."

– Rep. Matt Gaetz
Fitzpatrick noted the rarity of common ground from often-opposing caucuses in the House of Representatives.
"The fact that Members of the Progressive Caucus, the Freedom Caucus, and the Bipartisan Problem Solvers Caucus, reflecting the entirety of the political spectrum, can find common ground on key issues like this should send a powerful message to America," Fitzpatrick said.
LARRY KUDLOW: BIDEN HAS TO QUIT STALLING ON DEBT CEILING AND PASS MCCARTHY'S LIMIT, SAVE, GROW ACT
"We must move forward on issues that unite us, including our firm belief that trust in government must be restored, and that Members of Congress, including their dependents, must be prohibited from trading in stocks while they are serving in Congress and have access to sensitive, inside information." Fitzpatrick continued. "And we all view this as a critical first step to return the House of Representatives back to the People. I thank Representatives Ocasio-Cortez, Gaetz, and Krishnamoorthi for joining me in this effort."
"This is basic common sense and basic Integrity 101."

– Rep. Brian Fitzpatrick
The bill would give members 90 days to divest their stock holdings, adding that House ethics officials must give prior approval to any blind trust. Similar legislation has previously failed to pass.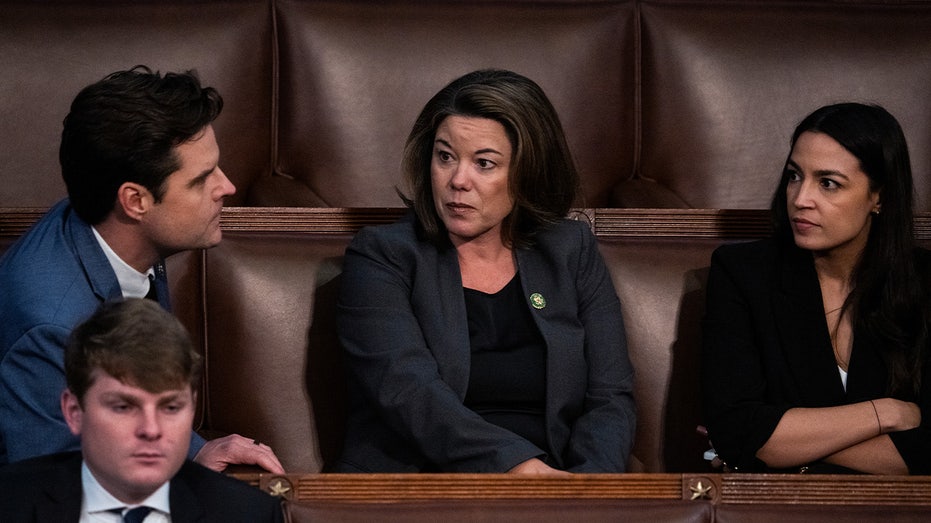 Reps. Angie Craig, D-Minn., center, Alexandria Ocasio-Cortez, D-N.Y., right, and Matt Gaetz, R-Fla., left, are seen on the House floor during a Speaker of the House vote on Wednesday, January 4, 2023. (Tom Williams/CQ-Roll Call, Inc via Getty Images / Getty Images)
In January, a bipartisan group of 37 lawmakers, led by Reps. Adam Schiff, D-Calif., and Abigail Spanberger, D-Va., introduced the Transparent Representation Upholding Service and Trust (TRUST) in Congress Act.
In 2012, Congress passed the STOCK Act, which allows members of Congress to buy and sell stock. However, the legislation prohibits lawmakers and employees from utilizing information gained through legislative meetings to profit privately. The act also says lawmakers are not exempt from insider trading prohibitions under securities laws.
TEXAS LAWMAKERS INTRODUCE 'AUDIT THE PENTAGON ACT,' HOPE TO INCENTIVIZE GOVERNMENT SPENDING TRANSPARENCY
It also requires congressional lawmakers to report any stock transactions of $1,000 or more made by themselves or their family members within 45 days.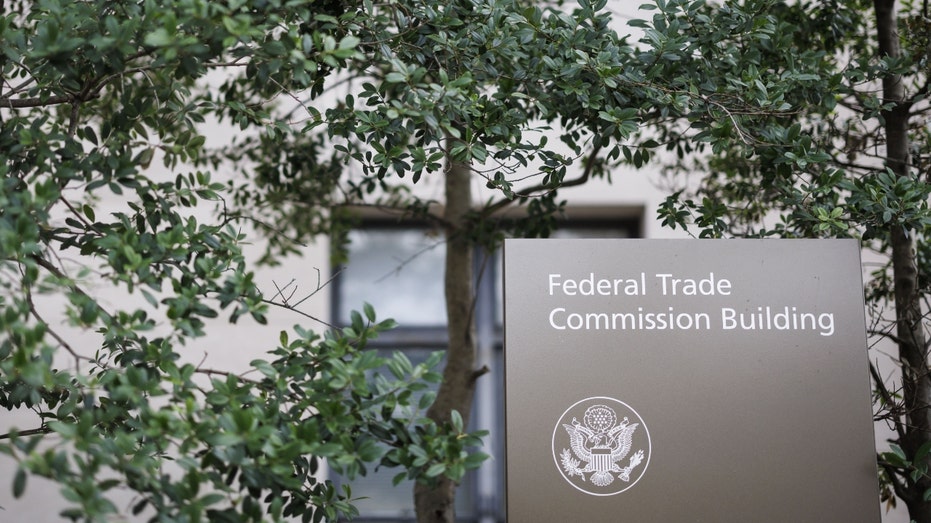 Signage outside the Federal Trade Commission (FTC) headquarters in Washington, DC, US, on Friday, Feb. 17, 2023. (Photographer: Ting Shen/Bloomberg via Getty Images / Getty Images)
However, a number of Congress members have been accused of running afoul of the law, either from alleged insider trading or failure to report transactions.
The Securities and Exchange Commission (SEC) investigated former Sen. Richard Burr, R-N.C., in 2021 following reports that the senator violated federal insider trading laws by selling more than $1.6 million in stocks months after attending a confidential briefing about the incoming COVID-19 outbreak.
GET FOX BUSINESS ON THE GO BY CLICKING HERE
Just last year, former House Speaker Nancy Pelosi's husband, Paul Pelosi, purchased up to $5 million in Nvidia stock days before the Senate voted on a bill that included $52 billion in subsidies for the U.S. semiconductor industry. 
He later sold the Nvidia shares at a major loss.