Margaret Thatcher Center for Freedom Director Nile Gardiner says the British public thinks Biden has an 'arrogant, sneering and condescending' tone, hence why he's not attending the royal coronation.
As First lady Jill Biden has been spotted in London, England, ahead of the royal coronation of King Charles III and Queen Camilla, many are left wondering why President Joe Biden isn't joining her.
"Joe Biden's nonattendance has received a lot of negative publicity in the U.K. In fact, there's been a lot of condemnation of Biden's decision," The Heritage Foundation's Margaret Thatcher Center for Freedom Director Nile Gardiner said on "Mornings with Maria" Friday. "And I have to say that Biden is viewed increasingly by the British public as very anti-British, and he has come under heavy fire."
More than 2,000 guests, including many heads of state, will gather at Westminster Abbey for the coronation, scheduled to take place on Saturday, May 6 and starts at 11 a.m. in London, which is 6 a.m. Eastern Time.
King Charles III's coronation marks the first in 70 years, as the late Queen Elizabeth II was crowned in 1953.
KING CHARLES CORONATION COULD COST EYE-POPPING AMOUNT
The White House commented on President Biden's absence noting that no U.S. president has attended any of the seven coronations of a British monarch since the country declared independence in 1776.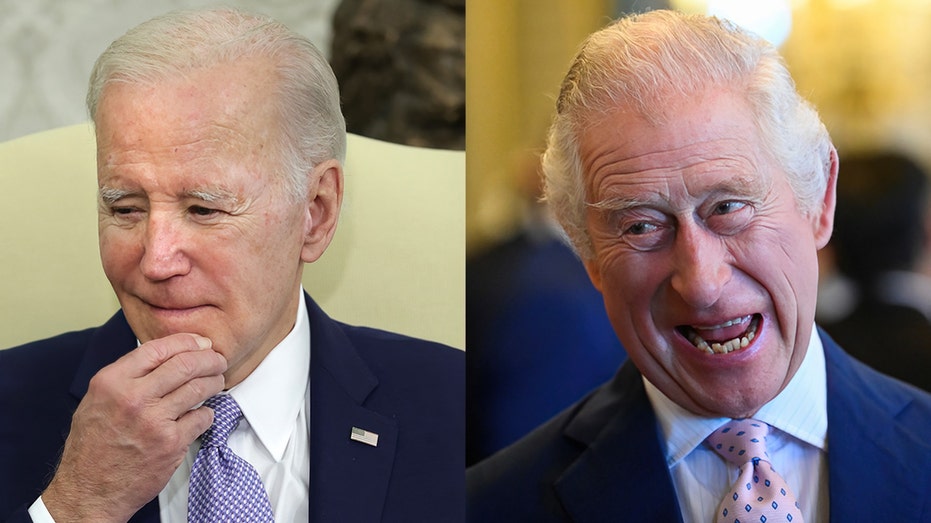 U.S. President Joe Biden is sending a "deliberate political message" by not attending King Charles III's coronation, The Heritage Foundation's Margaret Thatcher Center for Freedom Director Nile Gardiner said on "Mornings with Maria" Friday. (Getty Images)
But according to Gardiner, the British press and public consider Biden's nonappearance "notable," and sends a "deliberate political message."
Fox Nation host Piers Morgan talks Elon Musk vs. Stephen King, Bud Light backlash and the royal family's coronation drama.
"His overall approach towards the U.K… is seen to be quite disdainful, arrogant, sneering and condescending. So he's not the most popular figure in London at this time," Gardiner said. "He clearly, I think, doesn't have a lot of time for Britain."
The Bidens were last in London together in September for the funeral of Queen Elizabeth II after her death on Sept. 8 at Balmoral Castle in Scotland. Gardiner also criticized President Biden's recent quick trip to Ireland.
"He's someone with a long track record of lecturing Britain. He's very anti-Brexit," the former aide to Margaret Thatcher noted. "He started off his presidency actually by removing a bust of Winston Churchill from the Oval Office, just as Barack Obama did before him."
"So I do think Biden is somebody who has treated Britain in a very disrespectful fashion," Gardiner continued, "and certainly his nonattendance at the coronation certainly has come under a lot of fire in the U.K., especially in the British press and from a number of conservative politicians as well."
GET FOX BUSINESS ON THE GO BY CLICKING HERE
Royal commentator Kinsey Schofield joined 'Kennedy' to reflect on Queen Elizabeth II's death and what is next for the United Kingdom. 
At Wednesday's press conference, White House press secretary Karine Jean-Pierre stumbled while responding to why the president was not attending the anticipated event. The press secretary touted the president's "good relationship" with the King and assured that he plans to meet with King Charles in the future.
"The president had about a 25-minute, 30-minute call with the King Charles III, during which he congratulated the King – I think we put that out last night – to his upcoming coronation, and they had a very friendly conversation," Jean-Pierre told one reporter. "They have a good relationship with the King. He talked about how he enjoyed meeting – visiting – the Queen, I should say, back in 2021 – he and the first lady, at Windsor. And he hoped to visit again soon."
Fox News' Sarah Rumpf-Whitten contributed to this report.