Washington Examiner political reporter Sarah Bedford breaks down the media's coverage of the Hunter Biden case on The Evening Edit.
President Biden and his family are staying in a vacation home in Lake Tahoe owned by climate activist and former Democratic 2020 presidential candidate Tom Steyer. 
Biden and first lady Jill Biden arrived in Nevada on Friday for the week-long vacation after Biden hosted a summit Friday at Camp David with leaders of Japan and South Korea.
The private home on the massive lake and tourist attraction is owned by Steyer and his wife, Kat Taylor. Steyer ran for president in 2020 and is known for his advocacy surrounding climate change. He is also a billionaire investor and donor to the Democratic Party.
EXPERT WARNS BIDEN'S CAMP DAVID SUMMIT IS ONE OF 'VERY FEW PLANS LEFT' OVER CHINA THREAT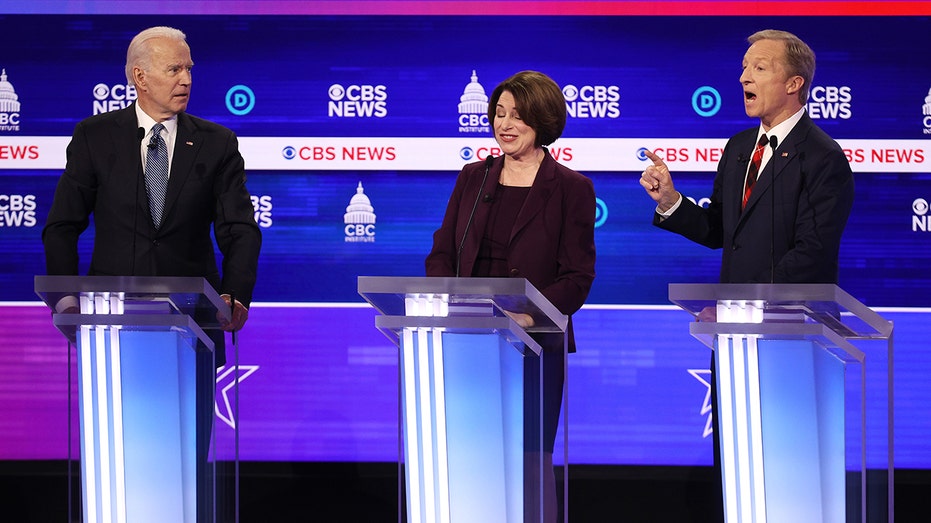 Democratic presidential candidates former Vice President Joe Biden (L) and Tom Steyer (R) debate as Sen. Amy Klobuchar (D-MN) reacts during the Democratic presidential primary debate at the Charleston Gaillard Center on February 25, 2020, in Charlest ((Photo by Win McNamee/Getty Images))
Steyer was a long-shot candidate and eventually dropped out of the Democratic contest, which was eventually won by then-candidate Biden.
Following his unsuccessful 2020 campaign, Steyer co-founded the green energy project Galvanize Climate Solutions in 2021 with the stated goal "to accelerate the adoption of clean technology and increase the rate of decarbonization."
The White House told the press pool that the house was not a borrowed home and was rented for fair market value. 
The Associated Press reported that several members of Biden's family accompanied the president and first lady on Air Force One to Nevada. Hunter Biden, who is facing a special counsel investigation after a plea deal over gun and tax charges collapsed, and his family were already at Lake Tahoe when the president arrived.
BIDEN SHARPLY CRITICIZED AFTER SAYING 'NO COMMENT' IN RESPONSE TO DEATH TOLL IN HAWAII: 'ABSOLUTELY TERRIBLE'
President Joe Biden and first lady Jill Biden arrive at Reno-Tahoe International Airport on Friday, August 18, 2023, in Reno, Nevada, for a vacation in the area. ((AP Photo/Evan Vucci))
The vacation will be paused on Monday when the Bidens will meet with those affected by the recent wildfire in Maui, which have killed more than 114 people.
GET FOX BUSINESS ON THE GO BY CLICKING HERE
The latest vacation is Biden's second in August so far. Earlier this month, the Bidens vacationed in the president's home state of Delaware, staying in Rehoboth Beach.
The Associated Press contributed to this report.