North Carolina Treasurer Dale Folwell joins 'Mornings with Maria' to discuss the GOP state treasurers' ongoing investigation into BlackRock over the firm's ESG investment choices.
BlackRock, the world's largest asset manager, voted against the vast majority of shareholder proposals related to climate and social issues during the 2022-2023 proxy voting season, the company reported Wednesday.
Overall, BlackRock turned down 742 of the 813 proposals it voted on and 373, or 93%, of the social and climate proposals it faced, according to the company's 2023 Investment Stewardship report published Wednesday morning and shared with FOX Business. The trillion-dollar asset manager explained that it has seen a higher number of low-quality shareholder proposals, largely due to federal guidance issued by the Biden administration in 2021.
"We observed a greater number of overly prescriptive proposals or ones lacking economic merit,"Joud Abdel Majeid, BlackRock's global head of investment stewardship, wrote in the report. "Importantly, the majority of these proposals failed to recognize that companies are already meeting their asks."
"Because so many proposals were over-reaching, lacking economic merit, or simply redundant, they were unlikely to help promote long-term shareholder value and received less support from shareholders, including BlackRock, than in years past," she continued.
21 STATES THREATEN BANKS WITH LEGAL ACTION OVER WOKE POLICIES: 'STAY IN YOUR LANE'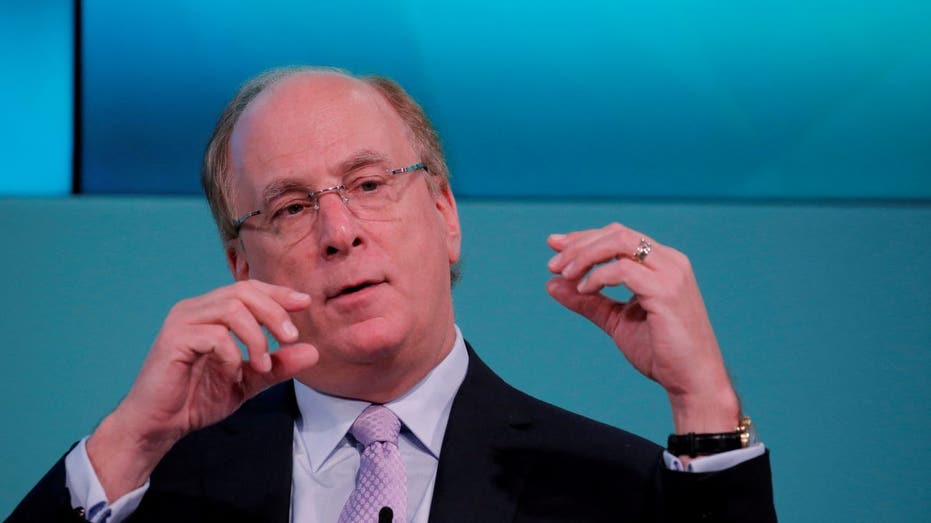 Larry Fink, CEO of BlackRock, takes part in a summit in New York. (Reuters/Lucas Jackson/File Photo / Reuters Photos)
The report noted that BlackRock saw a record number of shareholder proposals, especially those related to environmental and social issues, during the proxy voting season, which took place during the period between July 1, 2022, and June 30, 2023. The company said there was an uptick of 34% year-over-year of environmental and social votes. Last year, the company saw a 130% jump in such proposals.
BlackRock said in the report that the higher number of such proposals could largely be attributed to guidance published in November 2021 by the Securities and Exchange Commission (SEC) broadening the scope of permissible proposals to include those that address "significant social policy issues." At the time, SEC Chairman Gary Gensler applauded the guidance, saying it would "provide greater clarity," while Republican SEC members and lawmakers blasted it for creating more confusion.
BLACKROCK CEO REPORTEDLY 'ASHAMED' OF ESG POLITICAL DEBATE: 'MISUSED BY THE FAR LEFT AND THE FAR RIGHT'
The change, BlackRock said in its report, effectively enables more shareholder proposals, including ones that are lower quality, to appear on company ballots. The company specifically stated numerous proposals did not clearly "identify an issue associated with a material risk that could undermine a company's ability to deliver durable financial returns." And most of the climate and social proposals failed to acknowledge the "improvements companies have made to their disclosures and practices."
For example, BlackRock voted against a measure requiring Amazon to disclose more information about the sustainability of its packaging, noting Amazon had previously already decided to disclose that information.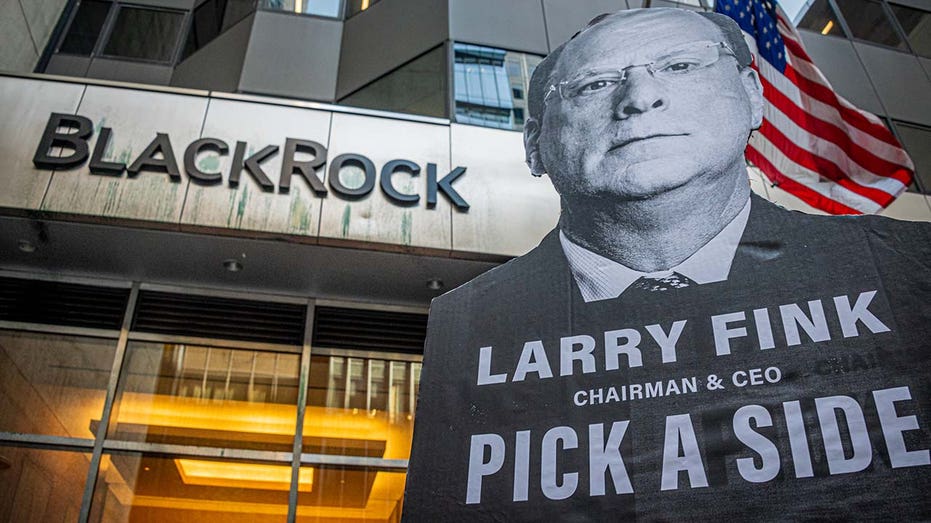 BlackRock has faced pressure from climate activists to support measures cracking down on fossil fuel production and investment while simultaneously facing pressure from Republicans to stop supporting any ESG measures. (Erik McGregor/LightRocket via Getty Images / Getty Images)
The company added that it assesses all issues related to climate risk and the green energy transition based on its role as a fiduciary to its clients. It also acknowledged the tough choices facing fossil fuel companies that must balance energy security with green investments.
REPUBLICAN STATES ARE PLANNING AN ALL-OUT ASSAULT ON WOKE BANKS: 'WE WON'T DO BUSINESS WITH YOU'
"Energy companies, in particular, faced a complex set of choices as they sought to balance the immediate national and societal demand for energy security and affordability, with their long-term plans to invest in technologies that will enable them to continue to be successful as the world transitions to a lower carbon economy," BlackRock's report stated. 
"By and large, companies garnered support from shareholders for their actions to balance these important — but sometimes competing — objectives," it continued. "We continue to believe that companies would benefit from greater clarity in public policy to support their decision-making on these issues. This, in turn, would allow these companies to provide shareholders more transparency about their strategies."
The report, meanwhile, comes amid a nationwide push against the environmental, social and governance (ESG) movement that has been spearheaded in recent years by BlackRock and other financial institutions. The ESG movement broadly seeks to promote a green energy transition and left-wing social priorities through the financial sector and major corporations.
O'Leary Ventures Chairman Kevin O'Leary discusses Elon Musk's ESG position and whether inflation will tick back up on 'The Big Money Show.'
Republican states and GOP lawmakers have argued ESG policies improperly prioritize social priorities over the financial interests of Americans.
"This ESG nonsense is filtering into a lot of our states and the way they're doing it is really, really concerning and probably flagrantly illegal," Montana Attorney General Austin Knudsen told Fox News Digital in March. "Pushing it through these asset managers and through these proxy votes is extremely concerning."
CLICK HERE TO GET THE FOX NEWS APP
Knudsen led a coalition of 21 state attorneys general at the time who wrote to 53 of the nation's largest financial institutions, including BlackRock, warning them against pursuing woke initiatives during the 2023 proxy voting season.
"The message is: 'Stay in your lane and do what you're supposed to do. You have a fiduciary obligation under our various states laws to maximize investment. That's your job. That's what you're supposed to be doing. We're aware of state law and if it needs be, we will defend our state pensioners against anything outside that lane,'" Knudsen said.