Former Anheuser-Busch executive Anson Frericks discusses woke politics in business and shares his reaction to Disney facing backlash over a new partnership with gender-fluid social media influencer Seann Altman.
Allies of Florida Gov. Ron DeSantis asked a Florida judge to issue a summary judgment against Disney to prevent the need of a trial on Wednesday.
Members of the Central Florida Tourism Oversight District (CFTOD) made the request relating to a lawsuit over whether they or Disney maintain powers of design and construction for the area. If successful, prior agreements between the CFTOD and Disney will be declared "null and void," and the company will lose critical control over Disney World and its other surrounding parks.
DeSantis had worked with the Florida legislature to replace the Reedy Creek Improvement District (RCID) and its governing board, which Disney had used to exert control over the district. The RCID is now defunct and has been replaced with the CFTOD, which is allied with DeSantis.
"That Disney, a private entity, effectively governed itself through RCID for decades does not change the fact that RCID was a local government. As such, RCID was required to comply with Florida constitutional, statutory, and common law in exercising its governmental functions," the CFTOD wrote in its Wednesday filing.
DISNEY RAISING PRICES OF DISNEY+, HULU AD-FREE PLANS FOR 2ND TIME IN A YEAR
Allies of Florida Gov. Ron DeSantis asked a Florida judge on Wednesday to issue a summary judgment against Disney to prevent the need of a trial. (AP Photo/John Raoux / AP Newsroom)
"The undisputed facts show that RCID failed to do so in several key respects that render the Agreements void and unenforceable as a matter of law," it asserted.
The lawsuit is the culmination of an extensive campaign against Disney by DeSantis. He and the legislature first replaced RCID with the CFTOD via legislation, but Disney then argued that prior agreements between the company and the RCID still applied, and therefore, stripped key authorities from DeSantis' newly installed board.
DESANTIS-BACKED BOARD ENDS DISNEY DISTRICT'S DEI AND RACE-BASED PROGRAMS: 'ILLEGAL' AND 'UNAMERICAN'
DeSantis then signed legislation repealing the previous agreements, and the board is now suing to regain its powers.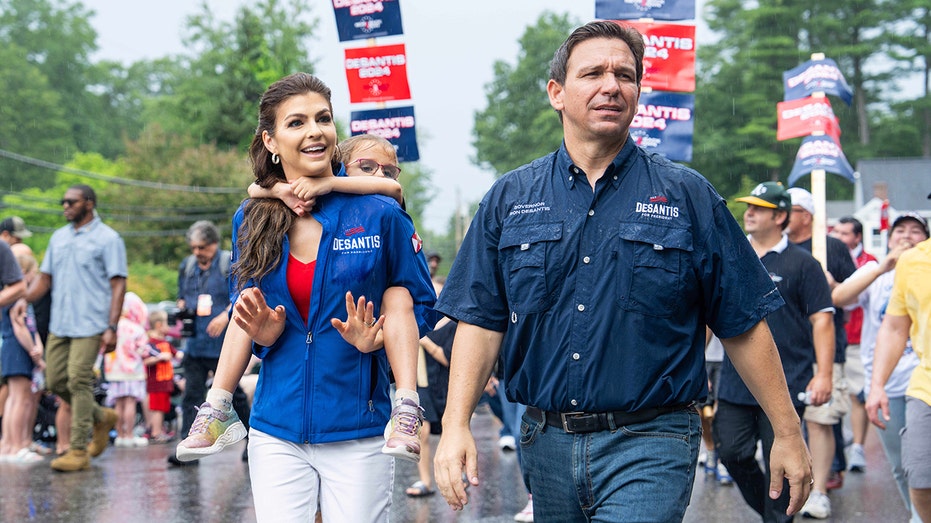 Florida Gov. Ron DeSantis, center, and Florida first lady Casey DeSantis attend an Independence Day parade. (Mel Musto/Bloomberg via Getty Images / Getty Images)
GET FOX BUSINESS ON THE GO BY CLICKING HERE
The feud between Disney and DeSantis began last year when the company publicly came out against Florida's Parental Rights in Education law, which bans classroom instruction about gender identity or sexual orientation in lower grades.