New Constructs CEO David Trainer gives his economic outlook amid the Federal Reserve's handling of inflation and the June 1 debt ceiling deadline on 'The Claman Countdown.'
Credit ratings agency Fitch Ratings on Wednesday said it has placed the United States' "AAA" rating on negative watch, pointing to increased political partisanship over the debt limit as the deadline to raise or suspend it quickly approaches.
"The Rating Watch Negative reflects increased political partisanship that is hindering reaching a resolution to raise or suspend the debt limit despite the fast-approaching x date," the agency said. 
According to Fitch, the U.S. reached its $31.4 trillion debt limit on Jan. 19, 2023, which is when the U.S. Treasury under Janet Yellen started making efforts to avoid breaching the debt ceiling.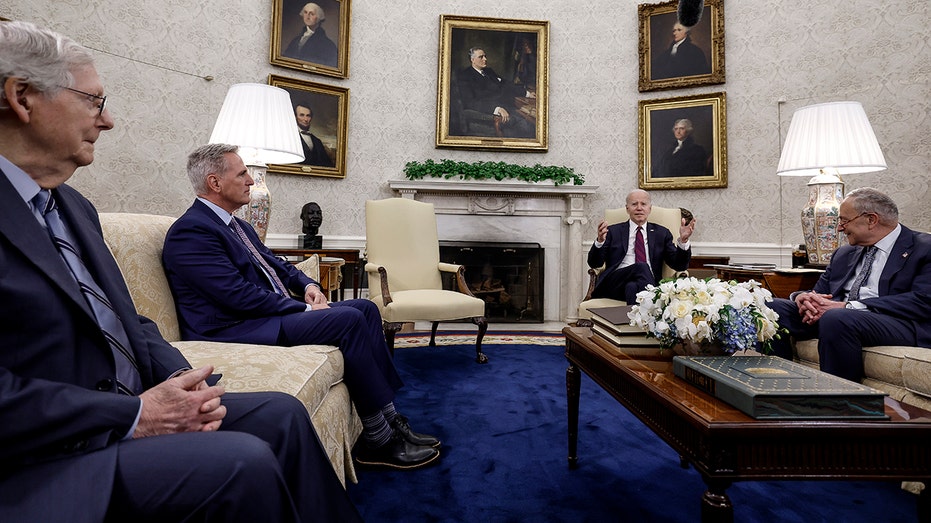 Senate Minority Leader Mitch McConnell (R-KY), Speaker of the House Kevin McCarthy (R-CA) and U.S.11 President Joe Biden, meet with other lawmakers in the Oval Office of the White House on May 09, 2023 in Washington, DC. The Congressional lawmakers m (Anna Moneymaker/Getty Images / Getty Images)
The measures could be completely exhausted by June 1, and as of May 23, the cash balance of the treasury was $76.5 billion.
US DEBT DEFAULT WOULD BE 'DEVASTATING' TO SMALL BUSINESSES, CHAMBER OF COMMERCE WARNS
With several sizable payments due between June 1-2, the x-date could arrive before an agreement is reached.
"The failure to reach a deal to raise or suspend the debt limit by the x-date would be a negative signal of the broader governance and willingness of the U.S. to honor its obligations in a timely fashion, which would be unlikely to be consistent with a 'AAA' rating, in Fitch's view," the ratings agency said.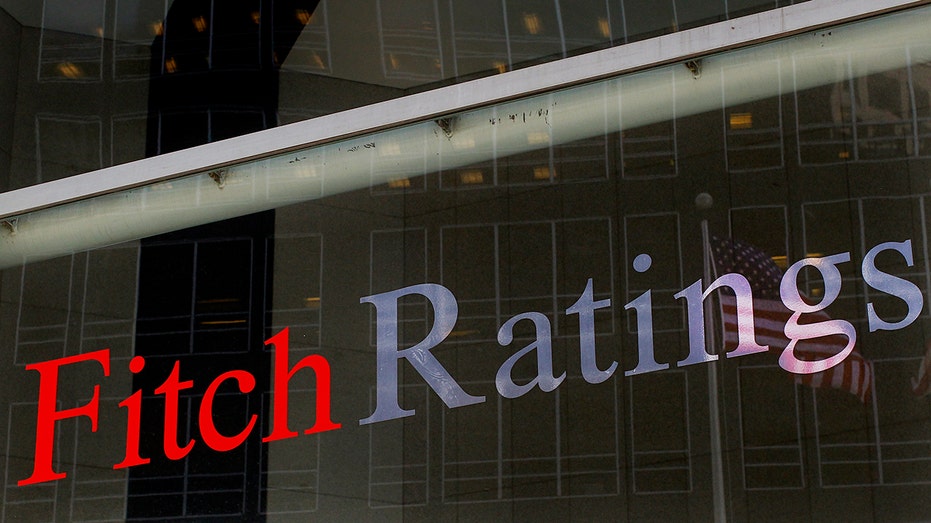 Fitch Ratings warned it lower the U.S.'s AAA credit rating if the country defaults. (REUTERS/Brendan McDermid (UNITED STATES) / Reuters Photos)
While the agency says it expects government leaders to reach a solution before deadline, the U.S. may not completely be out of the woods.
GOP SENATOR WARNS AMERICANS: 'RETIREMENT IS NOW IN JEOPARDY'
"Fitch still expects a resolution to the debt limit before the x-date," the agency said. "However, we believe risks have risen that the debt limit will not be raised or suspended before the x-date and consequently that the government could begin to miss payments on some of its obligations."
GET FOX BUSINESS ON THE GO BY CLICKING HERE
The news comes as the Biden administration and Republican House leaders have failed to reach an agreement on whether to raise or suspend the debt ceiling.