The lights flickered at a press conference while Florida Gov. Ron DeSantis was warning residents about power outages and other dangers brought by Hurricane Idalia's imminent landfall.
The lights flickered briefly during Florida Gov. Ron DeSantis' live press conference regarding Hurricane Idalia's imminent landfall Wednesday morning, as more than 100,000 residents have already lost power and had it restored. 
"This thing's powerful. If you're inside, just hunker down until it gets passed here. You don't want to be messing around with these winds. There's going to be things flying all over the place. Obviously, if you're in a place that's close to the coast, and you see that surge, that's going to be legitimate surge, it's going to be a big, big deal, and it's going to be very, very dangerous," DeSantis said during the press conference, before the lights flickered out. 
"And there we go with our – with our power here," he remarked in brief seconds of darkness, until the generators kicked back on. "We're back." 
"Right on time, five-second delay and kick those generators in. And so thank God that's working," Florida Division of Emergency Management Executive Director Kevin Guthrie said. 
LIVE UPDATES: HURRICANE IDALIA MAKES HISTORIC LANDFALL IN FLORIDA, BLASTING CATASTROPHIC STORM SURGE AS EYE CRASHES ASHORE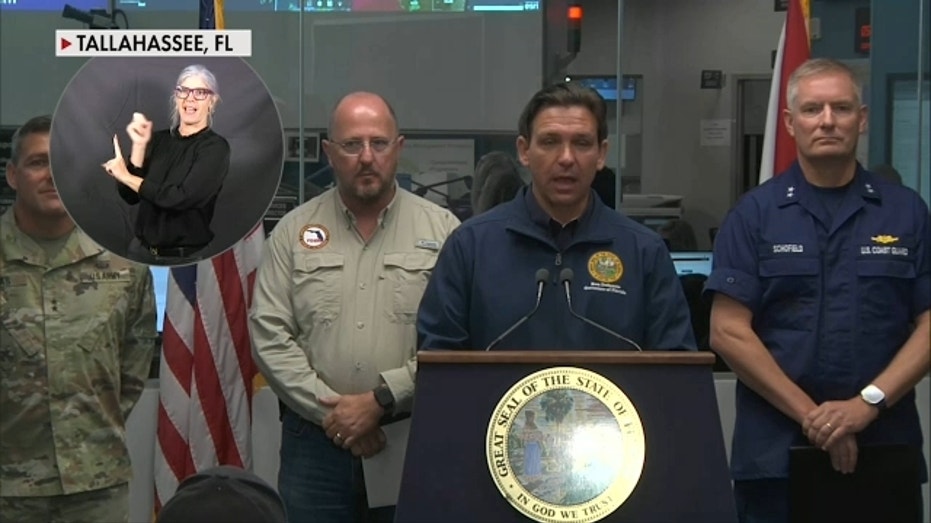 Florida Gov. Ron DeSantis experiences a brief power outage during his Hurricane Idalia press conference on power outages. (Florida governor's office / Fox News)
"As the governor said, the storm is here. It is here now," he continued. "It is just off the coast of the Big Bend, looking like Keaton Beach is going to be the location in which we have landfall. Stay off the roads. If you're sheltering in place at home, stay inside your home. If you're at a shelter or hotel, please do not leave this time. Conditions are deteriorating outside." 
The governor pointed to ongoing efforts to make sure that any power outages are addressed as swiftly as possible.
"We currently have 54,000 households that are out of power throughout the state of Florida, but there have been over 100,000 households that have already been restored through hard work all through the night," DeSantis said. "And those restoration efforts are ongoing. Any place it's safe to do, people are there working to get that done."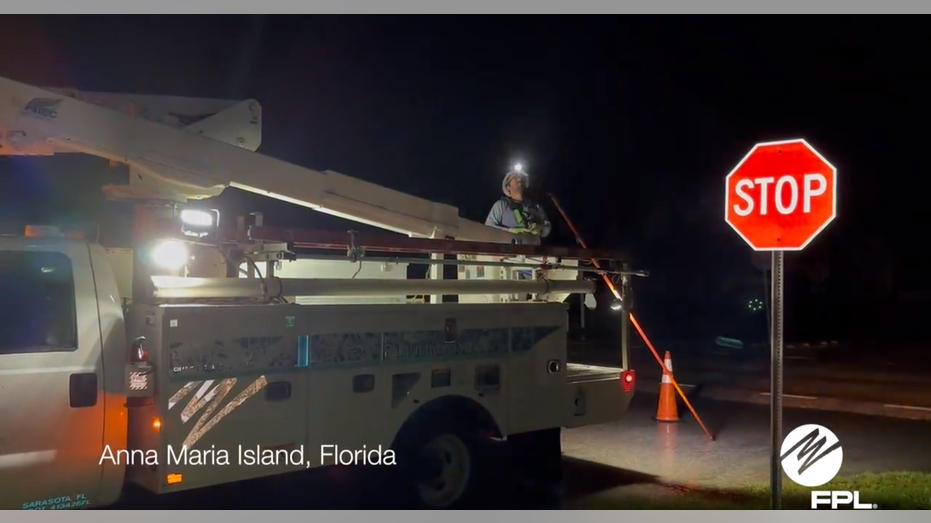 Florida Power & Light crews work to restore power on Anna Maria Island ahead of Hurricane Idalia. (Florida Power & Light / Fox News)
DeSantis also addressed how his government will help in the aftermath of the storm.
"When the winds die down to a sufficient level, search and rescue efforts will begin," the governor said. "We have eight urban search and rescue teams staged ready to go, 33 ambulance strike teams, 5,500 National Guardsmen. We also have the Coast Guard on standby should that be necessary. There will be an immediate effort to restore power to people who lose power. There's 30,000 plus linemen stationed and ready to go to commence restoration efforts for local municipalities and electric co-ops. Please accept mutual aid. These are folks that can come supplement your efforts. And again, the goal is just to get everybody back online as quickly as possible." 
HURRICANE IDALIA MAKES LANDFALL OVER FLORIDA'S BIG BEND AS CATEGORY 3 STORM, TENS OF THOUSANDS WITHOUT POWER
Hurricane Idalia made landfall on the west coast of Florida as a dangerous Category 3 storm.  
The National Weather Service warned Wednesday of a "catastrophic storm surge occurring along the coast of the Florida Big Bend and damaging winds spreading inland over northern Florida."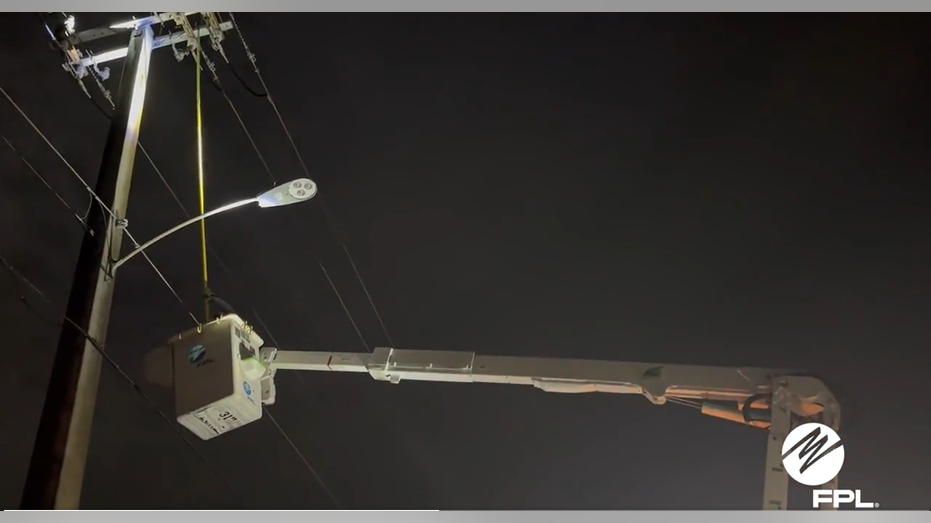 Florida Power & Light was working to rapidly restore power to areas during Hurricane Idalia. (Florida Power & Light / Fox News)
At Wednesday's press conference, DeSantis said the National Hurricane Center expects storm surge to reach up to 16 feet in some areas of the Big Bend and northeast Florida experienced 11 tornado warnings, with more possible.
Florida Power & Light wrote on X, formerly Twitter, that crews worked throughout the night and morning hours to restore power to customers. 
CLICK HERE TO GET THE FOX NEWS APP
Idalia "will continue to move through the state, so customers should expect widespread outages throughout the day," Florida Power & Light said. "As conditions allow, FPL will continue restoring power safely and as quickly as possible, while simultaneously conducting critical damage assessments. Please remember to be safe during and after the storm."