Fox News contributor and former House Speaker Newt Gingrich discusses how the debt negotiations and Hunter Biden investigation might transpire.
After a prominent GOP senator claimed there's evidence proving U.S. Secretary of State Antony Blinken lied under oath, one former House speaker warned the secretary's relationship with the Biden family is tighter-knit than many people may think.
"These are things you can't have at a time when there is this sense of deep corruption in the Biden family and their allies," Fox News contributor Newt Gingrich said on "Mornings with Maria"  Tuesday. "And in that sense, Blinken is part of the Biden extended family."
According to emails reviewed and verified by Fox News Digital, Blinken held a meeting with Hunter Biden at the State Department in July 2015 when he was serving as the deputy secretary of state in the Obama-Biden administration and Hunter was on the board of Ukrainian energy firm Burisma.
Emails from the infamous abandoned laptop that Blinken sought to discredit show that Hunter has ties to Blinken and his wife, Evan Ryan, dating back over a decade, having scheduled meetings with him while he was on the board of Burisma and Blinken was deputy secretary of state.
MARIA BARTIROMO SPEAKS EXCLUSIVELY WITH REP JAMES COMER ON HIS INVESTIGATION INTO THE BIDEN FAMILY
In an email on May 22, 2015, Hunter tried to schedule a meeting with Blinken, so he could get the deputy secretary of state's "advice" on some things.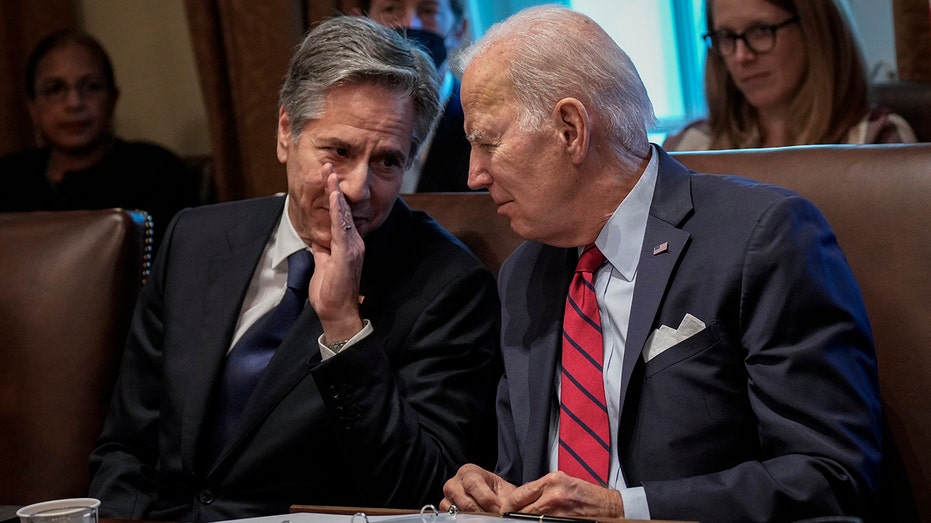 Secretary of State Antony Blinken is part of the "Biden extended family," according to Fox News contributor and former House Speaker Newt Gingrich. (Getty Images)
Sen. Ron Johnson, R-Wis., previously told host Maria Bartiromo in an exclusive interview his belief that Blinken "lied boldface" to Congress – not just about his contact with Hunter Biden, but "so much more."
"My guess is he told a bunch of other lies that hopefully we'll be able to bring him and his wife back in, tell them to preserve their records. You cannot trust Joe Biden. You cannot trust Hunter Biden. You can't trust the Biden family," Johnson said. "You can't trust so many of the people that they have surrounded themselves with."
If the senator's accusation prove to be true, Gingrich noted Blinken could be charged with a felony.
House Oversight Committee Chairman James Comer, R-Ky., discusses the latest bombshell whistleblower claim amid ongoing probe of the Biden family business dealings and the upcoming testimony from two former intelligence officials.
"I think there are a lot of questions for Antony Blinken… a lot of them, frankly, a lot more fundamental than the total mess in Afghanistan. And that is, I think, his relationship with China, the amount of money he was getting paid, the fact that both the University of Pennsylvania and the University of Delaware refuse to say where the money's coming from or how the money is being spent," the former House speaker explained.
The American public will reach a point, Gingrich further argued, that pressures lead U.S. attorneys enough to follow the Bidens' money trail.
"There will be a point here where the weight of evidence will be so great that I think you almost have to either appoint a special counsel or go straight out and just plain out start indicting people," he said. "Not the president, who can't be indicted in office but could be impeached, but everybody around him."
GET FOX BUSINESS ON THE GO BY CLICKING HERE
Rep. Scott Perry, R-Pa., discusses support for the GOP's debt ceiling bill and the 'trove' of fiscal evidence against the Biden family.
In response, the White House fired back at congressional Republicans for investigating the matter.
"Instead of working with President Biden on the issues that matter most to the American people like lowering costs or tackling gun violence, House Republicans are weaponizing their power to go after their political opponents and re-litigate the 2020 election with misleading claims," White House spokesman Ian Sams told Fox News Digital. "This is all happening as they move ahead on a dangerous plan to push America into default and an economic crisis."
Fox News' Jessica Chasmar and Cameron Cawthorne contributed to this report.