FOX Business senior correspondent Charlie Gasparino discusses fears of more bank failures after First Republic collapsed on Kennedy.
The Senate Banking Committee is planning to hold a hearing this Thursday on the failures of several banks since March, including the collapse of First Republic Bank and its acquisition by JPMorgan Chase.
Senate Banking Committee Chair Sherrod Brown, D-Ohio, announced that the panel will meet Thursday at 10 a.m. for a hearing titled "Holding Executives Accountable After Recent Bank Failures." As of Tuesday, the witness list does not include any of the executives from failed banks, although several financial services experts are expected to testify.
"First Republic Bank's risky behavior, unique business model, and management failures led to significant problems, and it's clear we need stronger guardrails in place," Brown said in a statement Monday following First Republic's acquisition by JPMorgan Chase. 
He added that Congress "must make large banks more resilient against failure so that we protect financial stability and ensure competition in the long run" and said that he will "hold irresponsible bank executives accountable."
WILL FIRST REPUBLIC BE THE LAST BANK RESCUED AMID BANKING CRISIS?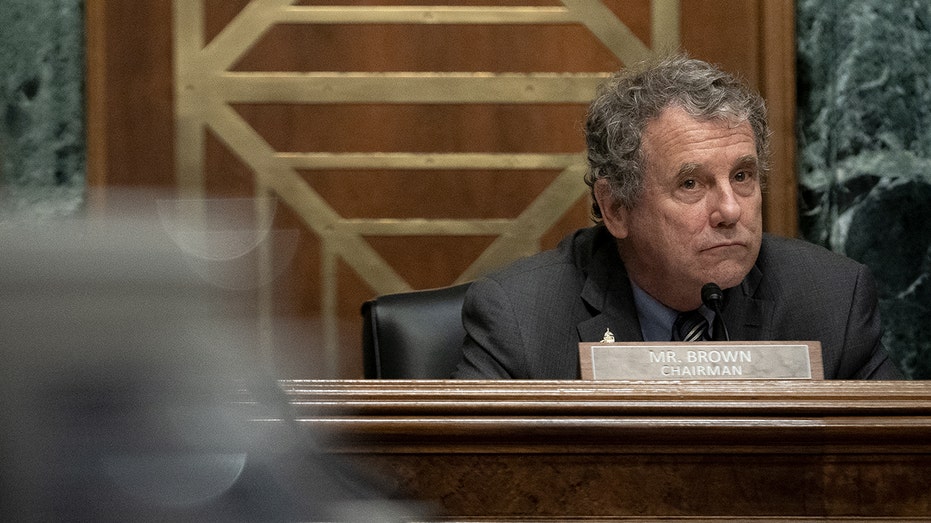 Senator Sherrod Brown, a Democrat from Ohio and chairman of the Senate Banking, Housing, and Urban Affairs Committee, announced a hearing on recent banking failures that will be held Thursday, May 4, 2023. (Stefani Reynolds/Bloomberg via Getty Images / Getty Images)
The banking sector has experienced a significant amount of turmoil since March when regional lenders Silicon Valley Bank (SVB) and Signature became distressed and failed after they were unable to address the liquidity risks they had accumulated and cope with rising interest rates. 
Both had high rates of uninsured deposits above the Federal Deposit Insurance Corporation (FDIC) threshold of $250,000 per depositor, which left them vulnerable to deposit flight as the Federal Reserve hiked interest rates to tamp down inflation.
FDIC LOOKS TO CHANGE DEPOSIT INSURANCE POLICY FOLLOWING FIRST REPUBLIC FAILURE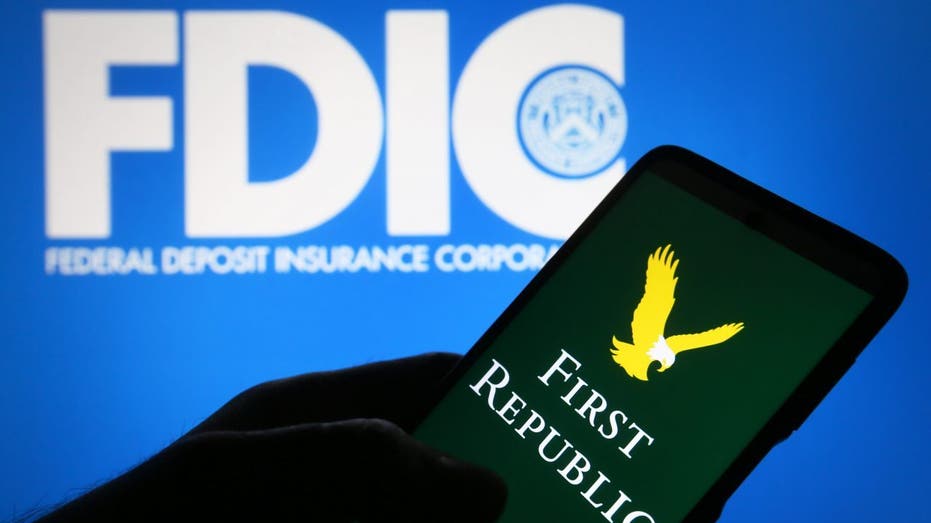 The FDIC announced early Monday that JPMorgan Chase's bid to buy the failed First Republic Bank had been accepted. (Photo Illustration by Pavlo Gonchar/SOPA Images/LightRocket via Getty Images / Getty Images)
In SVB's case, over 93% of its total deposits were uninsured at the end of last year and had a client base concentrated on venture capital-backed firms. It invested those deposits into long-dated Treasury securities, and as the Fed raised rates, those investments lost value, and SVB was forced to sell them at a loss as the bank run began to free up funds needed to meet depositors' withdrawal requests. SVB was acquired by First Citizens Bank in late March in the wake of its failure. 
A Fed report released last week cited mismanagement and poor regulatory oversight as reasons for SVB's collapse.
US TREASURY: BANK DEPOSITS SAFE AFTER FIRST REPUBLIC RESCUE
New York Community Bank has agreed to buy a significant chunk of the failed Signature Bank in a $2.7 billion deal, the Federal Deposit Insurance Corp., said late Sunday, March 19, 2023. (AP Photo/Seth Wenig / AP Newsroom)
New York-based Signature Bank failed shortly after SVB, and about 89% of its total deposits were uninsured at the end of last year. Signature Bank also had a unique business model as it was a major lender to cryptocurrency firms, and was acquired by New York Community Bank following its collapse. 
The FDIC released a report last week blaming Signature's collapse on poor management, which also acknowledged the agency "could have been more forward-looking and forceful in its supervision."
First Republic Bank had uninsured deposits that made up about 67% of its total deposit base at the end of last year. Headquartered in San Francisco, the bank had a client base of affluent individuals and companies but became exposed to interest rate risk through its holdings of low-interest-rate mortgages.
Ticker
Security
Last
Change
Change %
JPM
JPMORGAN CHASE & CO.
137.44
-1.50
-1.08%
NYCB
NEW YORK COMMUNITY BANCORP INC.
10.19
+0.06
+0.54%
FCNCA
FIRST CITIZENS BANCSHARES
1,004.12
+10.50
+1.06%
GET FOX BUSINESS ON THE GO BY CLICKING HERE
The failure of First Republic is the second-largest bank failure in U.S. history, trailing only Washington Mutual which collapsed amid the 2008 financial crisis. SVB and Signature are the third and fourth-largest bank failures, respectively.