Varney & Co. host Stuart Varney addresses voter concern over Bidens age and frailty.
During his "My Take," Tuesday "Varney & Co." host Stuart Varney discussed voter concerns over Biden's age after polling revealed a majority of Americans think the president is too old and weak to hold down the Oval Office for another term.
STUART VARNEY: It's reached the point where the president's age and infirmity cannot be swept under the rug. 
It can't be ignored any longer because people from all parties say Biden is too old.
OVERWHELMING MAJORITY OF AMERICANS SAY BIDEN IS TOO OLD TO BE EFFECTIVE IN A SECOND TERM, POLL FINDS
77% of all adults. 69% of Democrats. 74% of independents. 89% of Republicans. They say Biden is too old.
Fox News contributor Tammy Bruce reacts to Nikki Haley saying Republicans are running against Kamala Harris because Biden will not finish his term on Varney & Co.
Every time the president shows his age, voters take note. 
His stumbles are getting more frequent. His absences are more lengthy and his numbers get worse.
PRESIDENT BIDEN NEAR RECORD LOW APPROVAL AMONG KEY GROUPS
Voters are rightly concerned. We need a robust and decisive president on the world stage. 
That's not the president we have, and it's not the president we can have with Biden. 
MAGA Inc. spokeswoman Karoline Leavitt discusses the pulse of young Americans. 
His decline is speeding up, no matter how many vacations he takes he can't reverse this. 
There is the nagging fear of a Kamala Harris presidency. Something has to give. 
Does anyone believe that Joe Biden can hold down the Oval Office for another 6 years?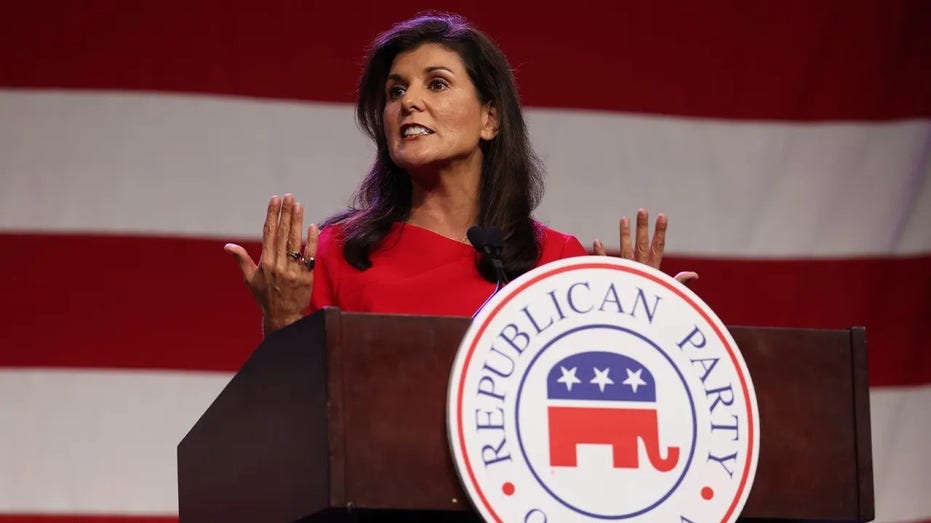 Nikki Haley, former ambassador to the United Nations, speaks at the Republican Party Of Iowas annual Lincoln Dinner in Des Moines, Iowa. (Getty Images)
Candidate Nikki Haley voiced her concern about Biden's age and a Harris presidency.
She says a vote for Biden is a vote for President Harris. 
She's rising in the polls and the Democrats are quietly desperate to change the ticket.