Fox News contributors Katie Pavlich and Gregg Jarrett give their take on GOP frontrunners in the 2024 election on 'Kudlow.'
Former President Donald Trump claimed in an interview Saturday he's under "total assault" because he's leading in the 2024 polls, while also taking a swipe at Florida Gov. Ron DeSantis. 
"Total assault," Trump told Steve Bannon's "War Room" podcast. "Because we're winning in the polls." 
"DeSantis is failing badly. Ron De-sanctimonious," Trump told host Bannon, whom the 45th president pardoned in his final days of office. "It's always bad. You endorse somebody. He's dead. He's over, his political career. He's going to be looking for a job. He'll be lucky to get a job. Comes to me, begs me for an endorsement. I give it to him. He ends up winning the election, winning the nomination, winning the election by numbers you wouldn't believe. I mean he was so far down he was gone, and then they shout to him a couple years later, 'when do you run against the president?' 'Oh, I have no comment.' No comment means the answer is yes." 
Trump noted that DeSantis, who despite touring key states traditionally crucial in a GOP presidential primary had remained coy when asked if he has White House aspirations, is now reportedly planning to launch an exploratory committee on a run in 2024.  "He's going to form an exploratory committee to determine – well that's a big step because he said he was never looking at committees. Now he's looking at committees. It's amazing what being 40 down does," Trump told Bannon Saturday. "The donors are largely leaving him now."
TRUMP DISCLOSES MAKING MORE THAN $100K FROM 'ART OF THE DEAL' LAST YEAR
Former President Donald Trump has taken jabs at Florida Gov. Ron DeSantis amid speculation he is planning a 2024 White House bid. (Michael Conroy, File / AP Newsroom)
Trump and Bannon spoke of a new book titled "Letters to Trump," which included correspondence between Trump and an array of world leaders before he became president. 
During the podcast Saturday, Trump referenced his indictment in New York under Manhattan District Attorney Alvin Bragg, as well as how Fulton County District Attorney Fani Willis, of Atlanta, is investigating what he deemed a "perfect phone call" with Georgia Secretary of State Brad Raffensperger following the 2020 election. 
NBC News reported last week that DeSantis is planning to officially declare his presidential candidacy in mid-May to combat the narrative that Trump will remain the 2024 GOP front-runner. 
"I think a lot of it's secondhand material, so there's not been any things that I've been focused on this mission that we've been doing," DeSantis told reporters in Israel Thursday when asked about the report. "We're going to end up making it pretty much around the world by the time we're done. And if there's any announcements, you know, those will come at the appropriate time. But it's not if anyone's telling you that somehow they know this or they don't, that that's just inaccurate because there's not been justice."
Florida Republican Gov. Ron DeSantis is former President Donal Trump's presumed competition in the 2024 GOP primary. (Alberto Pezzali, File / AP Newsroom)
DESANTIS SAYS DISNEY LAWSUIT HAS NOT MERIT
The Florida Commission on Ethics, meanwhile, has dismissed a complaint filed by allies of Trump who accused DeSantis of coordinating a "shadow presidential campaign." 
Make America Great Again Inc., a pro-Trump PAC, had accused DeSantis of "illegal conduct" in a 15-page complaint filed in March.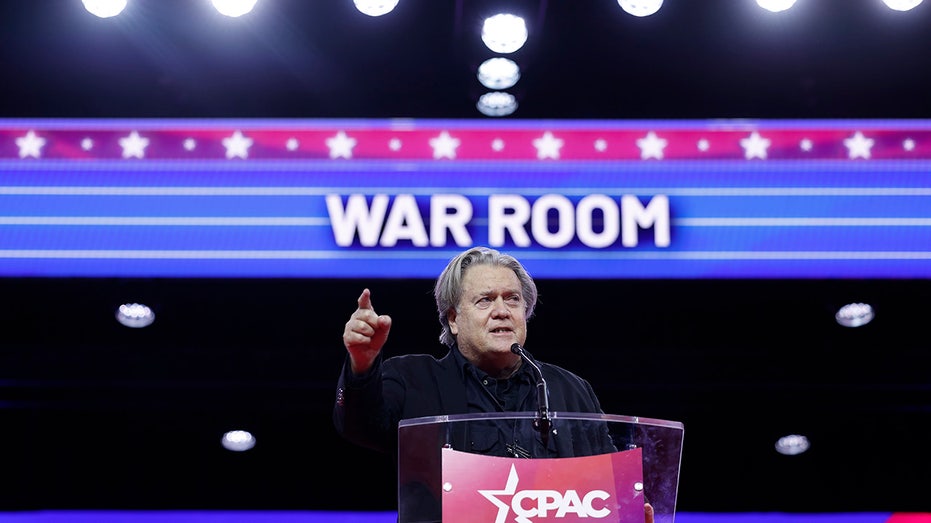 Former White House chief strategist Steve Bannon, shown at the Conservative Political Action Conference (CPAC) on March 3, 2023, interviewed his former boss, Donald Trump on Saturday. (Anna Moneymaker / Getty Images)
Taylor Budowich, a former Trump spokesman and now-head of MAGA Inc., had alleged that there was probable cause to investigate whether the governor had broken the law by fundraising through his Friends of Ron DeSantis PAC, having his team interview political operatives in early primary states, going on a "personally lucrative book tour" and taking other steps toward running for president while not officially declaring his candidacy for higher office. 
GET FOX BUSINESS ON THE GO BY CLICKING HERE
A spokeswoman for DeSantis called the complaint "frivolous and politically motivated" and said it was "inappropriate to use state ethics complaints for partisan purposes."
Fox News Chris Pandolfo contributed to this report.