Retired Brig. Gen. Anthony Tata discusses the impact of the classified Pentagon documents leak on Americas reputation and its implications on the war in Ukraine on Varney & Co.
The U.S. defense industry is ramping up production of a critical type of artillery ammunition as the war in Ukraine has raised concerns that the production levels and pre-existing stockpiles could be insufficient for a broader conflict or a war with China.
Ukraine has come to rely heavily on 155 mm artillery supplied by the U.S. and allied countries like those in NATO that use it as a standard-size heavy artillery round that can be precision-guided. The 155 mm artillery gives Ukraine the ability to strike Russian targets from 15 to 20 miles.
However, Ukraine's consumption rate of 6,000 to 8,000 shells per day has outpaced the production levels of the allied defense industrial base, causing the U.S. and other countries to scramble to expand production. The anticipated Ukrainian offensive this spring or summer is expected to increase that consumption even further to 7,000 to 9,000 155 mm shells per day.
UKRAINE'S AMMUNITION DEMANDS ARE 'MANY TIMES HIGHER' THAN SUPPLY, NATO CHIEF SAYS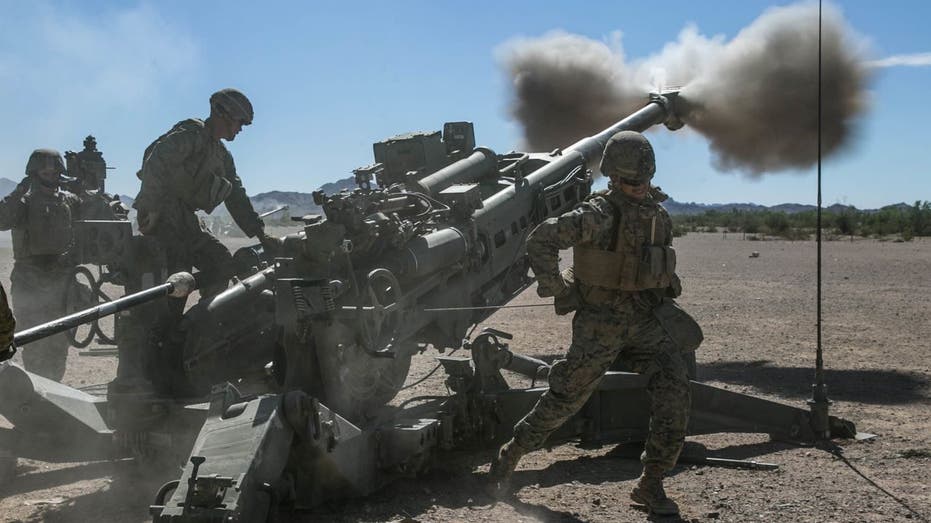 U.S. Marines with Echo Battery, 2nd Battalion, 11th Marine Regiment, operate a M777 towed 155 mm howitzer during Weapons and Tactics Instructors Course (WTI) 1-18 at Yuma, Ariz., on Sept. 30, 2017.
The Scranton Army Ammunition Plant and a similar plant in nearby Wilkes-Barre, Pennsylvania are operated by General Dynamics. The two facilities have a contract to make 24,000 shells per month and also received a $217 million order from the Army to boost production further.
The Scranton plant, which has produced ammunition for the U.S. military since the Korean War, faces limitations as officials look to expand capacity. The facility is in the midst of a $120 million modernization that the Army hopes will open a new production line by 2025, but the buildings' listing on the National Register of Historic Places constrains how the structures can be altered.
The Army has other contracts with factories in Texas and Canada to make more 155mm shells and is also working with other countries to step up production.
US COULD QUICKLY RUN OUT OF MUNITIONS IN CONFLICT WITH CHINA, DEFENSE INDUSTRY UNPREPARED: REPORT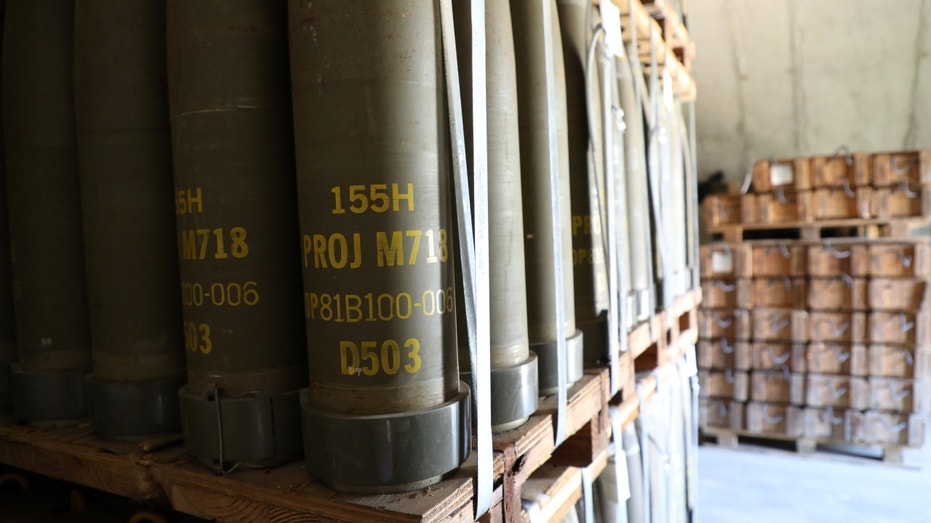 155 MM projectile round storage at Blue Grass Army Depot. Blue Grass Army Depot stores and surveilles conventional ammunition for the Department of Defense.
According to a Pentagon fact sheet released in early April, the U.S. has provided over 160 155 mm howitzers and more than 1.5 million 155 mm artillery rounds to Ukraine since the war began. It has also provided over 14,000 155 mm Remote Anti-Armor Mine (RAAM) Systems that contain four anti-tank mines that the round scatters on the ground near the target.
Additionally, the U.S. has provided Ukraine with over 6,500 precision-guided 155 mm artillery rounds, a figure which likely includes a variant of the munition known as the Excalibur or precision guidance kits that can be fitted to standard rounds.
LOCKHEED MARTIN WRESTLES WITH SUPPLY-CHAIN ISSUES TO ARM UKRAINE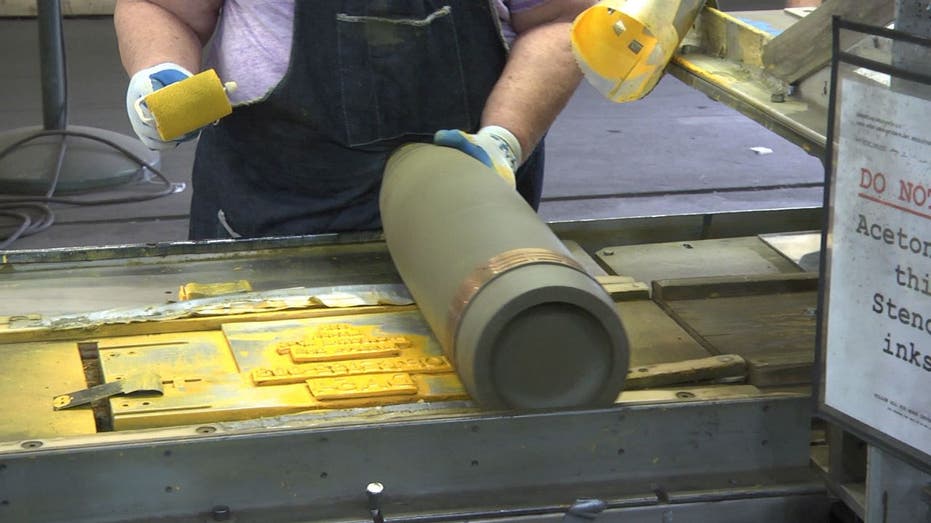 LABEL AND LOAD: A contractor employee at Iowa Army Ammunition Plant labels a 155 mm artillery round as part of the load, assemble and pack operation.
The Center for Strategic and International Studies (CSIS) recently released a 44-page report that warned U.S. stockpiles of critical weapons systems are low. In particular, it noted that, in the event of a conflict between the U.S. and China over Taiwan, the U.S. "would likely run out of some munitions – such as long-range, precision-guided munitions – in less than one week in the event of Taiwan Strait conflict." 
It added that the war in Ukraine has "exposed serious deficiencies in the U.S. defense industrial base and serves as a stark reminder that a protracted conflict is likely to be an industrial war that requires a defense industry able to manufacture enough munitions, weapons systems and materiel to replace depleted stockpiles." 
Ticker
Security
Last
Change
Change %
GD
GENERAL DYNAMICS CORP.
225.02
-2.50
-1.10%
LMT
LOCKHEED MARTIN CORP.
482.55
-8.05
-1.64%
RTX
RAYTHEON TECHNOLOGIES CORP.
102.25
-0.59
-0.57%
GET FOX BUSINESS ON THE GO BY CLICKING HERE
The CSIS report flagged inventories of several key weapons systems as being low, including the Javelin anti-armor weapons, Stinger anti-aircraft missiles, 155 mm howitzers, 155 mm artillery rounds, and counter-artillery radars. It also noted that U.S. policy bars exports of cluster munitions with a dud rate greater than 1%.
CSIS flagged inventories of Excalibur precision-guided 155 mm artillery rounds as being medium and referenced that about 5,200 of the rounds have been provided to Ukraine. The think tank's report noted that defense contractors have committed to tripling the annual production of 155 mm shells over the next few years.
The Associated Press contributed to this report.