Virginia Gov. Glenn Youngkin discusses a variety of topics including China and education in a FOX Business exclusive interview on 'Mornings with Maria.'
As an outspoken defender of education, Virginia Gov. Glenn Youngkin criticized American Federation of Teachers President Randi Weingarten after deflecting blame for school closings during the COVID pandemic during a Congressional hearing last week. 
"For Randi Weingarten to come out and say that they were trying to get schools open. Well, let me tell you this. This is counter to anything people believe. And in fact, she was probably my best support in getting elected because they kept schools shut," Youngkin told "Maria Bartiromo" during an exclusive interview from the Milken Institute Global Conference on Tuesday. 
"They cannot spin their way out of this."
Weingarten testified before the Select Subcommittee on the Coronavirus Pandemic to address her union's role in influencing public policy on school lockdowns. During her testimony, she argued the Biden transition team was the first to contact her union for guidance on school closures during the COVID-19 pandemic.
RANDI WEINGARTEN SAYS 'BIDEN TRANSITION TEAM' WAS FIRST TO SOLICIT UNION'S ADVICE ON SCHOOLS REOPENING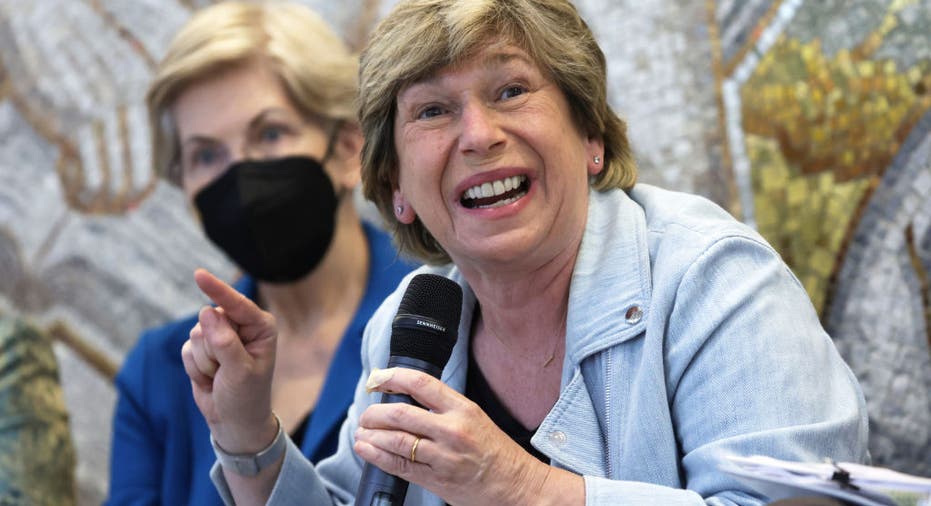 Image 1 of 2
Virginia Gov. Glenn Youngkin criticized American Federation of Teachers President Randi Weingarten for claiming she was trying to reopen schools during the COVID pandemic.  | AP Newsroom
Weingarten also tried to rewrite the narrative surrounding her union's approach to the COVID response. 
"We spent every day from February on trying to get schools open. We knew that remote education was not a substitute for opening schools," she said to the committee. 
Youngkin blasted the remarks, arguing "the teachers union wanted the schools closed."
"What we saw was what it did to children. Virginia's is the absolute quintessential case. Schools were shut all the way through until the fall of September of 2021 and Virginia suffered the largest learning loss in fourth-grade reading and math in the country," he said.
"A 12-inch screen is not a quality education. Parents know it. They know the truth," Youngkin added.
Other critics also shared their response to Weingarten's claims, including Trump administration education secretary Betsy Devos who accused the union president of "revisionist history." 
SAN FRANCISCO PUBLIC SCHOOLS DRIVES PARENTS TO FIND ALTERNATE OPTIONS FOR KIDS TO BYPASS SCHOOL'S MATH POLICY
Even Democrat Chicago Mayor Lori Lightfoot called out Weingarten's testimony. 
Former Education Secretary Betsy DeVos joined 'Varney & Co.' to weigh in on the Biden administration's highly anticipated new Title IX rules. 
"That may have been what Randi was saying at the national level and I believe that to be true. I had conversations with her at the time that lead me to believe that's what she wanted to do. That's not the reality that was happening on the ground in cities like Chicago, like Los Angeles, and other places. We needed to get our kids back in school. I'm unapologetic about the fight to make sure we put our kids and our parents first," Lightfoot said on CNN Monday.
Though Weingarten has recently been trying to re-brand herself as a champion for keeping schools open, her past comments indicate that was not the case:
"We have an obligation to make remote better because until we can really decrease community spread throughout the United States, distance learning and distance working is going to be a fact of life," Weingarten said in August 2020.
She was also a strong critic of efforts to reopen schools, including in Florida where she claimed in July 2021 that "millions" would die from Gov. Ron DeSantis' handling of the pandemic. 
US MATH, READING TEST SCORES PLUNGE FOR STUDENTS ACROSS COUNTRY FOLLOWING COVID-19 PANDEMIC
Critics including Youngkin have noted the impact remote learning has had on children both academically and mentally. 
Independent Women's Forum senior fellow Nicole Solas weighs in on school closures during the COVID pandemic and American Federation of Teachers President Randi Weingarten testifying before Congress on 'Kennedy.'
School closures in the U.S. have had a devastating impact on children's mental health, development and future earnings potential. According to data released last year by the National Center for Education Statistics, 70% of U.S. public schools have reported an increase in students seeking mental health services since the start of the pandemic. A study published by the conservative think tank Just Facts reported that the mental stressors brought about by school closures will destroy seven times more years of life than lockdowns saved. 
Data from the Nation's Report Card also revealed that math scores saw their largest decreases ever in the aftermath of COVID, while reading scores dropped to levels not seen since 1992 for fourth and eighth graders across the country.
American Federation for Children senior fellow Corey DeAngelis discusses Randi Weingarten's testimony on school closings and the 40th anniversary of the "A Nation at Risk" report.
The average mathematics score for fourth-grade students fell five points from 2019 to 2022. The score for eight-graders dropped eight points. Reading for both grades fell three points since 2019.
A study by the American Enterprise Institute also found that nearly 1.3 million students have left public schools since the pandemic began, and schools that stayed remote longer saw even more students leave. The World Bank reported that the school closures will cost this generation of students $21 trillion in earnings over their lifetimes, which is far more than the $17 trillion estimated in 2021.
CLICK HERE TO READ MORE ON FOX BUSINESS
Youngkin, who has been a champion for bettering Virginia's education system, outlined steps to get children back on track and enhance education for America's next generations. 
"We have to recognize that what was been done prior to the pandemic in Virginia was laying the foundation for this decline in performance," he said. "We have to raise expectations in our schools… And then finally, we are making sure that parents feel empowered to make decisions for their children."
Fox News' Jessica Chasmar, Stephen Sorace and Hanna Panreck contributed to this report.