House Administration Committee's Anthony D'Esposito provides insight on the immigration crisis on 'The Evening Edit.'
Top business leaders in New York City demanded Monday that President Biden and Congress provide relief to cities and states overburdened by illegal immigration. 
More than 100 Wall Street CEOs signed an open letter in support of New York Gov. Kathy Hochul's request for federal funding to provide the hundreds of asylum seekers arriving daily in New York City with housing and job opportunities. The signatories include Pfizer CEO Albert Bourla, JPMorgan Chase's Jamie Dimon, BlackRock CEO Laurence D. Fink, and David M. Solomon of Golman Sachs.
Hochul's request came after more than 100,000 migrants have arrived in the city this year, straining city resources, angering residents and causing a political fight over where to shelter them. New York City has opened more than 200 shelters to house some 59,400 migrants and Mayor Eric Adams has gone to court to force surrounding localities to accept asylum-seekers as well. The challenges this crisis presents – including overcrowded city streets and crime – prompted business leaders to issue a call to action. 
Ticker
Security
Last
Change
Change %
JPM
JPMORGAN CHASE & CO.
147.97
-0.85
-0.57%
WFC
WELLS FARGO & CO.
41.60
-0.41
-0.96%
BK
THE BANK OF NEW YORK MELLON CORP.
44.40
+0.05
+0.11%
BLK
BLACKROCK INC.
693.79
+2.70
+0.39%
MET
METLIFE INC.
62.87
+0.02
+0.03%
GS
THE GOLDMAN SACHS GROUP INC.
328.61
-1.19
-0.36%
"The New York business community is deeply concerned about the humanitarian crisis that has resulted from the continued flow of asylum-seekers into our country. The situation is overwhelming the resources not only of the border region but of city and state governments across the nation," the letter states. 
VIOLENCE ERUPTS AMONG PROTESTING GROUPS OUTSIDE NEW YORK CITY MAYOR'S HOME AS MIGRANT CRISIS HITS FEVER PITCH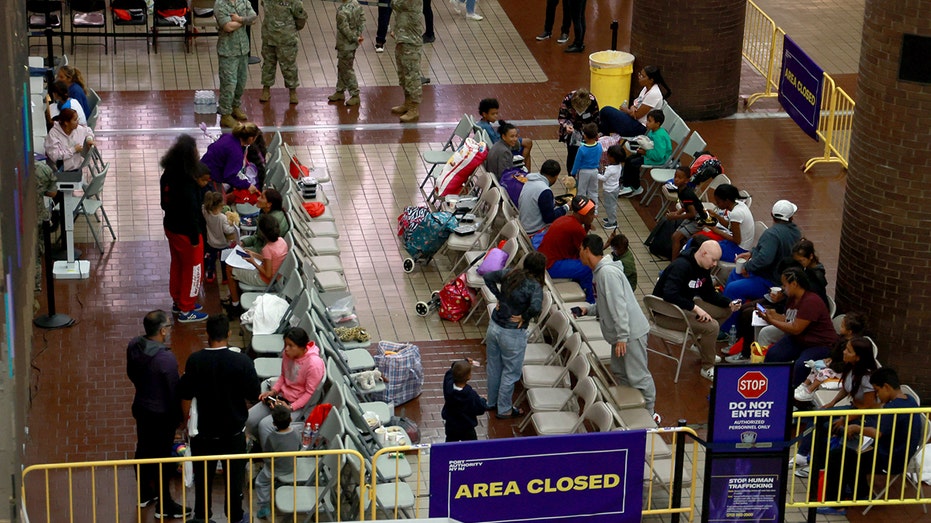 Migrants in the processing area at Port Authority Bus Terminal in Midtown Manhattan after arriving from Texas. (Luiz C. Ribeiro/New York Daily News/Tribune News Service via Getty Images / Getty Images)
Adams has said the crisis could cost the city $12 billion over the next three years, while Hochul's administration has spent $1.5 billion and deployed nearly 2,000 National Guard members to deal with the overwhelming flow of migrants. Earlier this month, Hochul asked the Biden administration for financial assistance to cover these costs. 
The CEOs requested that the federal government provide Hochul with funding for education, shelter, security and health care services for migrants to offset the costs state and local governments have incurred by providing those services. They also called for Congress to expedite the processing of asylum claims and make work permits easier to obtain, acknowledging that state and local governments "have no standing in this matter." 
"There are labor shortages in many U.S. industries, where employers are prepared to offer training and jobs to individuals who are authorized to work in the United States," the letter states. "The business community is also providing in-kind assistance and philanthropic support to organizations that are addressing the immediate needs of this largely destitute population."
NYC RESIDENTS ERUPT OVER NEW MIGRANT SHELTER NEAR SCHOOLS: 'NO F—ING WAY!'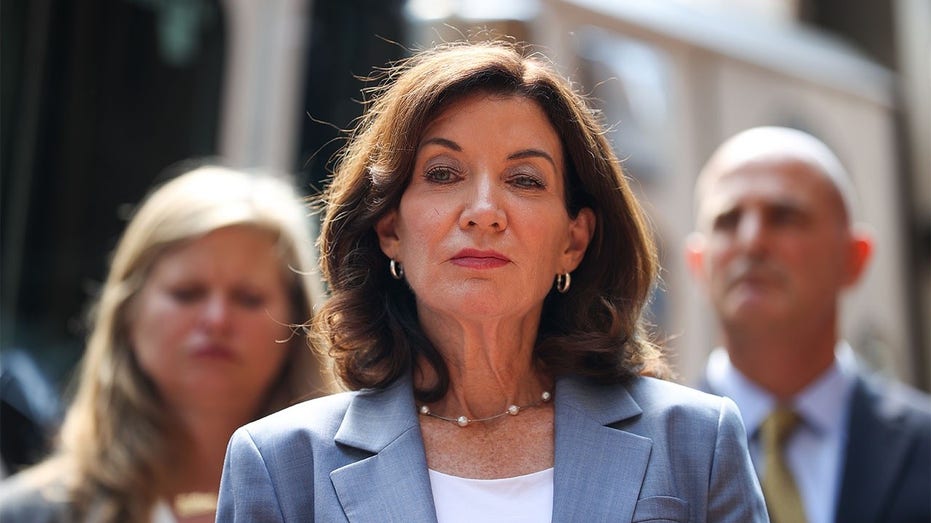 New York Gov. Kathy Hochul has asked President Biden to provide federal funding to New York to assist with housing migrants and finding asylum-seekers job opportunities.  (Fox News)
"Bipartisan action by Congress and the Administration is ultimately the way to resolve immigration issues, but that will take time," the letter concludes. "In the interim, we urge you to take immediate action better to control the border and the process of asylum and provide relief to the cities and states that are bearing the burdens posed by the influx of asylum seekers." 
The White House and congressional leaders did not immediately respond to requests for comment. 
"Secretary Mayorkas recently tasked an expert team with assessing New York City's migrant operations. The team was impressed with the exceptional efforts by New York officials under the ongoing strain of accepting a large number of migrants and has provided recommendations for improvements, including data collection, case management, and increased communication with migrants on work authorizations," a Department of Homeland Security spokesperson said in a statement to Fox Business. 
"DHS continues to collaborate with city and state officials, along with our federal partners, to identify ways we can maximize the value of our continued partnership to address, in a humane and orderly manner, the needs of migrants who have arrived in New York," DHS added. 
Ticker
Security
Last
Change
Change %
PFE
PFIZER INC.
36.01
-0.14
-0.40%
IBM
INTERNATIONAL BUSINESS MACHINES CORP.
145.98
-0.50
-0.34%
L
LOEWS CORP.
62.24
-0.03
-0.05%
ED
CONSOLIDATED EDISON INC.
89.91
-0.21
-0.24%
VNO
VORNADO REALTY TRUST
23.83
-0.32
-1.33%
FI
FISERV INC.
122.07
-0.66
-0.54%
Homeland Security Secretary Alejandro Mayorkas on Monday responded to Hochul and Adams, criticizing their handling of asylum seekers based on a recent assessment of the city's operations that began on Aug. 7. Mayorkas promised "recommendations" from his team "as soon as possible." 
NYC MAYOR ADAMS RESPONDS TO GOV. HOCHUL'S FEDERAL FUNDING PUSH, CLAIMS CITY'S HANDLED MIGRATN CRISIS 'ALONE'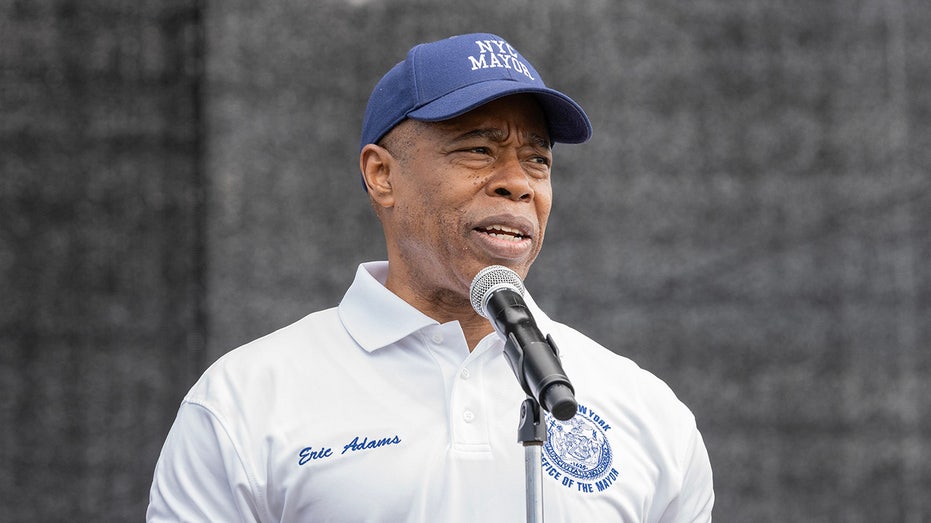 New York City Mayor Eric Adams has said the humanitarian crisis caused by more than 100,000 asylum seekers migrating to New York City could cost $12 billion in three years.  (Lev Radin/VIEWpress / Getty Images)
"The structural issues include governance and organization of the migrant operations, including issues of authority, structure, personnel, and information flow," Mayorkas wrote in letters reported by Politico. "The operational issues include the subjects of data collection, planning, case management, communications, and other aspects of day-to-day operations."
Mayorkas said the Biden administration made a hangar at John F. Kennedy Airport available to house about 800 male migrants and noted 11 federal sights across the state where migrants can be sheltered. The Department of the Interior is also negotiating a lease with New York on Aug. 21 for the temporary use of Floyd Bennett Field. 
DHS' recommendations to New York include improving information collection at intake and while migrants are sheltered, improving overall communication with migrant communities, building out case management and legal services for migrants, and pushing information through DHS to migrants on how to obtain work authorization and receive asylum. 
GET FOX BUSINESS ON THE GO BY CLICKING HERE
"We are hopeful that our recommendations will equip the city to take additional steps to improve the migrant operations and maximize the value of our continued partnership and your support," Mayorkas added.