New Constructs CEO David Trainer gives his economic outlook amid the Federal Reserve's handling of inflation and the June 1 debt ceiling deadline on 'The Claman Countdown.'
There is a one-in-four chance that Washington negotiators fail to raise the debt ceiling and the U.S. government is unable to pay its bills on time. 
That's according to JPMorgan analysts, who warned in a note to clients this week that the odds of a first-ever debt default are growing as President Biden and Republicans struggle to strike a deal ahead of the looming June deadline.
"We still think the most likely outcome is a deal signed into law before the X-date, though we see the odds of passing that date without an increase in the ceiling at around 25% and rising," JPMorgan chief U.S. economist Michael Feroli wrote in the note. 
WHO WOULD BE HIT THE HARDEST BY A US DEBT DEFAULT?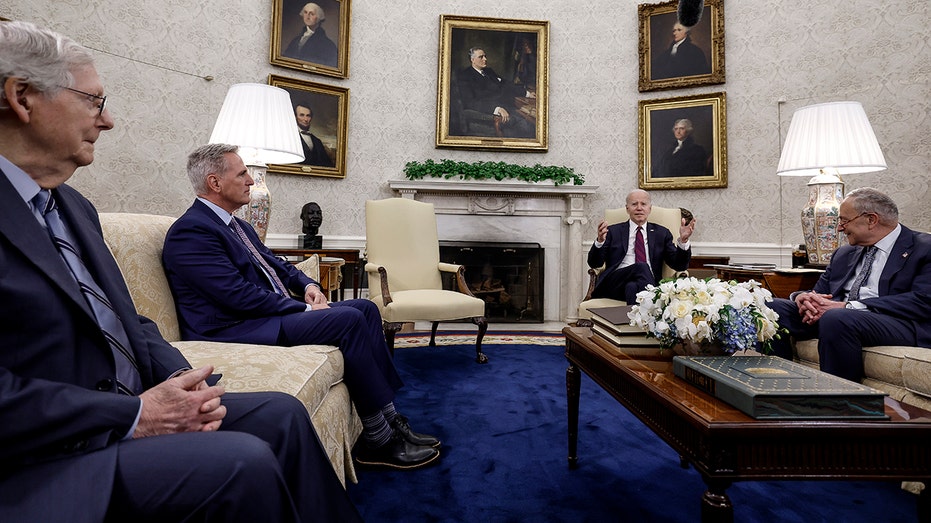 From left, Senate Minority Leader Mitch McConnell, R-Ky., House Speaker Kevin McCarthy, R-Calif., President Biden and Senate Majority Leader Chuck Schumer, D-N.Y., meet in the Oval Office of the White House in Washington, D.C., on May 9, 2023. (Anna Moneymaker/Getty Images / Getty Images)
In a scenario where the U.S. breaches the debt limit, Feroli predicted the Treasury Department would prioritize principal and interest payments on the debt. 
"While doing so would avoid a technical default, there would still be several adverse effects, including a likely downgrade of the US credit rating," he wrote. 
DEBT CEILING SHOWDOWN RISKS TRIGGERING 'SELF-INFLICTED' RECESSION
The note comes amid a prolonged standoff over the debt limit. Republicans, who control the House, have promised to raise the borrowing limit only in exchange for deep spending cuts. President Biden and his fellow Democrats, who control the Senate, prefer a "clean" debt ceiling bill without spending cuts.
The White House is now hosting near-daily talks with Republicans as Washington races to strike a budget agreement before the deadline, which could come as soon as next week.
House Speaker Kevin McCarthy, R-Calif., insisted on Tuesday that he is confident negotiators can reach a deal after the latest round of talks with the president and said the two sides have "made some progress." 
People walk outside the U.S. Capitol in Washington, D.C. on June 9, 2022. (AP Photo/Patrick Semansky, File / AP Newsroom)
WHAT IS THE DEBT CEILING, AND WHAT DOES IT MEAN FOR YOU?
"We worked well past midnight last night," McCarthy told reporters Thursday morning. "I thought we made some progress. There's still some outstanding issues, and I've directed our teams to work 24/7 to try to solve this problem."
The debt ceiling, which is currently around $31.4 trillion, is the legal limit on the total amount of debt that the federal government can borrow on behalf of the public, including Social Security and Medicare benefits, military salaries and tax refunds. 
If the U.S. failed to raise or suspend the debt limit, it would eventually have to temporarily default on some of its obligations, which could have serious negative economic implications. Interest rates would likely spike, and demand for Treasurys would drop; even the threat of default can cause borrowing costs to increase, according to the Committee for a Responsible Federal Budget.
GET FOX BUSINESS ON THE GO BY CLICKING HERE
While the U.S. has never defaulted on its debt before, it came close in 2011, when House Republicans refused to pass a debt-ceiling increase, prompting rating agency Standard and Poor's to downgrade the U.S. debt rating one notch.