A Los Angeles Nordstrom store was ransacked by a mob of more than 30 people on Saturday, with the suspects getting away with nearly $100,000 worth of handbags and clothes. (Anniella Weise)
In the wake of multiple flash mob robberies at high-end stores in the Los Angeles area in recent weeks, Mayor Karen Bass and local law enforcement on Thursday announced a regional task force aimed at stopping and holding the retail thieves accountable.
"What we've seen over just the past week in the city of Los Angeles and in the cities and area surrounding us is unacceptable," Bass said in announcing the regional, multi-agency Organized Retail Crimes Task Force.
"No Angeleno should feel like it is not safe to go shopping in Los Angeles. No entrepreneur should feel like it's not safe to open a business in Los Angeles," the mayor said, noting that retail theft is not a victimless crime.
Bass and law enforcement leaders vowed to catch those responsible and hold them responsible. 
LOS ANGELES NIKE STORE RANSACKED BY THIEVES IN SMASH-AND-GRAB HEIST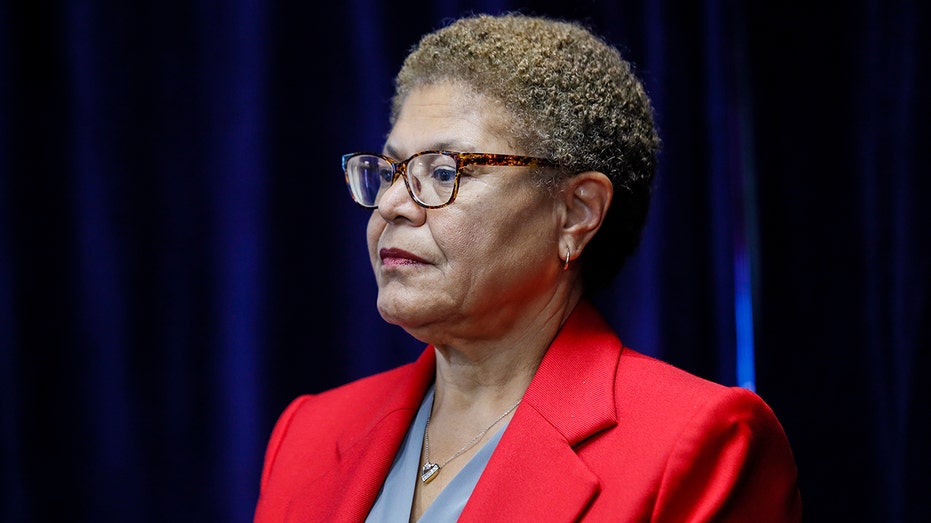 Los Angeles Mayor Karen Bass on Thursday announced the regional, multi-agency Organized Retail Crimes Task Force to combat rampant retail theft occurring in the city and surrounding areas. (Robert Gauthier/Los Angeles Times via Getty Images/File)
Regarding the city's zero cash bail policy, officials said the individuals will be held in jail if charged with retail theft, though if they are charged with grand theft, there is a chance they will be released on bail.
Shoppers and businesses in the Los Angeles area have shown concern and outrage over the spate of flash robberies, smash-and-grabs and grab-and-gos.
ERShares CEO Joel Shulman looks ahead to the July retail sales report and remains bullish on tech stocks.
On Tuesday, the luxury denim store Ksubi on La Brea Avenue was targeted by 11 hooded and masked people in a flash mob-style robbery and ransacked in a matter of seconds. One suspect confronted unarmed security guards who tried to intervene and imitated a hand gun in his pocket to threaten the guards.
VIDEO SHOWS AFTERMATH OF CALIFORNIA NORDSTROM RANSACKING BY HUGE 'FLASH MOB'
Another flash mob robbery at a Nordstrom in the Topanga Mall in Los Angeles on Saturday involved more than 30 people who stole more than $300,000 worth of merchandise in minutes. One suspect sprayed a security guard with bear spray, incapacitating him, law enforcement said.
Earlier flash mob robberies include a July 31 incident in which 10 to 15 hooded and masked suspects ransacked a Gucci store at the Westfield Century City mall and got away with $100,000 in designer handbags.
Strategic Resource Group Managing Director Burt Flickinger discusses the state of U.S. consumers ahead of some big retail earnings reports on 'The Claman Countdown.'
The task force is to be led by the Los Angeles Police Department and include departments from Burbank, Glendale, Beverly Hills, Santa Monica and the Los Angeles County Sheriff's Department. State and federal partners with the California Highway Patrol, U.S. Marshals Service and FBI will also take part.
GET FOX BUSINESS ON THE GO BY CLICKING HERE
There will be 22 full-time investigators on the task force, with one district attorney embedded to help navigate the charges for any arrested suspects.