'Kennedy' panelists Robby Soave, Gary Hoffmann and Scott Levenson discuss Twitter's decision to add blue checks to the accounts of dead celebrities. 
Twitter chief Elon Musk says verified accounts are now "prioritized" on the social media platform.
"Verified accounts are now prioritized," he tweeted early Tuesday morning. He did not elaborate further on what this means, but it comes on the heels of a chaotic transition on Twitter.
Last week, Twitter removed blue verified badges from the accounts that do not pay for its Twitter Blue subscription service.
TWITTER SCRAPS BAN AGAINST MISGENDERING, DEADNAMING TRANSGENDER PEOPLE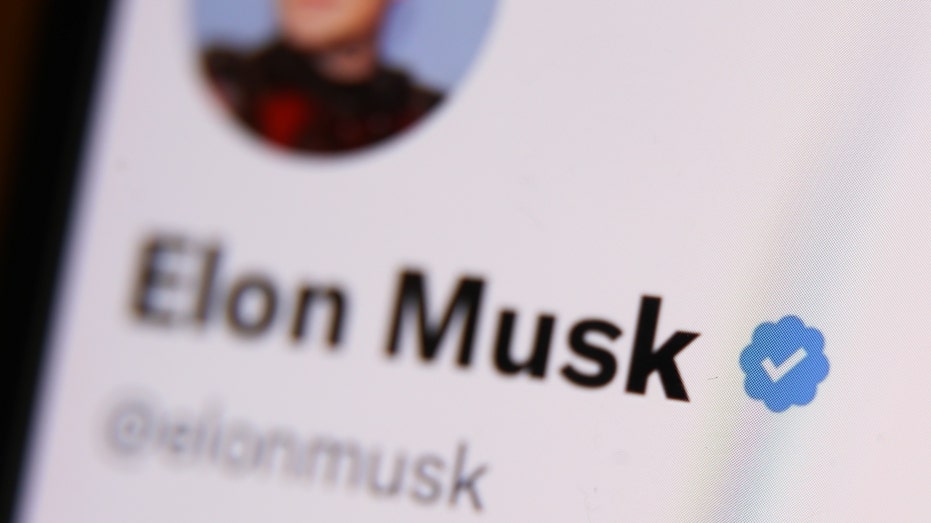 The blue checkmark on Elon Musk's account on Twitter is seen displayed on a phone screen in this illustration photo taken in Krakow, Poland on Feb. 14, 2023. (Photo by Jakub Porzycki/NurPhoto via Getty Images / Getty Images)
However, check marks returned over the weekend for many highly followed accounts, including for authors Neil Gaiman and Stephen King, professional athletes and other celebrities. 
Some tweeted messages on Twitter denying paying the $8 monthly fee, including the Massachusetts Institute of Technology. 
"We did not subscribe to Twitter Blue," the university said. 
"On my soul i didn't pay for twitter blue, u will feel my wrath tesla man!" rapper Lil Nas X tweeted. He has 8 million Twitter followers.
"My Twitter account says I've subscribed to Twitter Blue. I haven't. My Twitter account says I've given a phone number. I haven't," King wrote, to which the SpaceX founder replied: "You're welcome. Namaste."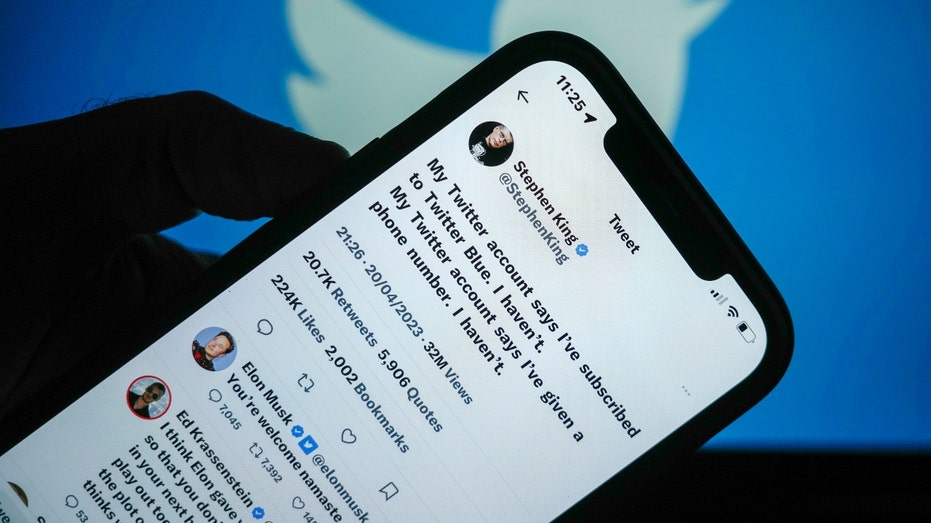 In this photo illustration tweets by Stephen King and Elon Musk are seen on a mobile cellphone on April 21, 2023, in Knutsford, United Kingdom. (Photo by Christopher Furlong/Getty Images / Getty Images)
Some reported receiving check marks again only for them to be taken away once more. Actor Bette Midler and model Chrissy Teigen were both on that list. 
GET FOX BUSINESS ON THE GO BY CLICKING HERE 
Some dead celebrities have accounts that say they are subscribed to Twitter Blue, including Linkin Park's lead vocalist Chester Bennington and writer, chef and TV host Anthony Bourdain.
On Twitter, the blue check appears next to text that says: "subscribed to Twitter Blue and verified their phone number."
Previously, around 400,000 verified users had "legacy" blue checkmarks, including journalists and government agencies. Those checks meant that Twitter had verified that users were who they said they were, as a method to prevent impersonation and the spread of misinformation. 
CLICK HERE TO READ MORE ON FOX BUSINESS
The Associated Press contributed to this report.