Digital content creator Kat Stickler joins 'The Claman Countdown' to discuss the financial impact of a potential TikTok ban on influencers.
Montana Governor Greg Gianforte is looking to take his controversial outright TikTok ban to the next level.
The Wall Street Journal (WSJ) reports Gianforte now wants to amend his TikTok bill, known as SB 419, to include all social media apps that provide certain data to foreign adversaries.
"The amendment for consideration seeks to improve the bill by broadening Montanans' privacy protections beyond just TikTok and against all foreign adversaries, while also addressing the bill's technical and legal concerns," a spokesperson for the governor's office told the WSJ.
It's unclear what other social media apps may be banned in Montana via the expanded legislation.
SENATE'S BIPARTISAN RESTRICT ACT WOULD BLOCK TECH PRODUCTS LIKE TIKTOK MADE IN ADVERSARIAL COUNTRIES
This photo shows a TikTok app logo in Tokyo on Sept. 28, 2020.  (AP Photo/Kiichiro Sato / AP Newsroom)
The bill's amended language would prevent app stores from being held liable for offering the potentially banned social media apps, like TikTok, for downloading in the state, the WSJ reported.
The bill to ban TikTok is currently headed to Gov. Gianforte's desk. If he signs the bill, it would go into effect January 1. 
Gianforte's proposed changes have been sent to the state legislature for approval to exidite the process, according to an email reviewed by the WSJ. 
The bill is expected to face multiple legal challenges.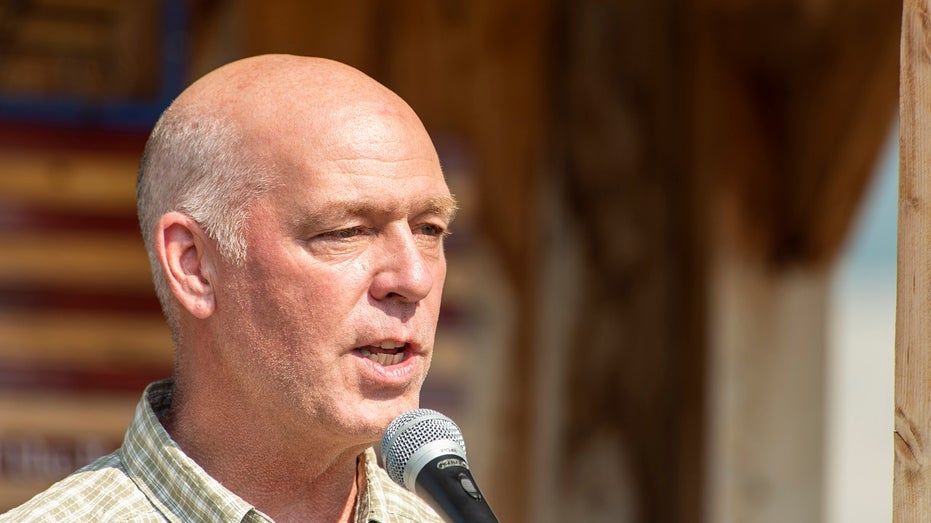 Montana Republican Governor Greg Gianforte speaks at the ceremony to honor the four airman killed in a 1962 B-47 crash at 8,500 feet on Emigrant Peak on July 24, 2021, in Emigrant, Montana. (Photo by William Campbell/Getty Images / Getty Images)
The governor previously banned TikTok on all government-issued devices and urged Montana's state university to do the same, which it did.
TikTok is owned by Chinese tech company ByteDance.
TikTok CEO Shou Zi Chew testifies during a hearing of the House Energy and Commerce Committee, on the platform's consumer privacy and data security practices and impact on children, Thursday, March 23, 2023, on Capitol Hill in Washington.  (AP Photo/Alex Brandon / AP Images)
The short-form video social media app has been under fire in recent months over concerns it could hand over user data to the Chinese government or push pro-Beijing propaganda and misinformation on the forum. 
Leaders at the FBI, CIA and numerous lawmakers of both parties have raised those concerns but haven't presented any evidence to prove it has happened.
CURRENT, FORMER SOCIAL MEDIA EXECS ADDRESS NATIONAL SECURITY ISSUES AT SENATE HEARING
Proponents of the ban point to China's National Intelligence Law for support. A 2017 bill obligates Chinese citizens and organizations to assist Chinese intelligence agencies to protect national security. There, intelligence agencies can require businesses to hand over information, such as user data, if requested.
Supporters have also raised concerns that the social media app allows — and even promotes — harmful and dangerous content to circulate on its platform. 
The TikTok Inc. building is seen in Culver City, Calif., Friday, March 17, 2023. China is accusing the U.S. of spreading disinformation amid reports the Biden administration is calling for TikTok's Chinese owners to sell their stakes in the company.  (AP Photo/Damian Dovarganes / AP Newsroom)
Congress is considering legislation that does not completely ban TikTok, but gives the Commerce Department the ability to restrict foreign threats on tech platforms. 
GET FOX BUSINESS ON THE GO BY CLICKING HERE
That bill is being backed by the White House, but it has received pushback from privacy advocates and right-wing commentators and others who say the language is too broad.